I absolutely love tasting and exploring new flavours in my recipes, and watching a dish come together is just mesmerizing! This One Pot Sun-dried Tomato Chicken and Orzo is one of those dishes that I absolutely love making, and love even more, eating together with my family.
The taste of the chicken along with the sun-dried tomatoes, orzo pasta and the mix of spices are so perfect, you'll be making this dish more often than you know.
---
---
The tastiest dish of the day
---
You can't go wrong with this One Pot Sun-dried Tomato Chicken and Orzo
What I love most about this recipe is that its just so perfect for a weeknight, when you're short for time and looking for something to put together in less than an hour. At the same time, this One Pot Sun-dried Tomato Chicken and Orzo is equally just as fancy enough to serve up in front of your guests, inviting them round for an exquisite dinner in style!
It's so perfect in the cold weather, keeping you warm and fulfilled this winter and just so easy to put together. Being able to cook a dish in one pan means less time, less trouble and best of all, less washing up to do :)
Something so quick and easy to put together with results so amazing, its as if you've been busy in the kitchen for hours, you can't go wrong with this One Pot Sun-dried Tomato Chicken and Orzo.
---
Top Tips
One of the biggest tips I can give for this recipe is to use good quality sun dried tomatoes. The taste and flavour that comes out of the sun-dried tomatoes definitely takes the dish to a whole new level and the use of the oil in the sun-dried tomato jar in this dish, makes all the difference.
With the orzo pasta, how much water you add really depends on the texture of the orzo you like. If you want the texture of the orzo to be more al dente, its best to use three cups but if you want the pasta fully cooked and soft, opt out for 4 cups of water in total.
The shallots in the recipe are one of the reasons for the unique taste and the grated parmesan on top give this One Pot Sun-dried Tomato Chicken and Orzo that crispy crusty top you'll absolutely love!
A good ten to twelve minutes of sauteing is needed to make sure the flavours really marry.
---
With a sprinkle of fresh basil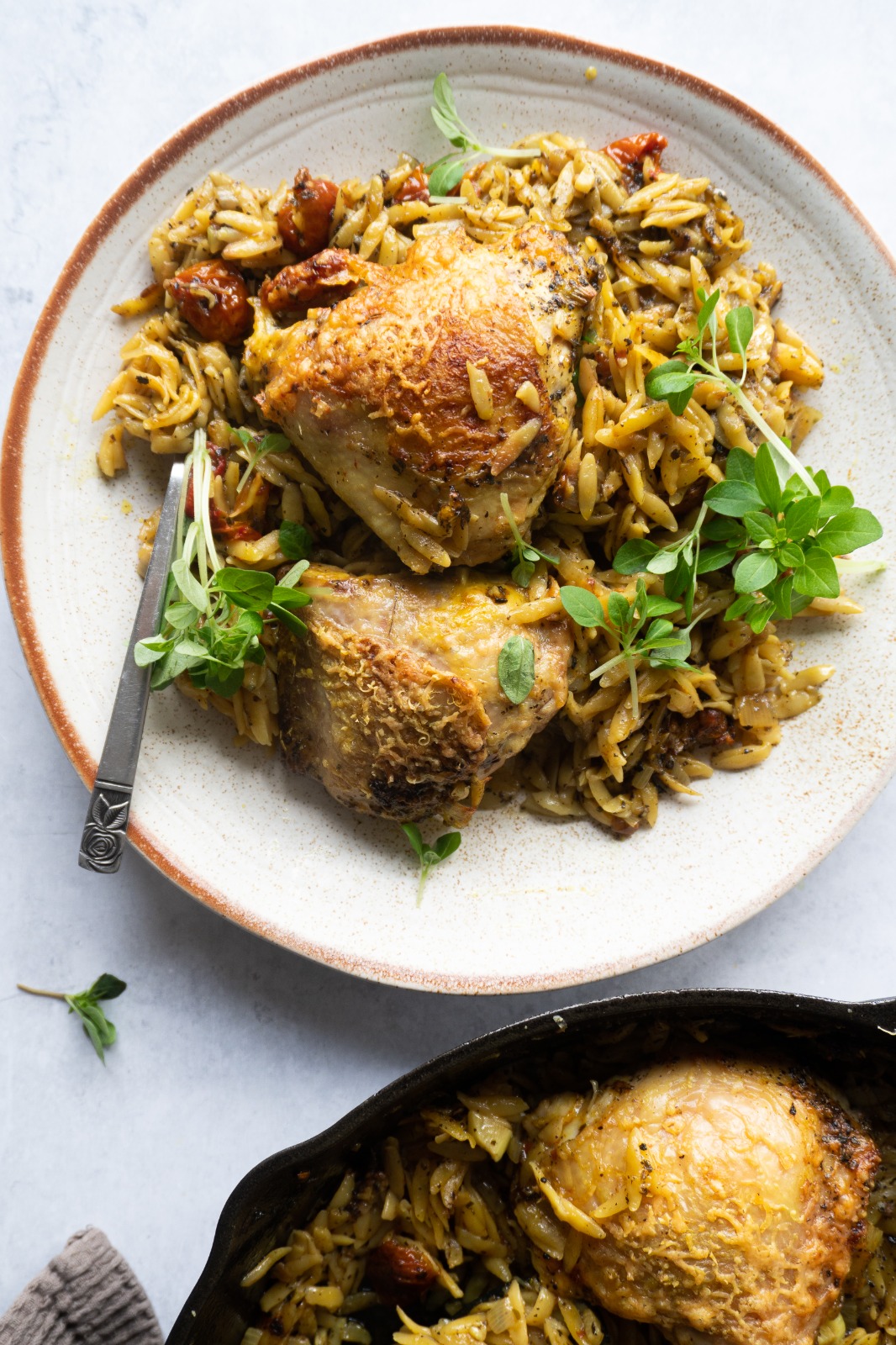 ---
Ingredients
Sun-dried Tomatoes
Chicken Thighs
Orzo Pasta
Garlic
Shallots
Oil
Basil
Black Pepper
Salt
Turmeric
Smoked Paprika
Dried Basil
Dried Sage
---
Step by Step
In a cast iron skillet, that will be used for this recipe, pour a couple of tablespoons of sundried tomato oil and make the chicken thigh pieces sizzle on both sides until nice and golden. Once golden and crispy, take the chicken out and put aside.
Chop up the shallots and garlic finely and fry them in the same pan until nice and golden.
Sauté the finely chopped onion and garlic for about 5 minutes. Add the sundried tomatoes and sauté again for about 3 minutes. Now, add the spices and sauté again for another 5 minutes.
---
Add the orzo pasta to the mix with three and half cups of water.
---
Place the pieces of chicken back in the skillet, to sit on top of the orzo.
Cover the top surface fully with a generous amount of shredded parmesan or hard cheese.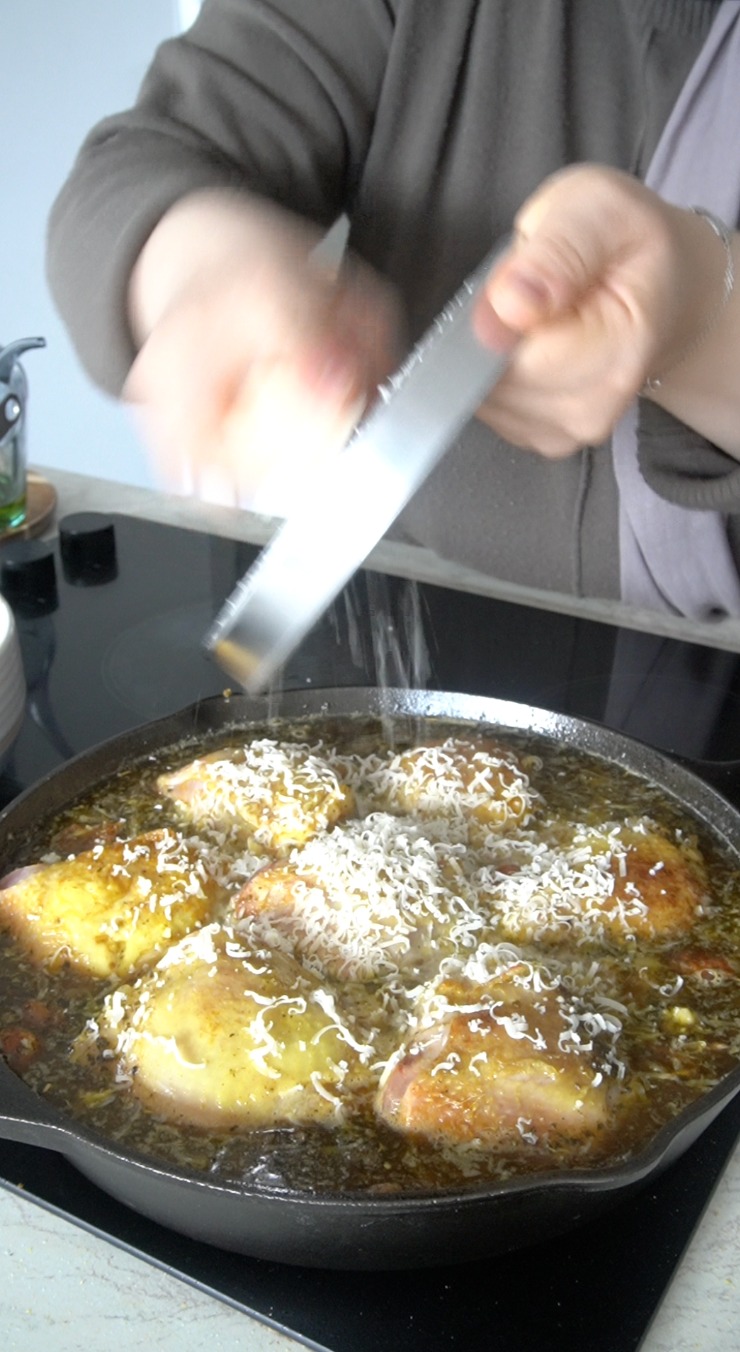 ---
Bake in a preheated oven for 30 minutes, until the the orzo has soaked up all the liquid and the chicken is cooked, crispy and golden on top. This should take about 30-40 minutes. Garnish with fresh basil and serve up.
Serve and enjoy :)
---
Frequently Asked Questions
How long does orzo pasta take to cook?
Orzo pasta itself takes only 10 minutes to cook and so with this recipe, a total of 30 minutes cooking time is needed once all the sauteing is done.
How long can I store my One Pot Sun-dried Tomato Chicken and Orzo?
Your One Pot Sun-dried Tomato Chicken and Orzo can be stored in the fridge in an airtight container for up to 4 days.
Can i reheat my One Pot Sun-dried Tomato Chicken and Orzo?
Yes, of course! If there are any leftovers, you can reheat them in a microwave until nice and warm, or on the stove.
---
If you do make this recipe, please tag me on Pinterest or Instagram so I can see! It's my favorite thing to scroll through stories and see what you are all making.

And of course feel free to leave any questions, comments, or reviews! This is the best place to reach me, and I'd love to hear from you :)
---
Must Try Recipes