When my husband and I first got married I was heavily criticised for the way I made my roast dinner, and not by him, by others, but that's irrelevant. This beef shank was no excpetion.
You see making a good roast is not easy but it's not difficult either. For some, it can take years of practice resulting in acquiring extensive knowledge and experience in the matter.
Also for a newly married woman, I wasn't doing so bad, considering doing a roast is a rather big thing to tackle and I was used to making dinner for one.
You see there's nothing wrong with criticism as long as it's constructive with a pinch of kindness. Instead of saying 'this is not good', you can try, 'it might be nice to try it this way next time and see if you like it'.
So my big advice to you is, if you and only you are not happy with it then keep trying!
---
---
Picture this, it's a cold winter day, it's raining outside and you're looking for a heartwarming dish to make for dinner. What I describe is literally the Uk weather right now! So this slow-cooked pomegranate beef shank is the way to go!
Introducing this deeply flavoured, alcohol-free, beef shank recipe that will bring the taste of fancy restaurants to your own kitchen!
Best Beef Shank in Town!
---
Beauty Takes time
Do not be fooled by the time this beef shank takes to cook! It's actually very convenient for busy moms, you literally just put your ingredients in the oven, leave it cooking and come back to a delicious, fully-cooked meal.
Did you leave it in the oven a little too much?😰 Well no worries! One of my favorite things about this dish is that it could never be overcooked! Worst case scenario, the meat falls off the bones.
---
What To Serve With Your Beef Shank
This dish is best enjoyed when accompanied by something delicious to bring that heavenly taste to life!
Did you know that you could actually serve this pomegranate beef shank in wraps? Just like shawarma! This makes it a perfect pack-and-go sandwich for work or school.
In the Middle East, it's very common to serve almost anything with a bowl of rice, and I can see why! Along with the salad, it makes the perfect pair to everything!
You could never go wrong with some smooth, creamy mashed potatoes on the side!
Another big thing in the Middle East is bread, pita bread more specifically :)
---
A hearty meal for you and your family!
---
Pro Tips
Cut the top of the garlic head and leave the end so it can hold together.
To avoid the potatoes and carrots from becoming too soft, it's ideal to add them an hour or so later.
You could make this recipe in a slow cooker, stovetop, oven, or in an instant pot.
---
Ingredients
Boneless beef shank
Large potatoes
Yellow onion
Leek
Butter
Purpose flour
Seasonings to sauté
Salt
Black pepper
Bay leaves
---
Steps to Prep The Best Beef Shank
First, put half of your butter into a pot, then brown the beef joint, and round them on each side just to lock the moisture in. Do it for 2-3 minutes on each side.
Melt your butter in an oven-friendly pan on medium heat at 180° for about 4 hours.
Then, take the beef joint out, and put the rest of your butter with the meat juices that were already in there.
Sauté your onion and leek with the butter until they become golden and translucent, after that, add your spices and all-purpose flour.
Next, add your peeled carrot chunks and quartered potatoes, give it a nice mix then pop the joint to the center of it.
After that, mix 2 vegetable organic bouillon cubes with hot water, and pour them into the pot.
Afterwards, take 2 full heads of garlic and place them in the pot, and drop one cinnamon stick in the pot as well. Put the lid on and put it in the oven to cook for an hour and a half.
---
---
To make the sauce, use good quality pomegranate molasses and double concentrate or organic tomato purée, mix it together well in 2 cups of water and add that as well.
---
Finally, put the lid on and cook it for another 2 hours on the same heat until your meat is fork-tender.
And there you have it!
---
Frequently Asked Questions
How to store this pomegranate beef shank?
Your leftovers can be stored in an airtight container for 5 to 6 days in the fridge. It can also be stored in the freezer for up to a month.
Can I substitute lamb with beef in this recipe?
Yes, you can!
Why does beef shank take so long?
Beef shank is actually a tough muscle, that's why it needs time to cook and become tender.
---
Such a brilliant way to serve!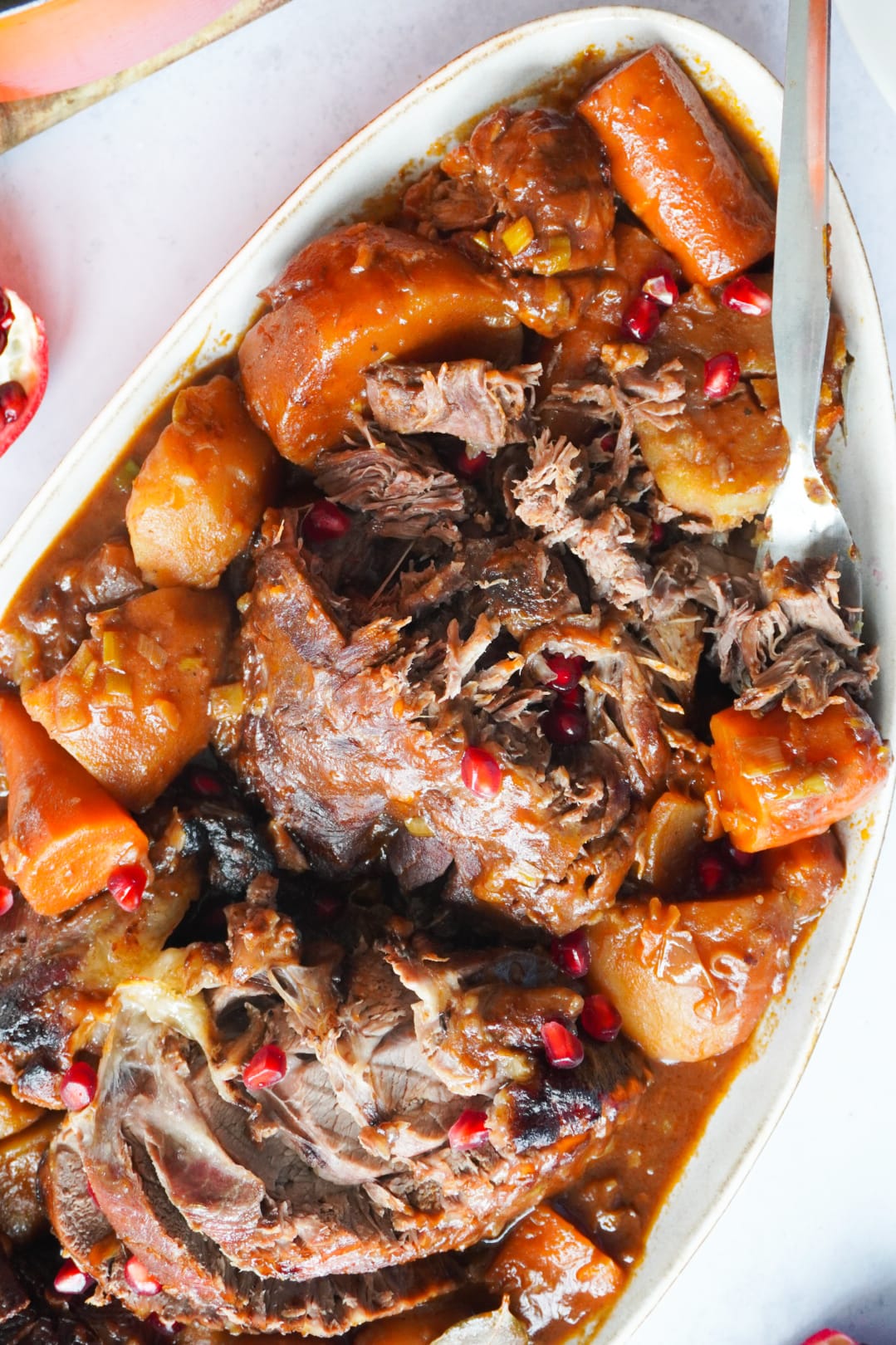 ---
If you do make this recipe, please tag me on Pinterest or Instagram so I can see! It's my favorite thing to scroll through stories and see what you are all making. Click here to check out the full video.

And of course feel free to leave any questions, comments, or reviews! This is the best place to reach me, and I'd love to hear from you :)
---
Other Recipes You Must Try