Shakshuka is a spectacular dish, loaded with so much flavour and can be eaten for breakfast, lunch or dinner. My take on this sweet Turkish Pepper and Egg Shakshuka is special, so easy and simple, and the taste is absolutely amazing, it should be crowned the number one dish, if I say so myself :)
This dish is special because it's a unique mix of both savory and spice in one pan! Not only does it taste good, but it's also picture perfect!
---
---
Traditions of Shakshuka
This family favourite is a common ground between the Turkish menemen, Persian omelet and of course the classic Shakshuka.
While the basil is a substantial part of a fresh Plate of herbs served alongside meals on a Persian table, Turkish peppers are a must for their spicy looking, yet sweet flavour in menemen.
While making this, it came to mind how simple elements from various recipes in similar cultures came together and that's the beauty of food, it brings us together.
---
A classic Middle Eastern Dish to show off about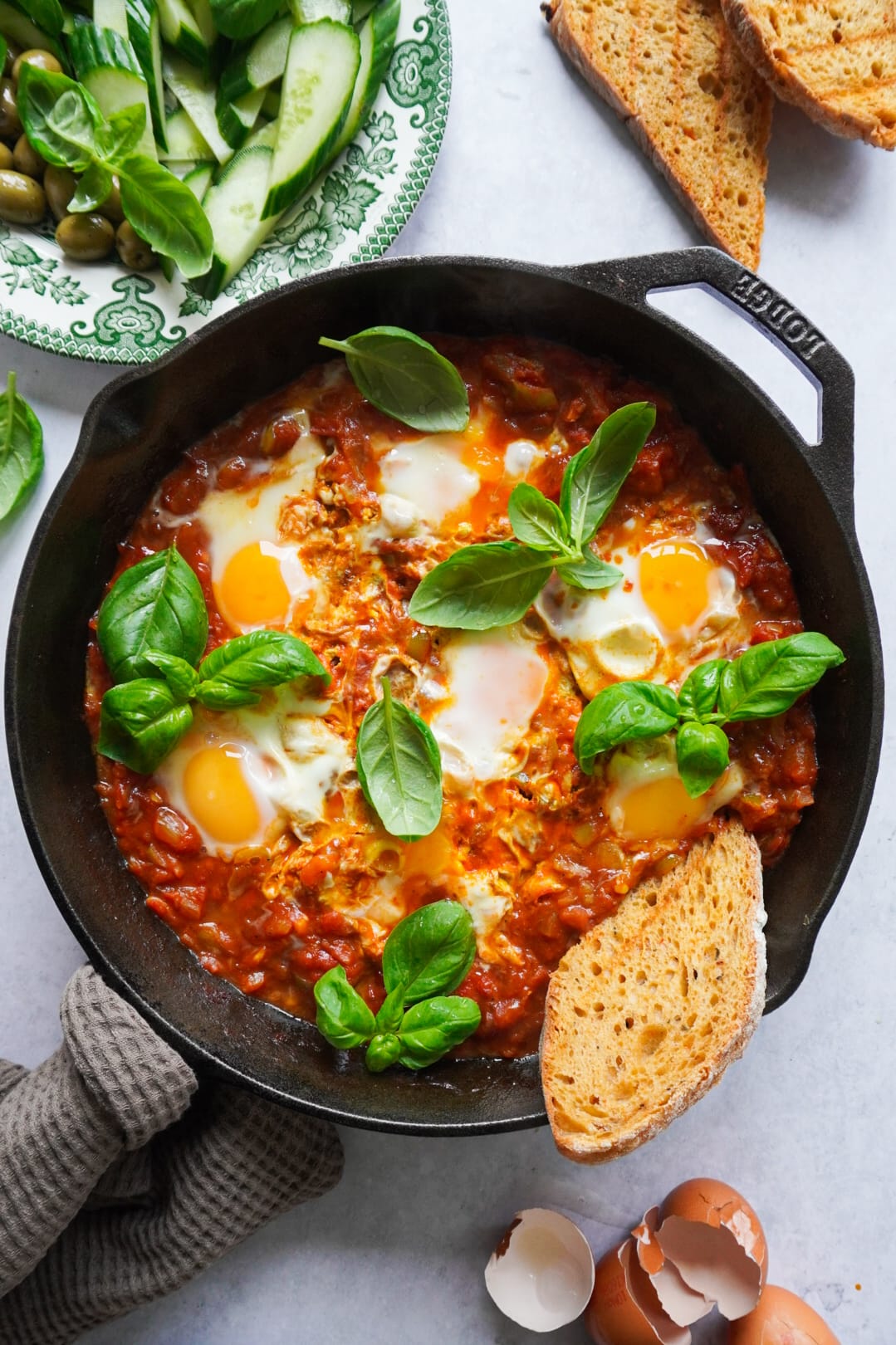 ---
Why is Shakshuka so satisfying?
This Turkish Pepper and Egg Shakshuka is such a quick dish to put together, with just a few simple ingredients and quick and easy steps, you can have a healthy breakfast ready for you and your family to enjoy. And not just breakfast, this can be eaten at any time of the day... a dream come true, right?
It is a combination of simple ingredients like tomatoes, onions, eggs and a mix of spices to give the most satisfying explosion of flavours. You can taste every ingredient separately but also perfectly merged together. This is honestly one of my favorite dishes to make, serve and photograph!
It makes such a fulfilling dish for my family, both nourishing and satisfying.
---
What to serve with Turkish Pepper and Egg Shakshuka?
Because Shakshuka is a classic dish made up of tomatoes, onions and eggs, it actually works perfect with quite a few different sides, giving a new combination of flavours.
Turkish Pepper and Egg Shakshuka tastes amazing with freshly baked or toasted sourdough.
Like every traditional breakfast in the Middle East, you can add a side of cucumber and olives to your dish to fill your dining table as well as your guests :)
Don't forget to garnish with fresh mint or basil!
---
The perfect dish in a few minutes!
---
Top Tips for the best Shakshuka
Remember to use a non-stick pan or a stainless steel skillet so your shakshuka does not stick!
Shakshuka is a very healthy dish made up of a good mix of vegetables. You can choose to add your own vegetables to spice things up and for that added unique taste. And of course this works well if you're missing an ingredient or two when putting this dish together.
Once your shakshuka is cooked and ready to serve, don't forget to garnish with fresh mint, or basil works just as well.
---
Ingredients
Medium red or white onion
Eggs
Canned tomatoes
Medium ripe tomatoes
Turmeric
Salt
Pepper
Pul biber (Aleppo Pepper)
Cumin
Garlic
Green Peppers
Olive Oil
Water
---
Step by Step
Start by heating your olive oil in a large pan and place your finely chopped onions to sauté until translucent. Add the chopped Turkish peppers and garlic and continue to sauté for a couple of minutes. Then, add all your spices to the mixture.
---
Add the chopped tomatoes followed by the canned tomatoes in addition to the water. Put the lid on and leave your mixture to cook together and for everything to soften for about 5 - 8 minutes.
---
As soon as the tomatoes have become soft and the water has dried up, make little wells in the mixture and crack the eggs one by one into the wells. Put the lid back on so the eggs can cook and harden. Serve up and enjoy!
---
Frequently Asked Questions
Is Shakshuka healthy?
Yes! Traditional shakshuka is rich in Vitamin A, C and K. The eggs add lots of protein making this dish very healthy.
What exactly is Shakshuka?
It is a dish made up of tomatoes, onions and spices to make up the base topped with soft poached eggs.
How long does it take to make Shakshuka?
It takes no longer than 20 minutes and you're done!
---
If you do make this recipe, please tag me on Pinterest or Instagram so I can see! It's my favorite thing to scroll through stories and see what you are all making.

And of course feel free to leave any questions, comments, or reviews! This is the best place to reach me, and I'd love to hear from you :)
Other recipes to try