Before we begin, I have to tell you that the inspiration to this recipe was not just this festive season, but also the tasty apple pie's you get at McDonald's, and maybe the fact that I had many apples sitting in my fridge. I made this Apple Streusel Handpie from scratch and we all absolutely loved it.
With ingredients you already have in your pantry, you can make this recipe quite quickly with no hassle at all 🙂
---
---
Bite size pockets of deliciousness
---
Why is Apple Streusel Handpie loved so much?
At any party or festival you go to, it's always the Apple Strudel I tend to see being devoured first on the dessert table. Maybe because they're pocket sized , easy to eat and taste absolutely incredible?
Whether you're on the eating end of the Deliciously Tasty Apple Streusel Handpie, or the making end, either way you have it easy because it is so straight forward. You're left with a combination of a crunchy crispy crust of the pastry, filled with a juicy soft and sweet apple filling! And it gets better, the cinnamon sugar I sprinkle on top of each pastry, takes it that one step further.
You can actually enjoy your apple strudel as both a warm and cold dessert, with so many combinations to mix and match with, Apple Streusel Handpie is always a go to!
What can I eat Apple Streusel with?
The juicy filling of the Apple Streusel Handpie can be eaten straight out of the oven and is most commonly served warm, however, it is enjoyed by many served cold, after it has been refrigerated.
Whether you eat thisApple Streusel Handpie hot or cold, it can be served with a side of whipped cream or any ice cream of your choice. The addition of ice cream with the Apple Strudel gives a new mix of flavour, you'll be asking for seconds and thirds!
Another addition that goes well withApple Streusel is custard. Poured on the side or all over your slice, either way, the taste of them both combined is amazing!
---
The go-to ultimate dessert
---
Ingredients
Granny smith apples
Sultanas
Puff pastry sheets
Butter
Corn starch
Cinnamon powder
Brown sugar
Lemon juice
Vanilla extract
Salt
For the egg wash
For the Cinnamon Sugar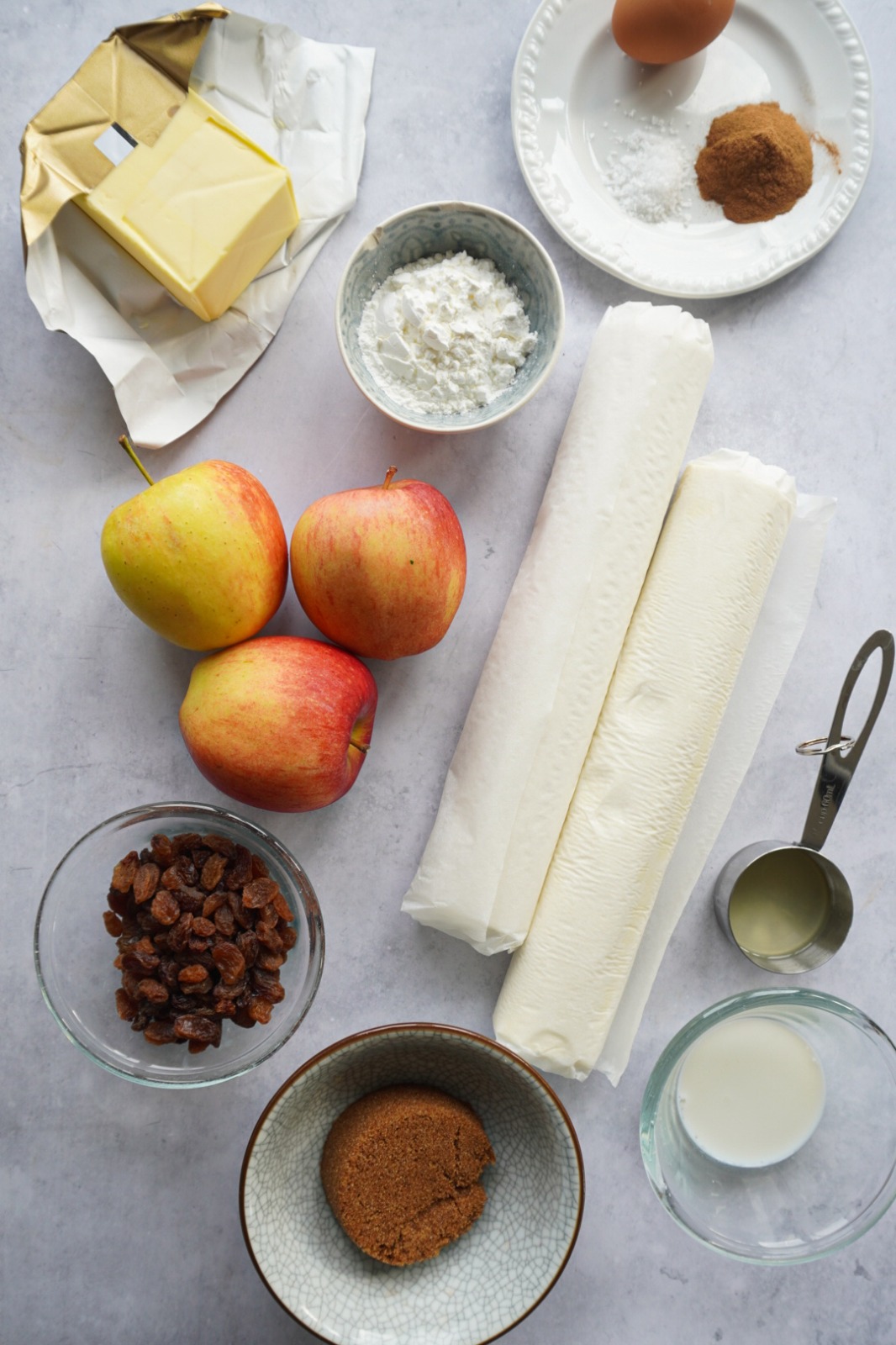 ---
Step by Step
Start by peeling the apples fully and cutting them into small cubes. Add the cinnamon, salt, lemon juice and butter, and put on the fire for about 5 – 8 minutes until all ingredients have melted and combined together into a mixture.
When the mixture softens and becomes a jam-based texture, add the sultanas and mix. Mix together the cornstarch and water to make into a paste and add onto the mixture. Put on low heat to cook altogether for about a minute.
Open each puff pastry sheet and cut into 6 equal sizes.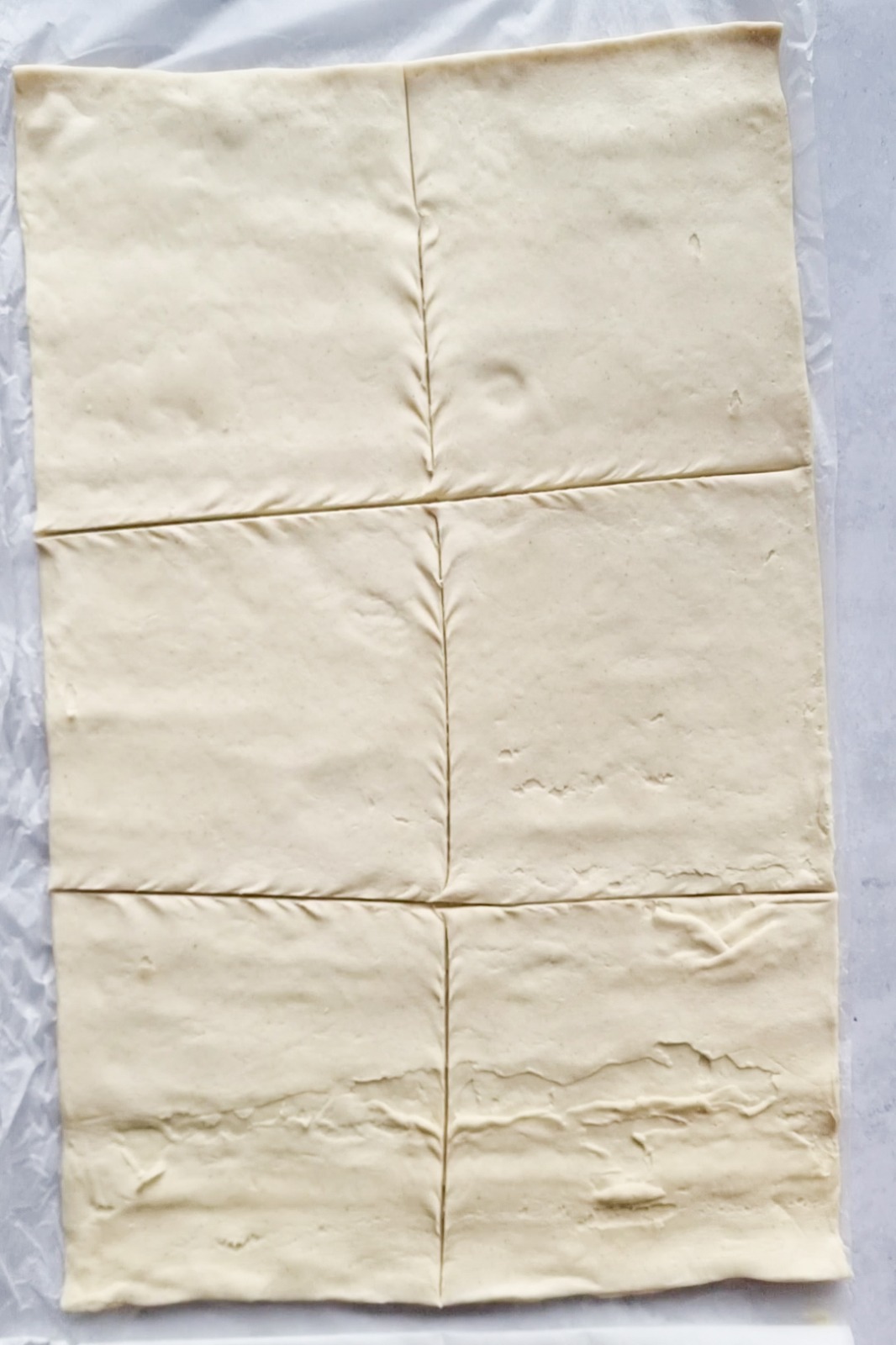 ---
Put 1 – 2 tablespoons of mixture on one side and fold the pastry sheet over.
---
Close the edges by pressing with your finger then create dips around the edges using a fork. Press the puff pastry slightly so that when it cooks it doesn't puff up too much.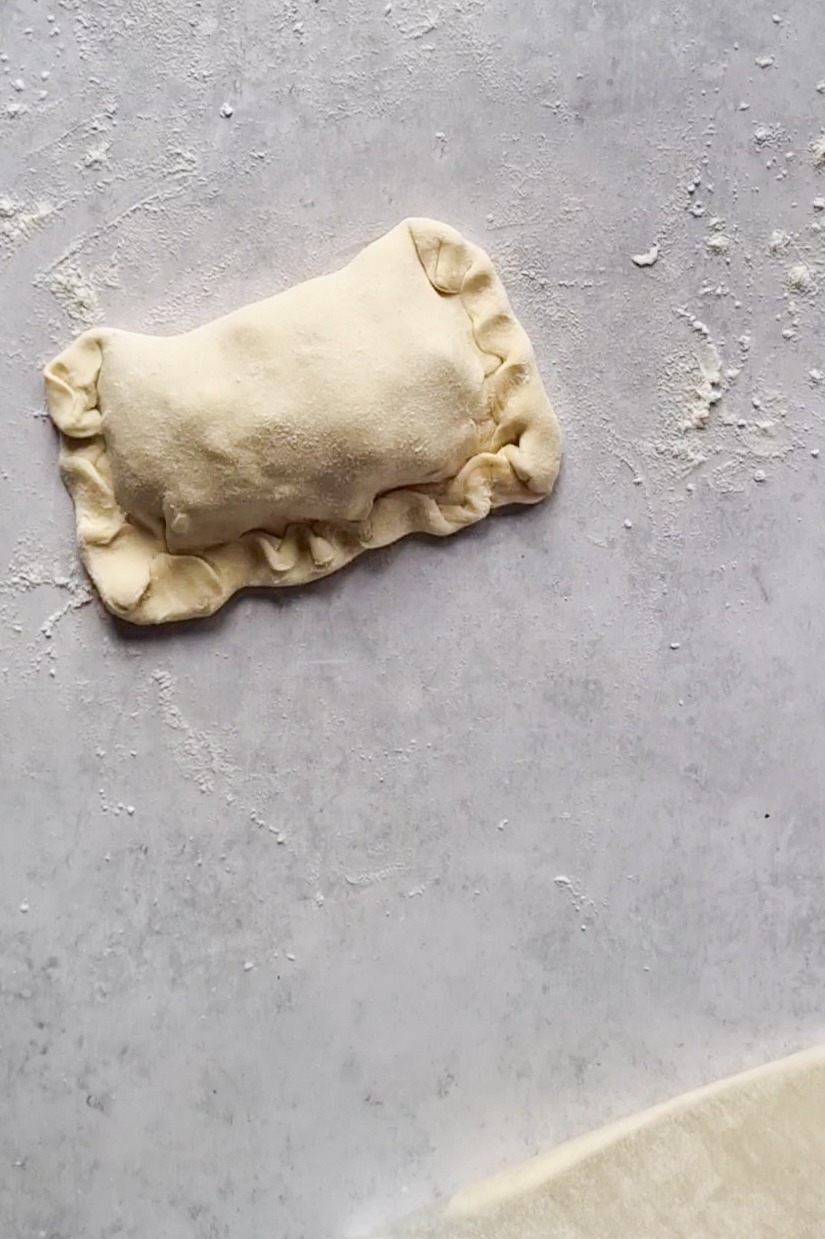 ---
Mix the milk with the egg yolk and brush on top of the puff pastry. Using a knife, create 3 little cuts on top of the pastry to allow air to get through and for the apple strudel to cook really well.
Then, mix the cinnamon powder with white sugar to make cinnamon sugar, and sprinkle on top of each pastry.
Pop in the oven for 30 minutes until they puff up slightly and become flaky and golden.
Serve and enjoy 🙂
---
Frequently Asked Questions
How long can my Apple Streusel keep?
Your Apple Streusel can stay fresh and edible for up to 3 days if kept refrigerated in an airtight container.
Should Apple Streusel be served hot or cold?
Your Apple Streusel can be enjoy both cold and warm. A personal favorite would be heating up the strudel before serving to crisp up the dough with a slightly warm filling.
Can I make my Apple Streusel in advance?
Yes! Your Apple Streusel can be made one day in advance.
---
If you do make this recipe, please tag me on Pinterest or Instagram so I can see! It's my favorite thing to scroll through stories and see what you are all making.

And of course feel free to leave any questions, comments, or reviews! This is the best place to reach me, and I'd love to hear from you 🙂
---
Recipes You Must Try
Apple Streusel Handpie
For the Apple Strudel mixture
For the egg wash
For the Cinnamon Sugar
Instructions
Start by peeling the apples fully and cutting them into small cubes. Add the cinnamon, salt, lemon juice and butter, and put on the fire for about 5 – 8 minutes until all ingredients have melted and combined together into a mixture.

When the mixture softens and becomes a jam-based texture, add the sultanas and mix. Mix together the cornstarch and water to make into a paste and add onto the mixture. Put on low heat to cook altogether for about a minute.

Open each puff pastry sheet and cut into 6 equal sizes.

Put 1 – 2 tablespoons of mixture on one side and fold the pastry sheet over.

Close the edges by pressing with your finger then create dips around the edges using a fork. Press the puff pastry slightly so that when it cooks it doesn't puff up too much.

Mix the milk with the egg yolk and brush on top of the puff pastry. Using a knife, create 3 little cuts on top of the pastry to allow air to get through and for the apple strudel to cook really well.

Then, mix the cinnamon powder with white sugar to make cinnamon sugar, and sprinkle on top of each pastry.

Pop in the oven for 30 minutes until they puff up slightly and become flaky and golden.

Serve and enjoy