If you're looking for something that fills you with warmth this winter, your in luck with this Class English Shepherds Pie recipe, a classic British dish that is loved all over the country and adjusted in many ways in different areas of the world.
Here's a big lesson that I've learned regarding food… To stop being so picky! That, what you don't eat today will probably become a future favourite and that's because our taste buds change all the time. Rumor has it that they change every 7 years but that is far from the truth! After some research I found that each person is born with approximately 10,000 taste buds that are replaced every 2 weeks or so.
Overtime taste cells aren't replaced and their numbers start to decrease. So all those flavours that were too intense when we were children are actually more palatable when we get older.
So it finally makes sense while the child me hated Shepherds pie but the adult me adores it! Now tell me in the comments, what did the child you hate that the adult you loves?
---
---
The satisfaction of a delicious pie
---
Why is it called Shepherds Pie?
Shepherds Pie is a classic and traditional dish here in the UK and has been for many years, even though it didn't actually originate from here. I don't think its something we think about a lot but its name is a direct reflection of what it is.
If this dish is made from mutton or lamb, this is where the Shepherd bit comes in because of course, they look after sheep, with a topping of mashed potato patterned in such a way to represent a sheep's fleece. Cute right!?
Changing the inside of the pie actually changes its name so when we use beef like I have done in the base mixture, the dish should be called a cottage pie instead, but I much prefer to call it a Classic English Shepherds Pie, because that's how we love it, and regardless of what we call it, its the delicious taste that matters 🙂
---
A bit of Interesting History to the mix
Shepherds Pie has been around since the late 1700s and just like we do today, housewives were looking for ways to put a quick dinner together to feed their families, incorporating ingredients they had readily available into a dish that kept them warm, filled their stomachs and made the kids happy!
It was inexpensive back then and still is today, with a few healthy ingredients, a mix of vegetables and a selection of spices, you will have a Classic English Shepherds Pie ready in no time at all.
The way the mashed potatoes tops your mixture and comes out of the oven nice and crunchy, it's an absolute work of art and I personally love it very much.
---
A Layer of warmth topped with satisfaction
---
Top Tips for your Classic English Shepherds Pie
Let me give you a few tips to make this scrumptious Classic English Shepherds Pie 🙂
The mixture for the shepherds pie base cooks really quickly, in less than 10 minutes, so start by boiling your potatoes first. Cut each potato up into 4 – 6 pieces, not too big so that they boil faster and while on boil start with your mixture. This way you'll have your boiled potatoes ready to mash and your mixture cooked all at the same time.
Also, you can choose to cook your mixture in a cast iron dish so once cooked, instead of transferring into a new dish, you can flatten your mixture down in the same pan ready to be topped with your mashed potato, saving time, effort and most importantly, washing up!
Don't forget to rinse your can with half a cup of water after emptying the canned tomatoes out.
This Classic English Shepherds Pie is an absolutely delicious dish with a combination of yummy vegetables and meat, topped with mashed potatoes, baked to perfection, so enjoy it!
---
Ingredients
For your mixture
Worcester Sauce
Frozen Peas
Celery
Carrots
Tomato Puree
Organic Chopped Tomatoes
Water
Black Pepper
Salt
Organic Vegetable Cube
Dried Parsley
Oregano
Onion
Minced Beef
Garlic
Oil
---
For your mashed potato
Potatoes
Butter
Parmesan Cheese
Full Fat Milk
---
Step by Step
Starting with your potatoes, peel them and cut each potato into 4 to 6 pieces and put on boil.
While your potatoes are boiling, sauté your meat from the beginning with the onions and crushed garlic until very lightly brown then add the celery and carrot because these need the longest time to cook.
Add the spices, Worcester sauce, canned tomatoes and tomato paste. Rinse the can with half a cup of water and add to the mixture. Mix well and allow them to cook together for about 5 -6 minutes until you see the tomato paste takes effect and the colour of the mixture becomes deep red.
Take the mixture off the heat, defrost the peas and add to the mix. Your pan and mixture are already hot so the peas do not need to cook together properly as it will be put in the oven.
Flatten out the mixture in a cast iron dish.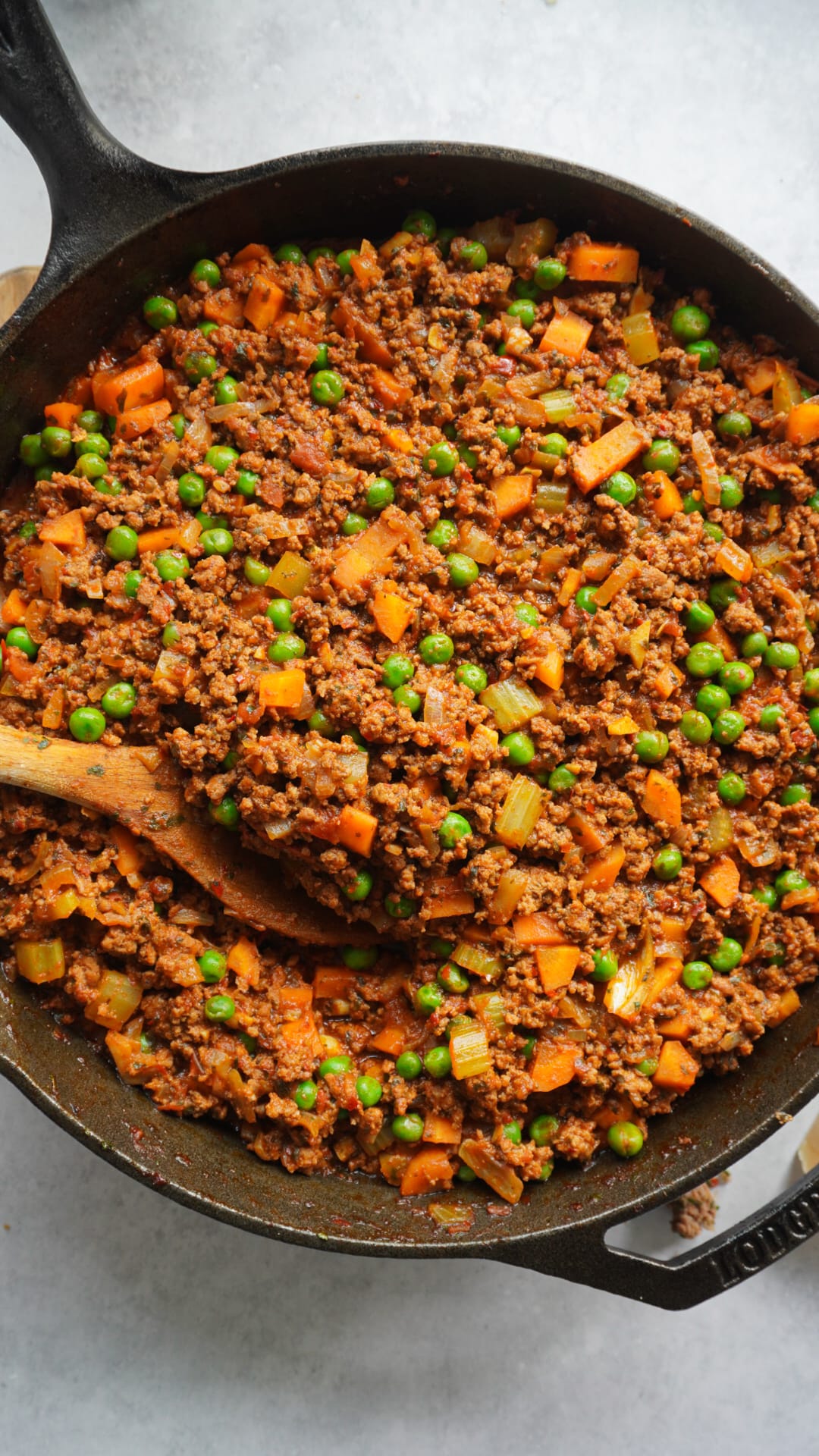 To make your mash, drain your potatoes once fully boiled. Return the potatoes to the pot, add the butter and milk and mash together.
Layer the mashed potato on top of the mixture in the cast iron dish and grate a generous amount of parmesan cheese on top.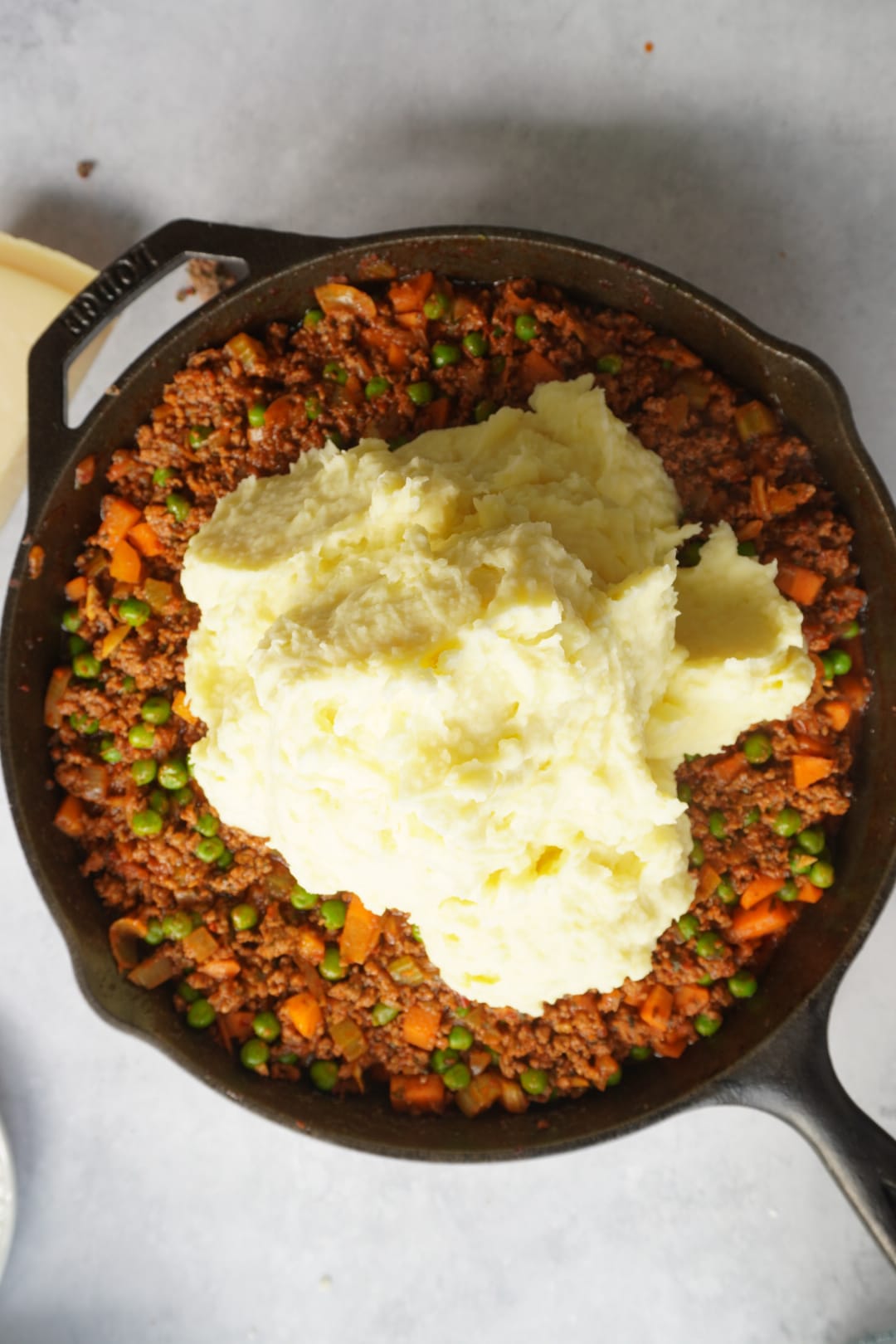 ---
Put the dish in the oven at 175 degrees for 45 minutes.
Top with some basil, serve and enjoy 🙂
---
Frequently Asked Questions
How can I store my Shepherds Pie?
Shepherds pie can last up to 5 days in the fridge or up to 2 months in the freezer. It can be reheated in both the oven or the microwave.
Can I make shepherd pie vegetarian?
Yes! The pie can be made without meat for a vegetarian version – this is called a shepherdess pie. It can also be made without meat and dairy for a vegan version.
When can Shepherds pie be eatan?
Well, whenever wherever really but it is traditionally cooked during the cold winters.
---
If you do make this recipe, please tag me on Pinterest or Instagram so I can see! It's my favorite thing to scroll through stories and see what you are all making.
Click here to watch a step-by-step guide for this recipe.

And of course feel free to leave any questions, comments, or reviews! This is the best place to reach me, and I'd love to hear from you 🙂
---
Recipes You Must Try
Classic English Shepherds Pie
For your mixture
For your mashed potato
Instructions
Starting with your potatoes, peel them and cut each potato into 4 to 6 pieces and put on boil.

While your potatoes are boiling, sauté your meat from the beginning with the onions and crushed garlic until very lightly brown then add the celery and carrot because these need the longest time to cook.

Add the spices, Worcester sauce, canned tomatoes and tomato paste. Rinse the can with half a cup of water and add to the mixture. Mix well and allow them to cook together for about 5 -6 minutes until you see the tomato paste takes effect and the colour of the mixture becomes deep red.

Take the mixture off the heat, defrost the peas and add to the mix. Your pan and mixture are already hot so the peas do not need to cook together properly as it will be put in the oven.

Flatten out the mixture in a cast iron dish.

To make your mash, drain your potatoes once fully boiled. Return the potatoes to the pot, add the butter and milk and mash together.

Layer the mashed potato on top of the mixture in the cast iron dish and grate a generous amount of parmesan cheese on top.

Put the dish in the oven at 175 degrees for 45 minutes.

Top with some basil, serve and enjoy