The Inspiration behind this biscoff pudding comes from my very recent 30th birthday cake which was a biscoff nutella cake. It was delicious but it is not a recipe I would share with the world just yet.

This pudding however, is fool proof, quick, simple and easy to put together and when you flip it, drizzle some biscoff cream, slice and serve it along with some freshly brewed tea or coffee it's everything and more.

If all the above is what you're after then I highly recommend you try it for yourself.

I would love your feedback on it in the comments as always.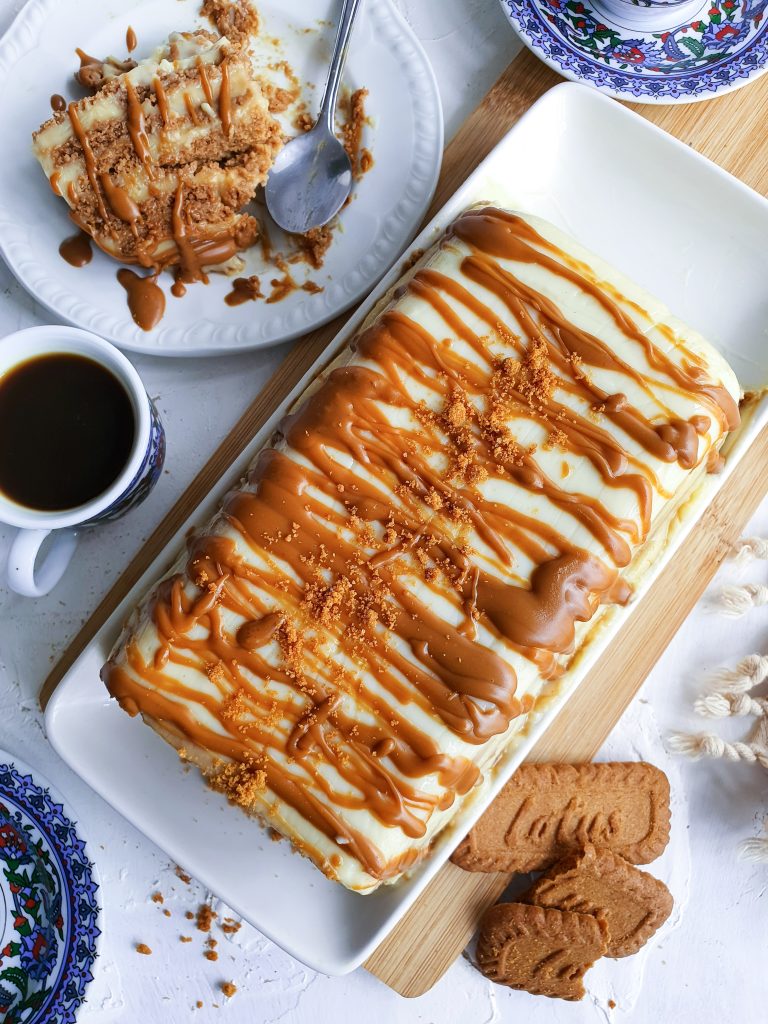 Easy Biscoff Pudding
Instructions
In a medium sized sauce pan whisk the flour, egg yolk, sugar, milk and vanilla until smooth.

Place the sauce pan on medium to low heat and continuously whisk until the pudding starts to thicken, this should take about 5-10 minutes depending on how high the heat is. Take the pudding off the heat once it has a custard like consistency.

I choose a rectangular cake tin to assemble the pudding. If you don't want to flip it, you can choose a pyrex or any glass dish, layer the pudding, decorate the top and serve it as it is.

I covered the inside of the cake tin with cling film, this was enough to cover the base, walls and enough left over to cover the top at the end.

Once the mixture is luke warm, pour enough of the pudding in the base of the tin to make a thin layer. Start placing the first layer of biscuits in the tin, followed by another layer of the pudding. Not too much or too little the pudding should just about cover the biscuits. Continue this process until the dish is full to the top.

Place the pudding in the fridge for at least 10-12 hours but preferably overnight and drizzle with Biscoff spread before serving.