Cakes comes in so many different shapes and sizes, and the majority of cakes i've come across so far, the main, and one of the first ingredients, is flour. This Flourless Chocolate Cake is a recipe I am so proud of, it's absolutely mind-blowingly delicious!
Every evening, both week days and weekends, deserves a little cake, and whenever we have guests over or family gatherings, having the perfect dessert is essential on the dining table and I can guarantee you, you just can't get enough of this!
---
---
Delicious to look at and delicious to taste
---
Why make a Flourless Chocolate Cake?
The first ingredient that comes to mind when it comes to making a cake of any kind is flour, but really!? A Flourless Chocolate Cake?
Cakes made with flour tend to have such a rich flavour when you take a bite, with a delicious creamy texture inside that make eating slice after slice very justified in my opinion 🙂
Apart from the taste of course, one of the many things I love about this Flourless Chocolate Cake is its simplicity also the fact that it is Gluten Free. In a few simple steps, you end up with such an elegant dessert that comes together in less than 40 minutes.
---
A Flourless Chocolate Cake Special
Being able to put together a flourless Chocolate Cake is beneficial in so many ways. Flourless cakes are actually healthier than normal cakes containing flour, but still maintain the delicious and tasty flavour. Also, flourless cakes are a speciality for those of Jewish faith during the Holiday of Passover, when they are not allowed to eat anything containing flour at that time.
This cake is also gluten free! Including a gluten free cake in your diet helps improve health or you can say that it aids in satisfying the sweet tooth while still being able to keep the calories down. It is super rich and creamy, which is exactly what I look for in chocolate cake. I find that most chocolate cakes made with flour need the help of some kind of frosting to retain moisture and just be gooey and moreish. In conclusions, this Flourless Chocolate Cake is exactly what you need in your life. I can guarantee this Flourless Chocolate Cake will be your new go to recipe to impress.
---
This cake doesn't get enough credit
---
Ingredients
Sugar
Eggs
Instant Espresso Powder
Salted Butter
Sea Salt
Chocolate
Cocoa Powder
---
Step by Step
Grease and flour a round tin and set aside to start with and also preheat the oven to 175 degrees.
Melt the butter and chocolate in a pan, and set aside to cool down. Also, mix the espresso with hot water and also set aside to cool down.
For 5 of the eggs, separate the whites from the yolks. Break 2 full eggs and mix them with only with the yolk of the previous 5 eggs, along with salt, cocoa powder, espresso and sugar. Hand whisk them to combine the ingredients well.
---
Add the cooled melted chocolate and butter mixture to the whisked bowl and mix again until well combined.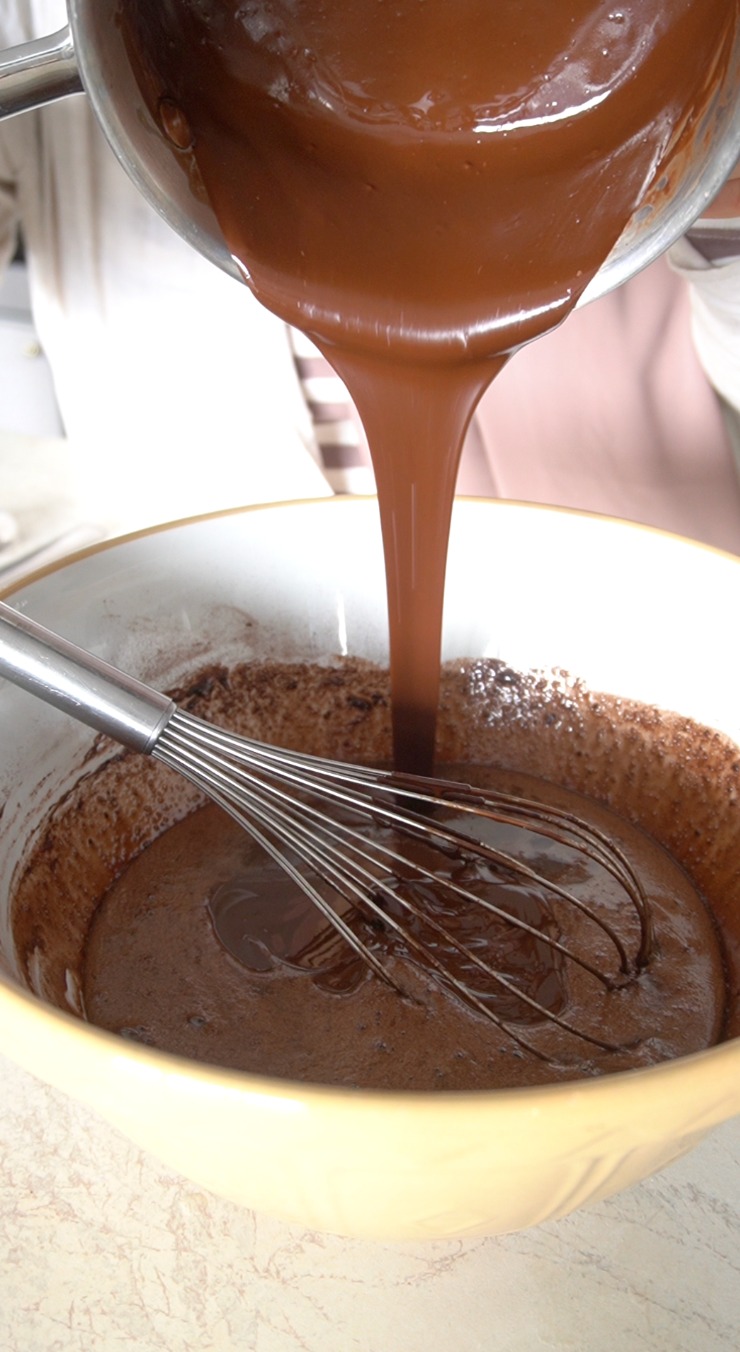 ---
Whisk the separated egg whites until fluffy like clouds to a point where if you turned the bowl upside down, it would not fall out of the bowl.
---
Add the whisked egg whites to the main bowl and mix together until combined. Once combined well, stop mixing – we do not want to over mix them.
The mixture will be fluffy like clouds.
---
Pour the mixture into the tin you set aside right at the beginning, and bake for 25 – 30 minutes or until the centre is no longer wobbly.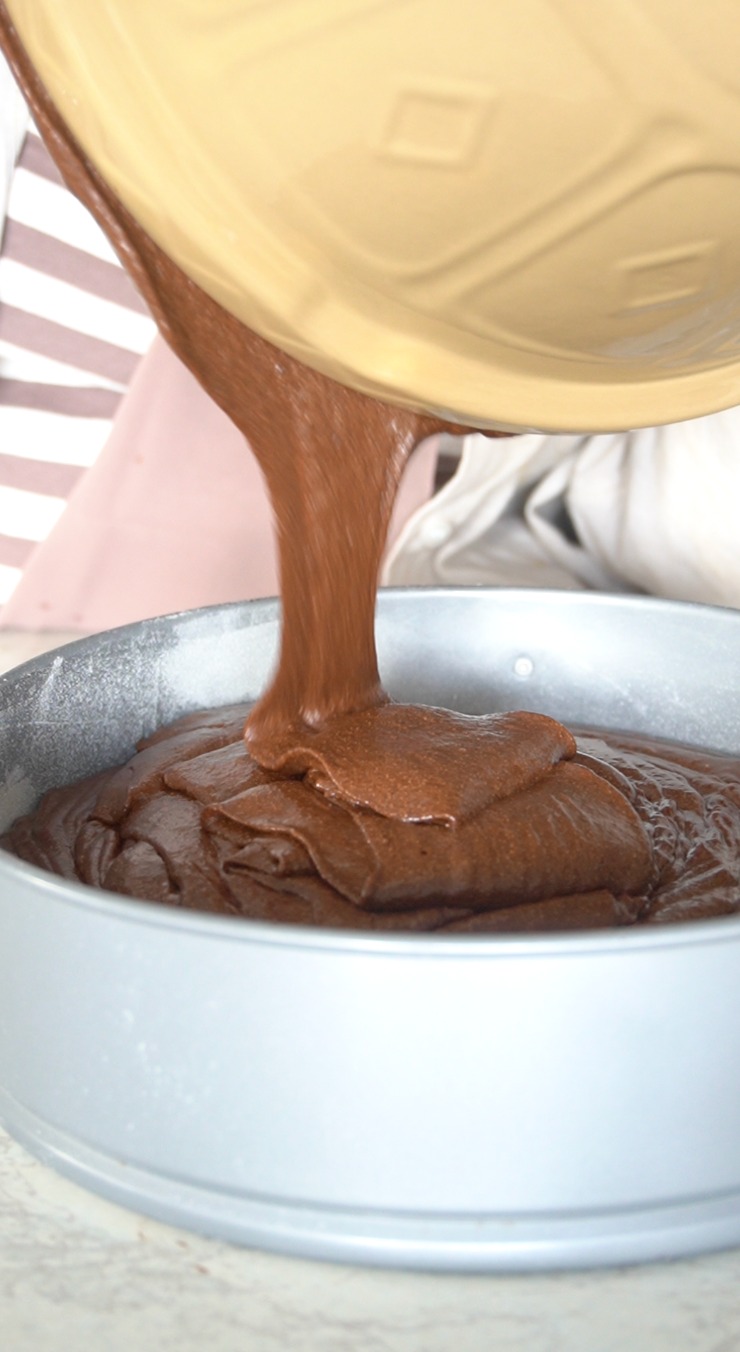 ---
Bring the cake out and set aside on cooling rack to completely cool – do not touch the cake for a minimum of 2 hours.
Sprinkle more cocoa powder to finish off.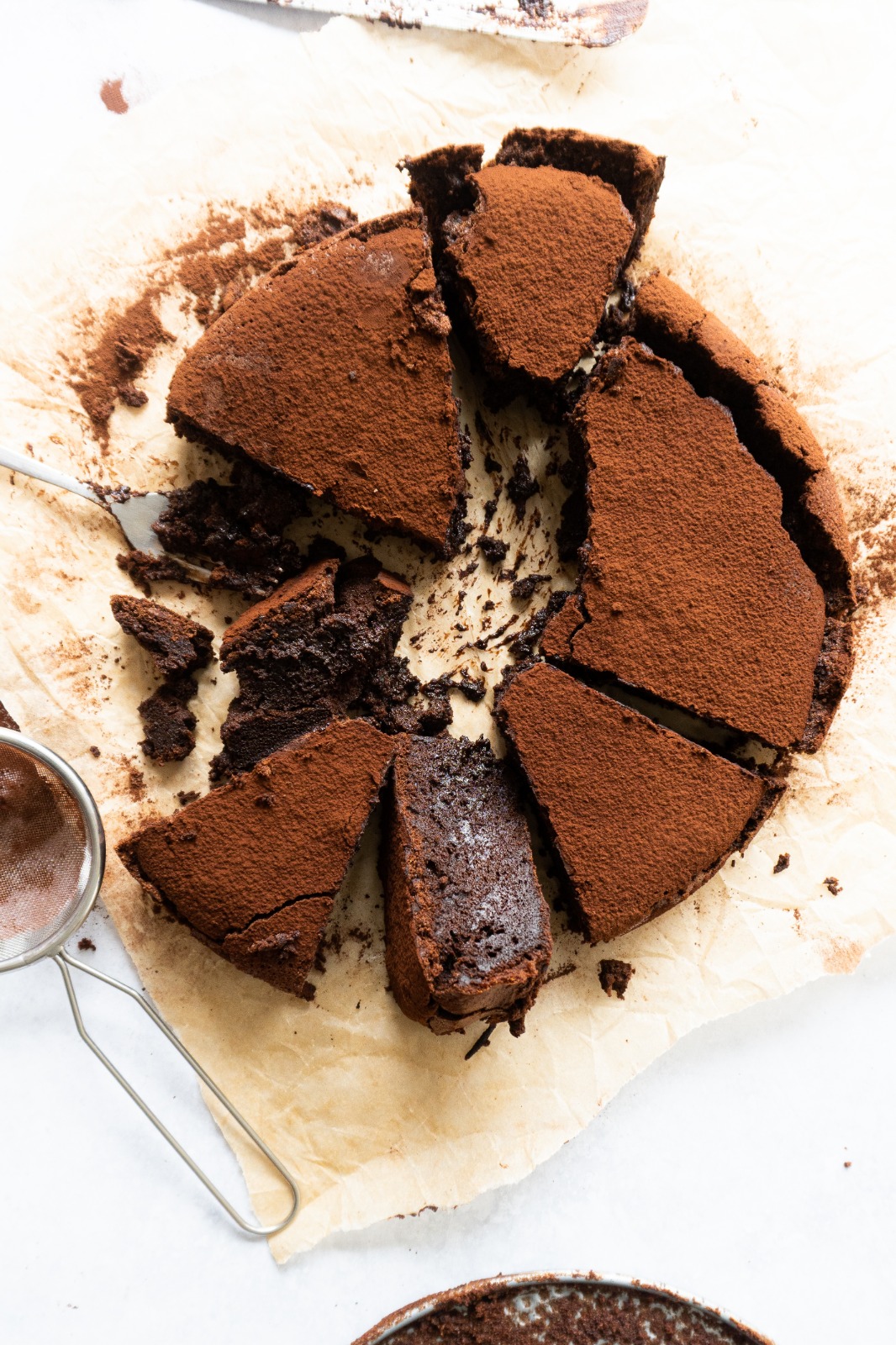 Serve and enjoy 🙂
---
Frequently Asked Questions
What does a Flourless Chocolate Cake taste like?
A Flourless Chocolate Cake in not fluffy or light. It has a more rich texture like a chocolate truffle, with a silky, rich filling.
Does Flourless Chocolate Cake need to be refrigerated?
No, it does not necessarily have to be refrigerated. It can be kept at room temperature until ready to serve.
Can a Flourless Chocolate Cake be frozen?
Absolutely, but it must be cooled to room temperature first! It is very easy to freeze and can be put in the freezer as separate slices or the entire cake.
---
If you do make this recipe, please tag me on Pinterest or Instagram so I can see! It's my favorite thing to scroll through stories and see what you are all making.

And of course feel free to leave any questions, comments, or reviews! This is the best place to reach me, and I'd love to hear from you 🙂
---
Must Try Recipes
Flourless Chocolate Cake
Instructions
Grease and flour a round tin and set aside to start with and also preheat the oven to 175 degrees.

Melt the butter and chocolate in a pan, and set aside to cool down. Also, mix the espresso with hot water and also set aside to cool down.

For 5 of the eggs, separate the whites from the yolks. Break 2 full eggs and mix them with only with the yolk of the previous 5 eggs, along with salt, cocoa powder, espresso and sugar. Hand whisk them to combine the ingredients well.

Add the cooled melted chocolate and butter mixture to the whisked bowl and mix again until well combined.

Whisk the separated egg whites until fluffy like clouds to a point where if you turned the bowl upside down, it would not fall out of the bowl.

Add the whisked egg whites to the main bowl and mix together until combined. Once combined well, stop mixing – we do not want to over mix them. The mixture will be fluffy like clouds.

Pour the mixture into the tin you set aside right at the beginning, and bake for 25 – 30 minutes or until the centre is no longer wobbly.

Bring the cake out and set aside on cooling rack to completely cool – do not touch the cake for a minimum of 2 hours.

Sprinkle more cocoa powder to finish off.

Serve and enjoy