This dish is actually Lebanese by origin and apparently it's not unusual for hummus to be served loaded with something. I absolutely love that concept as I love hummus and beef.
So here's my take on it! I used this beautiful blend of shawarma seasoning that I recently picked up. I used 1 and a half to 2 teaspoons of it and it was just perfect. I can be pretty heavy handed when it comes to spices but I also believe less is more when cooking with red meat. Its nice to sometimes allow the flavour of meat to come through.
I hope you try and enjoy this simple yet delicious recipe.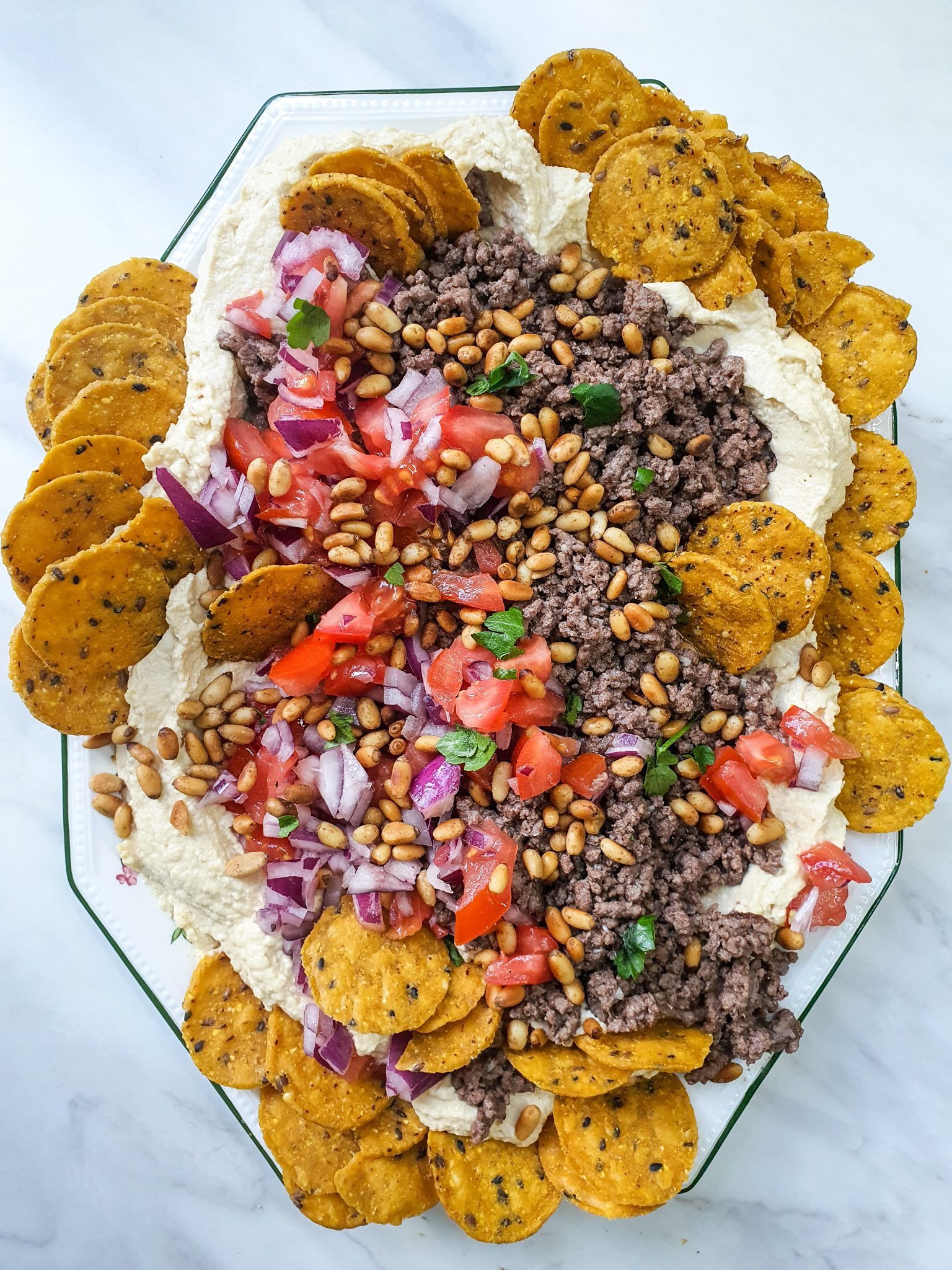 Loaded Hummus with Shawarma Ground Beef
For the Hummus
For Beef Shawarma Topping
Instructions
Sauté the ground beed with chopped onion and crushed garlic in olive oil until browned, add the seasoning and set aside.

Chop the salad ingredients finely and season with olive oil, salt and pepper.

Toast the pine nuts until lightly browned.

In a large serving dish layer the hummus, topped with spiced beef, salad and pine nuts.
To make the hummus
To make your hummus from scratch, start by putting the chickpeas in a pot topped with water. Place on medium to high heat and allow to boil for 30 minutes until the chickpeas become so tender and easily soft to squeeze between two fingers. The skin should be easily removed.

To remove the skin, rub the chickpeas lightly between your hands, this loosens the skin. Pour cold water in the pot and all the skin should rise to the surface, at this point you can remove them all. Do this process a few times. you don't need all the skin removed, just some.

Drain the chickpeas fully and toss the cooked chickpeas in a smoothie blender for the smoothest hummus. Add tahini, cumin, salt, garlic cloves, lemon juice, water and pepper. Puree the chickpeas until there are no pieces or lumps, about 3 minutes.

Add the ice and blend for another 3 minutes until everything is fully blended. You will see that the ice instantly brightens the hummus.

While the blender is running, slowly drizzle extra virgin olive oil in a continuous thin line. This will make your hummus super smooth.

Place the hummus in the fridge to cool down and serve up with an extra drizzle of olive oil.