I know how it must sound when you see the title!
What on earth can sour Kofta aka meatballs taste like. I promise you It doesn't taste off or too sour that you cant stomach it. It is just the perfect tartness in that flavourful tomato sauce. The meatballs turn out super juicy as they are being cooked in a sauce. The potatoes especially when soaked up a little of that tomato sauce become very tasty too.
I grew up eating this dish as it was a signature dish of my grandmothers and it still is. This dish originates from the turkish side of Iran, known as Tabriz in the northern region which is also close to Azerbaijan border.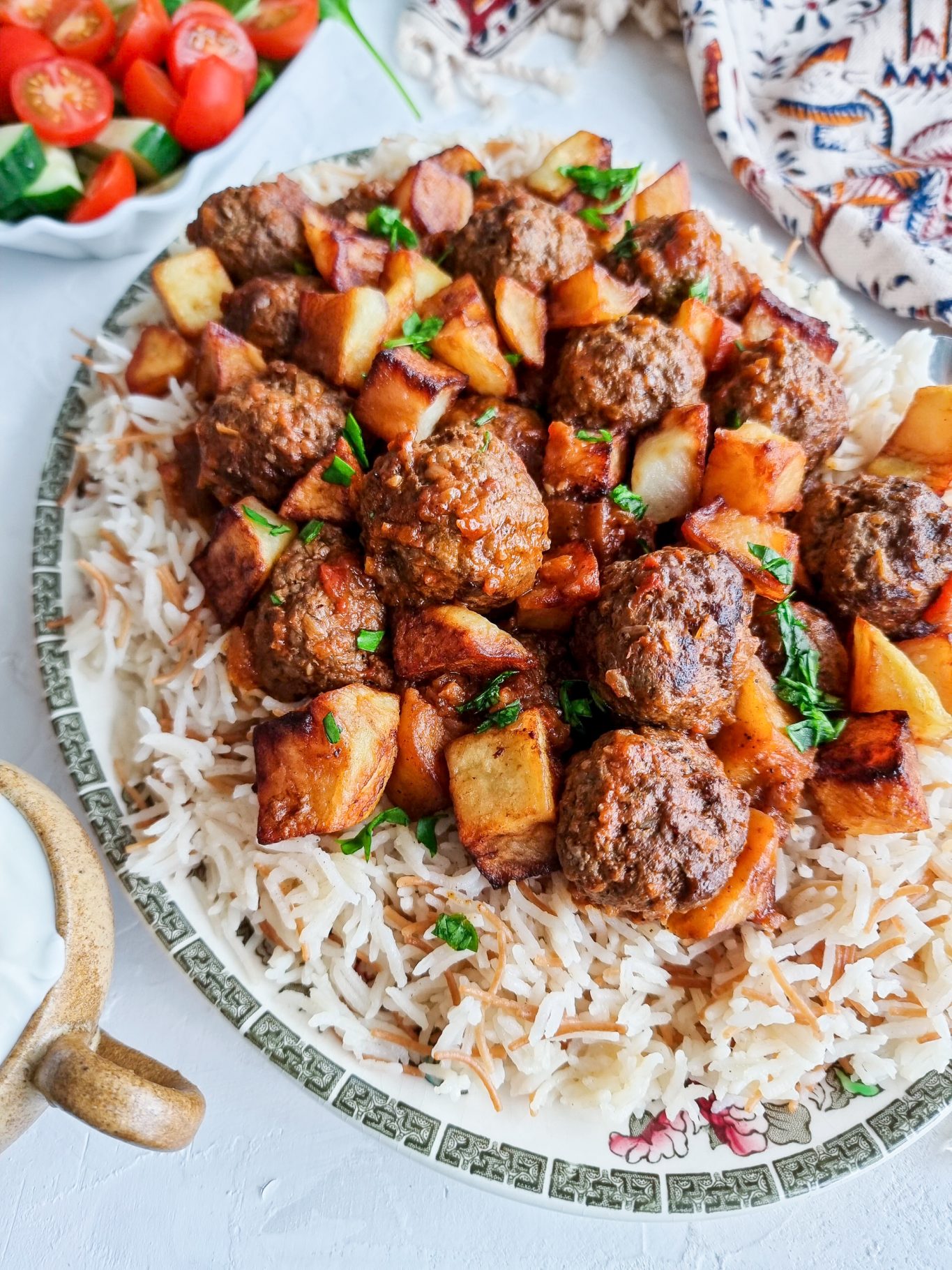 I serve this dish with Arabic style rice with noodles which I also have a recipe for on the blog. Though it is just as delicious with plain rice. A delicious Shirazi salad along with plain or cucumber mint yogurt (mast-o-khiyar) complements this dish beautifully.
I also garnished with with fresh coriander and parsley.
Hop you enjoy this one!
Sour Kofta – Persian Turkish Meatballs In Sour Tomato Sauce
Instructions
Soak the peeled and cubed potatoes in water while you do the following steps.

Place the meat in a large bowl, mince 2 of the onions, squeeze the water out and add ur to the meat.

Add all the seasoning and the oil and start shaping the meat into meat balls.

Drain the cubed potatoes and fry in a large pan in 1 cup of oil until golden. This oil will be used until the end of the cooking process.

Remove the potatoes and set aside, in the same pan fry the meatballs. Once browned remove from the oil and set aside.

In the juices from the meat, add the rest of the minced onions along with the crushed garlic and saute until the onions are translucent and caramelised.

Blend the chooped tomatoes, the fresh tomatoes and 1/2 cup of water in a blender until smooth. Add this to the browned onions.

Add the seasoning and allow to come to a simmer for 20 minutes or so. The sauce needs to reduce slightly.

Add the Lemon juice along with the meatballs to the pot. Add half of the fried onions to the sauce too. Use the rest to garnish when serving.