Date cakes are usually made by my mum so she is the inspiration behind this. Her and I however like different consistencies when it comes to cakes. I like them dense, sticky and gooey and she likes they airy and fluffy.

I initially made her recipe and although it was delicious as it was confirmed by a group of wonderful people who taste tested it, I tested it again and again until it became what I am completely pleased with. I tweaked some ingredients, added a lot more and of course added the Toffee Pecan sauce which takes it to another level.
I hope you try it and see how good it is for yourself!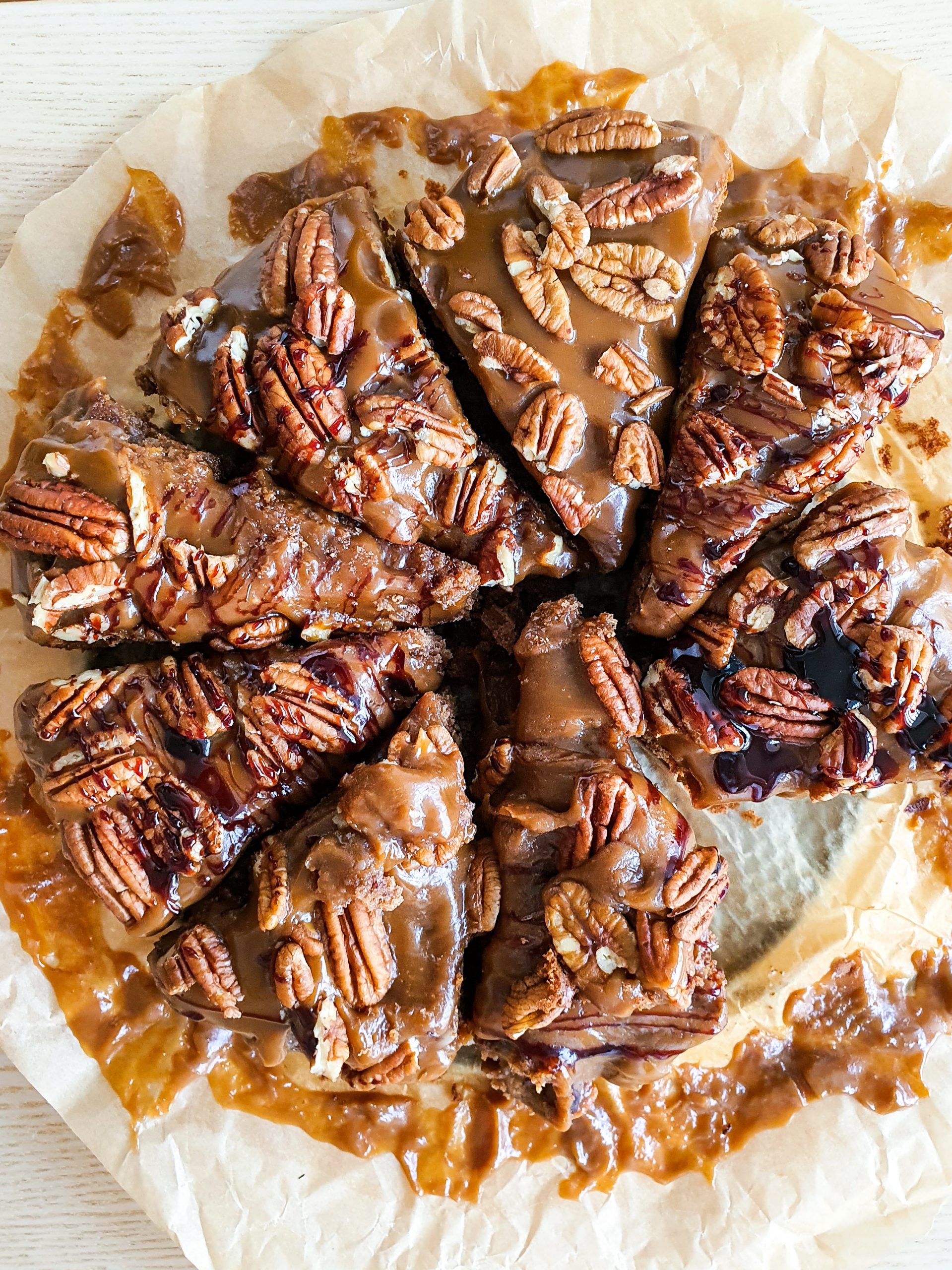 Toffee Pecan Date Cake
Instructions
Place the pitted dates with milk in a small saucepan and allow to warm up for 5 minutes until the milk is hot. Place everything in a food processor and blend for a couple of minutes. The mixture doesn't have to be completely smooth, but it should look like you have finely hand chopped the dates.

In another bowl mix all the dry ingredients (apart from sugar) and set aside.

Pre heat the oven for 10 minutes on 170c electric fan. (I only preheated for 5 minutes on mark 4 in my gas oven).

In another large bowl, using a electric whisk or a kitchen aid, whisk the eggs with sugar until smooth and fluffy (about 10 minutes), add the melted warm butter (not hot), vanilla and the date and milk mixture and whisk for an extra minutes until smooth.

Slowly start to fold the dry mixture into the wet mixture and mix to fully combine.

Line a round cake tin with greaseproof paper, pour the mixture in and bake in the oven for 60-70 minutes or until the cake is cooked, check the inside by poking a wooden toothpick or a fork in the centre, if nothing sticks, the cake is fully baked.

For the toffee sauce

- Melt the butter with sugar in a asaucepan and allow to fully melt and dissolve, add the cream, vanila extract and pinch of salt and allow to bubble and become thick. This should take about 5 minutes. Switch off the heat and set aside to cool down.

Allow the cake to cool down for 30 minutes to an hour, while it is still in the cake tin, pour the sauce on top followed by sprinkling the roughly crushed pecans. Allow to cool down and set. When serving drizzle each slice with the date syrup.