Soup is the ultimate comfort food, and Adasi Persian Lentil Soup is one of the most satisfying and delicious soups out there. This soup is a staple in Persian cuisine and is made with lentils, herbs, and spices. It's a hearty and nutritious soup that is perfect for any time of the year, but particularly comforting on chilly days.
---
---
A Taste of delicious flavours
---
A Hearty and Nutritious Comfort Food
– Lentils are the star of the show in Adasi
Lentils are a great source of plant-based protein and fiber, making them a healthy addition to any diet. They're also rich in iron, folate, and other essential nutrients, making them an excellent choice for vegetarians and vegans. Lentils are also easy to digest and are a low-glycemic-index food, which means they won't spike your blood sugar levels like some other foods can.
One of the best things about this Persian Lentil Soup is that it's easy to make. All you need is some lentils, onions, tomatoes, and a few herbs and spices. The lentils are cooked until they're tender, and then the rest of the ingredients are added. The soup is then simmered until all the flavors have melded together into a delicious and satisfying meal.
– All the best flavours in this Persian Lentil Soup
The herbs and spices used in Adasi Persian Lentil Soup are what give it its distinct and delicious flavor. Some of the most commonly used herbs and spices include turmeric, cumin, cinnamon, coriander and parsley. These spices not only add flavour but also have numerous health benefits. Turmeric is a powerful anti-inflammatory and antioxidant, while cumin is known for its ability to aid digestion. Coriander is rich in vitamin C and is believed to have antimicrobial properties, while dried mint is known to help with respiratory problems.
---
How to serve Adasi!
Adasi, Persian Lentil Soup is not only delicious and nutritious, but it's also a versatile soup. You can serve it as a main course with some crusty bread on the side, or as a side dish with a salad or some roasted vegetables. You can also customize the soup to your liking by adding your favorite vegetables or herbs. Some popular additions include carrots, celery, potatoes, and parsley.
In conclusion, Adasi Persian Lentil Soup is a delicious and nutritious soup that's easy to make and perfect for any time of the year. Lentils are the star of the show, providing plant-based protein and fiber, while the herbs and spices add flavor and numerous health benefits. Whether you're a vegetarian, vegan, or just looking for a comforting and satisfying meal, Adasi Persian Lentil Soup is sure to hit the spot. So why not try making a batch today? Your taste buds and your body will thank you!
---
Deliciously warm and satisfying
---
What you need to make this Persian Soup
Brown Lentils
Onions
Lemon
Olive oil
Potato
Tomato Paste
Salt
Cumin
Turmeric
Coriander and Parsley
Aleppo pepper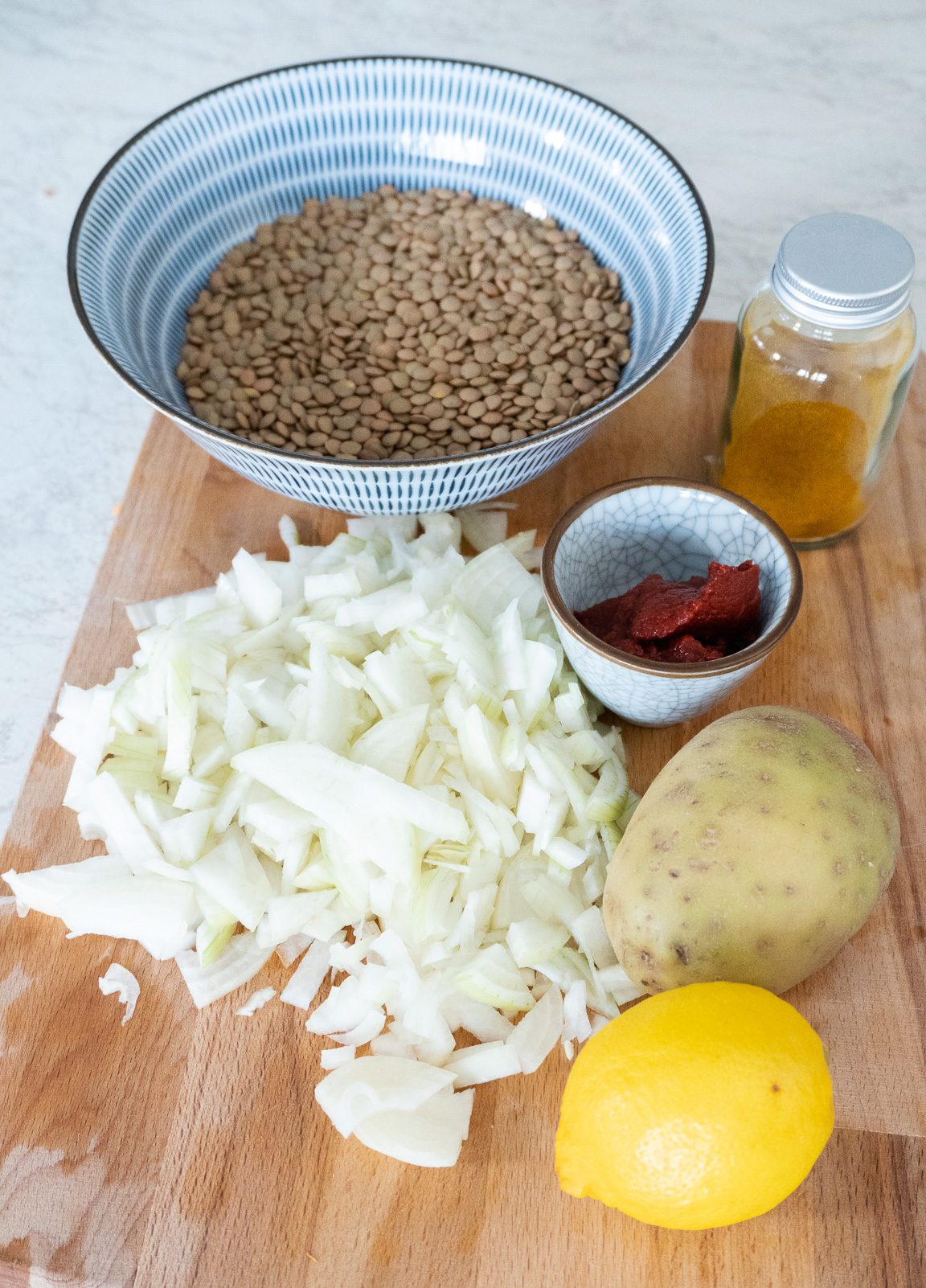 ---
How I like to make mine
Adasi played a significant role in my childhood. It was the comforting, plant based, high protein and Iron meal that my mum made when we were young. Usually made in the colder months, this Persian recipe is a favourite in most households.
I like to make this classic Persian recipe by:
Soaking my lentils in hot water for 30 minutes. Then rinse and it's ready to use.
I saute a lot of onions chopped finely in olive oil until golden and translucent.
I then add my spices, tomato paste and lentils, along with lamb, chicken, vegetable broth or water and allot to cook for 30 minutes on medium heat until the lentils are semi cooked.
Peel and cube one large potato and add this to the pot with lemon juice and continue to cook until the lentils and the potatoes are fully cooked.
Serve and garnish with fresh coriander and parsley, more lemon, yoghurt and warm, freshly baked bread.
---
Frequently Asked Questions
1. Is Adasi vegan?
Yes, Adasi is typically vegan as it's made with plant-based ingredients. However, some variations of the soup may include meat or meat broth, so it's important to check the ingredients before consuming.
2. Is Adasi gluten-free?
Yes, this Persian recipe is typically gluten-free as it's made with lentils and other gluten-free ingredients. However, it's always important to check the ingredients to make sure that there are no hidden sources of gluten.
3. Can Adasi be frozen?
Yes, Adasi can be frozen for up to 3 months. To freeze, let the soup cool completely, then transfer it to an airtight container or freezer bag. When ready to eat, thaw the soup in the refrigerator overnight and reheat on the stovetop or in the microwave.
---
If you do make this recipe, please take a moment to leave a review, comment or or any questions you may have.
Also tag me on Pinterest or Instagram so I can see your work of art! Not only is it my favourite thing to scroll through and see what you are all making. But it also brings me so much happiness to see my hard work is beneficial to you all 🙂

This is the best place to reach me, and I'd love to hear from you.
Love, Nelly 🙂
Recipes You Must Try
---
---
Adasi – Persian Lentil Soup
Instructions
Start by soaking the lentils in boiling water and set aside to expand for at least 30 minutes. Then rinse and set aside to use. 

Sauté the chopped onions until translucent, then add the spices, tomato paste, lentils and broth and allot to cook for 30 minutes on medium heat. There should be enough water in the pot for the Adasi to look like a thick soup consistency. 

Peel and cut the potato into cubes and add this to the pot and allow everything to  cook for another 30 minutes or until the lentils and potatoes are fully cooked. 

Add the lemon juice to taste, serve with warm crusty bread yoghurt and herbs and enjoy.