Zereshk Polo Morgh is a classic Persian dish that is a delicious and aromatic combination of barberries, saffron, and chicken. It's a one-pan meal that is packed with flavors, colors, and textures that come together to create a delightful and satisfying experience. Whether you're a fan of Middle Eastern cuisine or simply enjoy a good chicken and rice dish, Zereshk Polo Morgh – Persian Barberry Rice with Chicken is sure to become a favorite in your kitchen. The combination of tart and juicy barberries, fragrant saffron, and succulent saffron chicken creates a unique and irresistible taste that you'll find hard to resist.
---
The Insane Flavour and Colour
---
What is Persian Barberry Rice with Chicken?
Persian Barberry Rice with Chicken is a traditional Persian dish that is made with basmati rice, tender chicken, and sweet-tart barberries. The barberries, also known as zereshk, give the dish its signature tangy flavor and bright red color. The rice is typically cooked with saffron, which imparts a subtle but distinct floral aroma and a golden hue. The chicken is usually boneless and is cooked until it's juicy and tender. The rice and chicken are then combined and served with the barberries sprinkled on top.
In Persian cuisine, Zereshk Polo Morgh is typically served as a main dish and is often paired with a salad or yogurt. It is also a popular dish for special occasions and is often served at celebrations and feasts. The dish is loved for its unique combination of flavors and textures and is considered to be one of the staples of Persian cuisine. Whether you're a fan of Middle Eastern food or simply love a good chicken and rice dish, Zereshk Polo Morgh is definitely worth trying!
In many households, Zereshk Polo Morgh is a comforting and familiar dish that is enjoyed on a regular basis. It is considered to be a comfort food by many, and its warm and comforting flavor profile makes it a popular choice during the colder months.
Overall, Zereshk Polo Morgh is a versatile dish that can be enjoyed at any time of the day or night and on any occasion, making it a staple of Persian cuisine.
History of Persian Barberry Rice with Chicken
The exact origin of Zereshk Polo Morgh is not well documented, but it is believed to have been created in Iran many centuries ago. Persian cuisine has a long and rich history that dates back thousands of years, and this Zereshk Polo or Barberry Rice with Chicken is just one of the many delicious dishes that have been passed down from generation to generation. The use of barberries in cooking is also an ancient practice, and the tart fruit has been used in a variety of dishes for centuries.
It's likely that the dish evolved over time as ingredients and cooking techniques changed and evolved. Today, Zereshk Polo Morgh remains a popular dish in Iran and other parts of the Middle East, and it continues to be enjoyed by people all over the world who appreciate the unique and delicious flavors of Persian cuisine.
---
Zereshk Polo Ingredients
Saffron is an essential ingredient in Zereshk Polo Morgh, and there are several methods to get the best flavor out of it. One method is to grind the saffron finely and never use the whole threads. For blooming saffron, place a cube of ice in a small cup, sprinkle a few grinds of saffron on it, and let it sit until the ice is fully melted and the saffron is dissolved. The liquid should have a bright orange colour. This bloomed saffron can then be used to make the Saffron Rice with Tahdig (see video here) and the Saffron Chicken.
Barberries are a staple in Persian cooking and can be found in Middle Eastern stores or online. They are sour and delicious, and we usually mix them with sugar for a sweet kick. To make the barberry topping for Zereshk Polo Morgh, we mix the berries with water, oil, sugar, and saffron, and cook them over low heat until they are dark red and shiny. Be careful not to overcook the barberries, as they can stick to your teeth.
To make Zereshk Polo Morgh, you'll need to prepare some rice. You can easily make our Persian Saffron Rice with Tahdig and reserve some of it to mix with saffron. Serve the rest of the rice on a plate, topped with the saffron rice mixed with barberries.
PISTACHIO AND ALMOND FLAKES
Pistachio and almond flakes are commonly used as a garnish or ingredient in Persian cuisine. They add a crunchy texture and nutty flavour to dishes, and are used to enhance the overall taste and appearance of the food. In Iran, pistachios are a staple ingredient and are used in both sweet and savoury dishes.
---
Step by Step to Prep this Barberry Rice with Chicken
To prep the Perfect Saffron Rice see here!
To prep the Saffron Chicken simmered in a delicious and easy-to-make tomato sauce.
Like many other Persian dishes, cooking methods can vary, but the one I'm sharing is my mother's and, in my opinion, the best and most flavorful.
To make Persian chicken with saffron, it's best to sear the spiced chicken until it turns golden brown. Remove it from the pan, sauté onions, peppers in the same pan, adding in salt, pepper, turmeric, and aleppo pepper. Place the chicken back on top mix well to coat the chicken, add the water and let everything simmer and cook for almost 50 minutes. If you want to make it even more delicious, add a little bit of butter.
Cook the rice separately and set aside to serve.
Prep the garnishing by soaking the barberries for 5 minutes in warm water.
Rinse and drain then sauté in a pan with butter on low hear along with the pistachio and almond flakes. This should be done with you can see the slightest sizzle.
Remove from the heat and garnish your dish! Enjoy 🙂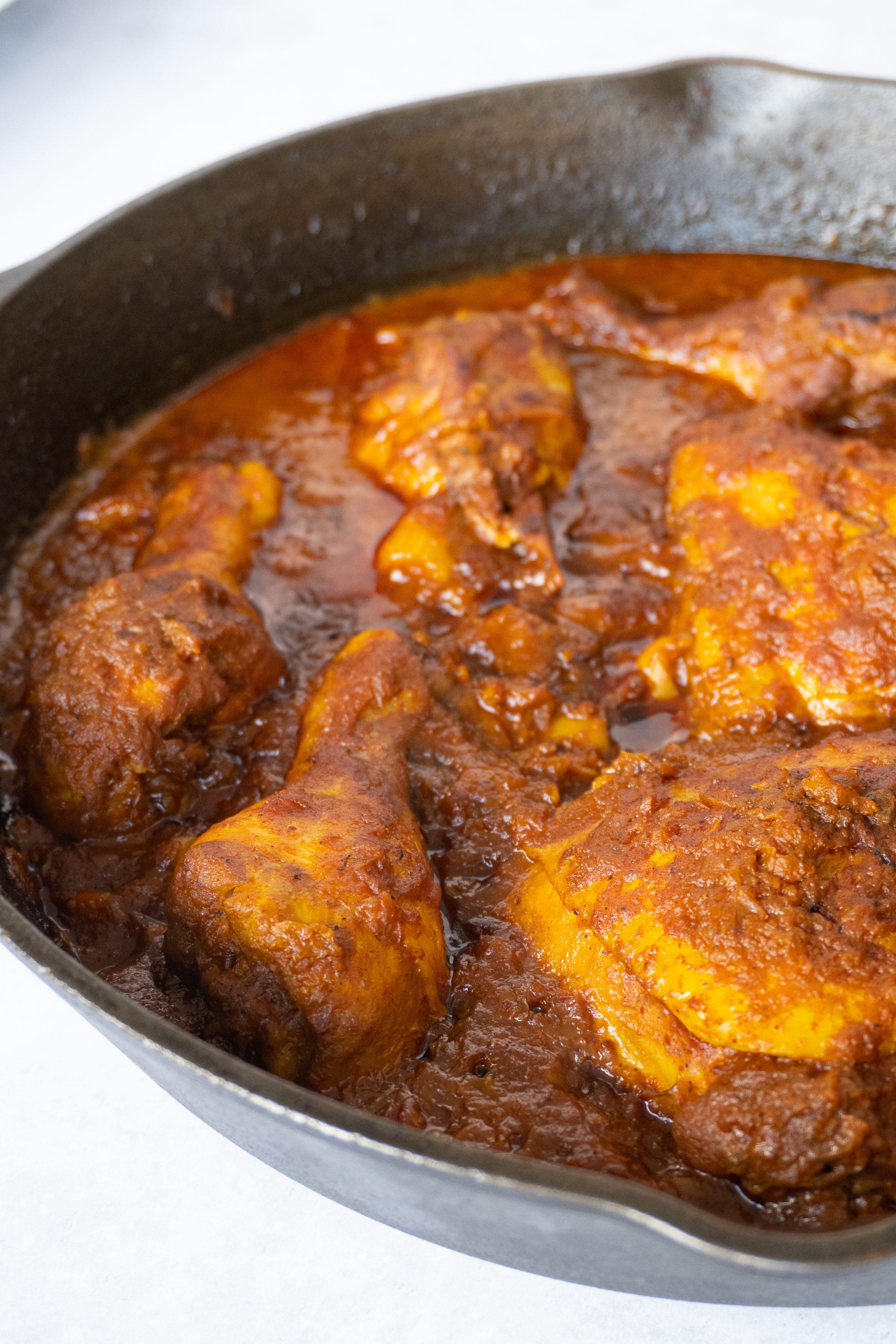 ---
Frequently Asked Questions
---
---
If you do make this recipe, please tag me on Pinterest or Instagram so I can see! It's my favorite thing to scroll through stories and see what you are all making.

And of course feel free to leave any questions, comments, or reviews! This is the best place to reach me, and I'd love to hear from you 🙂
Since you're here, try these recipes:
Zereshk Polo Morgh – Persian Barberry Rice with Chicken
Instructions
To make the Chicken
In a large deep pan, sear the chicken until it turns golden brown. Remove it from the pan and set aside.

In the same pan, sauté the finely chopped onions and peppers for 6 minutes on medium heat. Add all spices (salt, pepper, turmeric, and aleppo pepper).

Add the tomato paste to the mixture and sauté for 2 minutes until well combined and a paste forms, add the chicken and mix to ensure chicken is fully coated in the pan. 

Add the Water to the pan, lower the heat and allow to simmer and cook thoroughly for 45 minutes or until the chicken is fully cooked through. 

Cook the saffron rice and set aside ready to assemble. 
To make the Garnishing
Prep the garnishing by soaking the barberries for 5 minutes in warm water.

Rinse and drain then sauté in a pan with butter on low hear along with the pistachio and almond flakes. This should be done with you can see the slightest sizzle.

Remove from the heat and garnish your dish! Enjoy :)