Salmon is a versatile and delicious fish that is rich in omega-3 fatty acids and protein. It can be prepared in a variety of ways, but one of the tastiest and most satisfying ways to enjoy salmon is in a crispy honey ginger garlic salmon bowl.
In this post, we will take a closer look at this delectable dish and explore its various components, from the crispy salmon to the flavorful ginger garlic sauce and the nutritious brown rice and vegetables.
---
---
Glowing Honey Ginger Salmon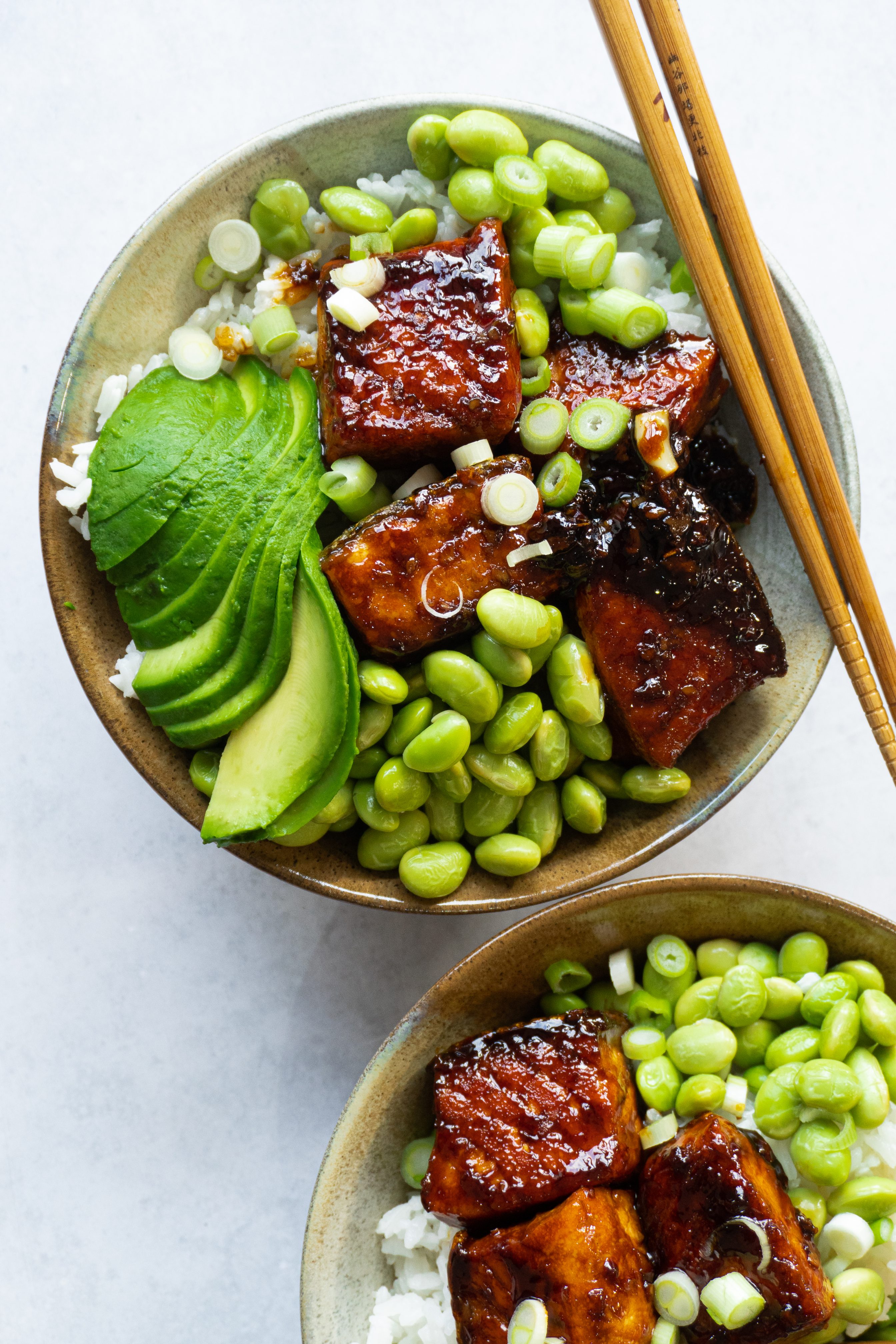 ---
Salmon Bowls: A Healthy and Delicious Addition to Your Diet
Salmon is an incredibly nutritious food, thanks to its high levels of omega-3 fatty acids and protein. Omega-3s are essential for heart health and brain function, and have anti-inflammatory effects that can improve joint health. Protein is important for building and repairing tissues, and can help keep you feeling full and satisfied. Additionally, salmon is a good source of vitamin D, B12, and minerals like potassium, selenium, and phosphorus.
It's worth noting that not all salmon is created equal, and wild-caught salmon is generally considered the best option. To incorporate more salmon into your diet, there are countless ways to prepare it, from simple salads to homemade burgers. Some of the most delicious salmon dishes are quite simple, using just a few ingredients to highlight the natural flavor of the fish.
So really this Honey Ginger Salmon is a nutritional powerhouse that offers a range of health benefits. Whether you're a seasoned salmon-lover or new to this tasty fish, there are countless ways to incorporate it into your diet and reap the benefits of its many nutritional properties.
Salmon and our family!
I make a conscious effort to include fish on our weekly menu and i must say my go to is salmon. Actually thinking about it, considering how often i make salmon, I don't have enough salmon recipes on the blog. Yet Salmon recipes are some of the most requested recipes on my social media accounts. So I am over the moon to finally be sharing this Crispy Honey Ginger Garlic Salmon Bowl recipe. I have set the prep and cooking time for these salmon bowls as 30 minutes but really if you work fast in the kitchen then they can come together in 20 minutes.
One of the other reasons why I love this Honey Ginger Salmon, is because all the ingredients used compliment each other so well but you will read all about this shortly!
Disclaimer: In the ingredients image you will see that I have used sweet chilli sauce on the day i filmed this recipe. This is because I had ran out of honey. But the recipe card has the exact measurement of what i usually use and it is completely foolproof so enjoy the cooking process, worry free. 🙂
Crispy Honey Ginger Garlic Salmon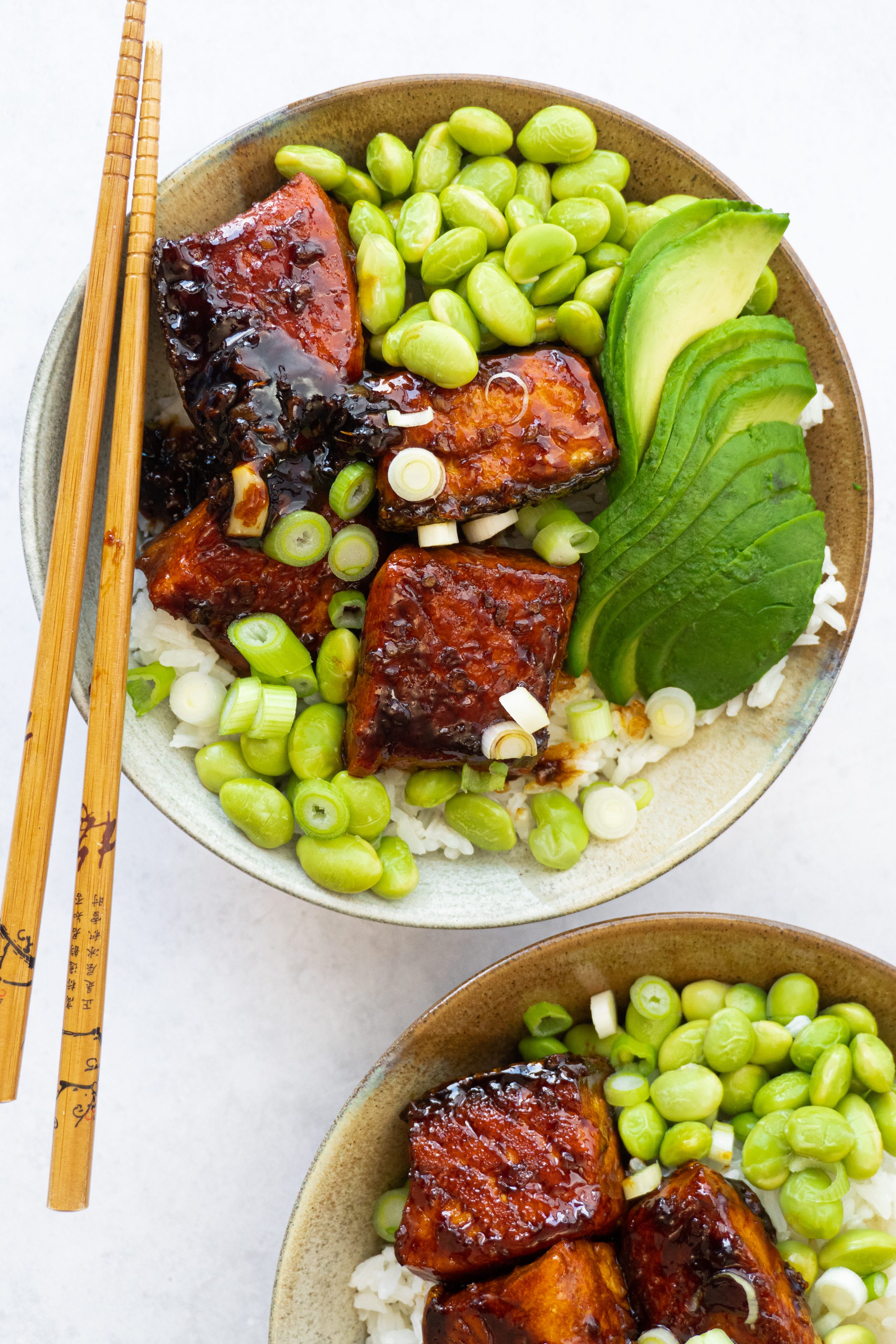 ---
Honey Ginger Garlic Salmon
Honey, ginger, and garlic are three ingredients that complement each other beautifully, both in terms of taste and nutrition. The sweetness of honey balances out the spiciness of ginger and the pungent flavor of garlic, creating a deliciously complex flavor profile that is both savory and satisfying. That is exactly why this Crispy Honey Ginger Garlic Salmon Bowl is the perfect recipe.
Honey is a natural sweetener that is rich in antioxidants and has been shown to have antibacterial and anti-inflammatory properties. Ginger, meanwhile, is known for its ability to soothe the digestive system and reduce inflammation in the body. Garlic is a potent antioxidant that has been shown to have immune-boosting and heart-healthy benefits.
When combined, these three ingredients create a flavourful and healthy marinade that is perfect for these salmon bowls for a quick and easy weeknight dinner. The sweetness of the honey pairs well with the rich flavor of the salmon, while the spiciness of the ginger and the pungency of the garlic add depth and complexity to the dish.
Salmon Bowls are a favourite in Asia!
Honey Ginger Salmon is particularly popular in Asian cuisine, where honey, ginger, and garlic are commonly used in a variety of dishes. In Japan, for example, honey and soy sauce are often used to marinate salmon before grilling, while in China, ginger and garlic are commonly used in stir-fry dishes. The combination of honey, ginger, and garlic is also a popular choice in many Southeast Asian countries, where it is often used in marinades and sauces for meat and seafood dishes.
In addition to being delicious, this dish is also incredibly nutritious. Salmon is a rich source of protein, omega-3 fatty acids, and a range of vitamins and minerals, while honey, ginger, and garlic all have their own unique health benefits. When combined, they create a dish that is both flavorful and healthy, making it a perfect choice for anyone looking to eat well and feel good.
---
The Sticky Glaze on this Honey Ginger Salmon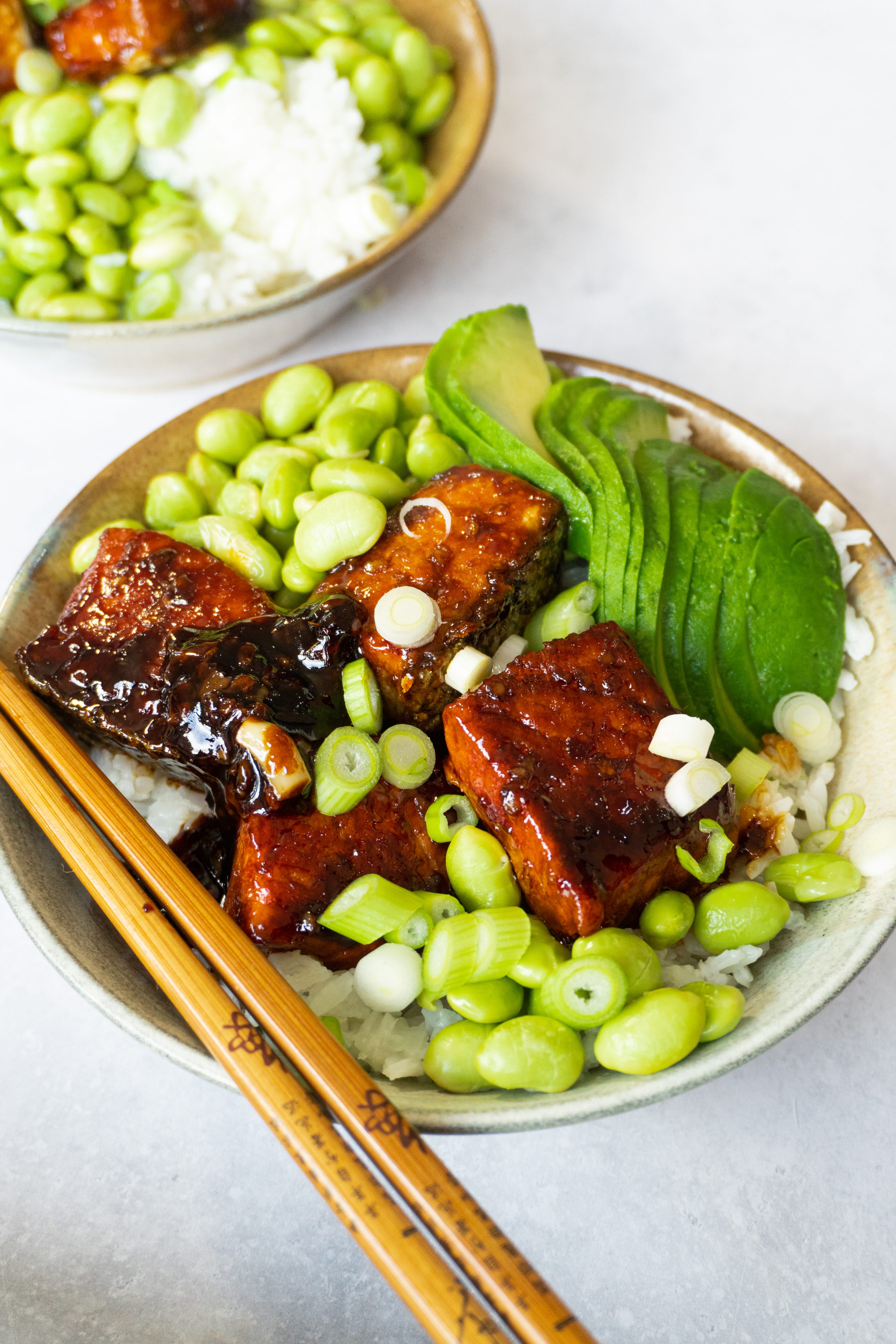 ---
Ingredients
Fresh salmon fillet
Honey
Chilli Flakes
Soy sauce
Sesame oil
Fresh grated ginger
Garlic, minced
Water
Rice to serve
Edamame to serve
Olive oil
---
Step by Step
In a small bowl, whisk together the honey, soy sauce, fish sauce and set aside.
Pat the salmon dry after washing with kitchen towel and make sure the salmon is fully dry. This is especially important as you want the salmon to fry well. Cut the salmon into small pieces and leave the skin. Although, this is optional but i really like the skin as it is even more nutritious than the salmon itself.
Heat a skillet , add the oil and once hot fry the salmon skin side down. Only flip to the other side once golden and crispy. Once the salmon is fully crispy remove from the pan and set aside on a plate to prepare the sauce.
Add the sauce and water to the skillet and cook for a few minutes until it starts to bubble and slightly thickens. Then add the salmon pieces one by one back into the pan and coat each piece in the sauce dan allow to thicken for about 5 minutes.
Serve on a bed of cooked rice and dress with the salmon, sauce and cooked edamame beans.
---
Frequently Asked Questions
---
Must Try Salmon Bowls!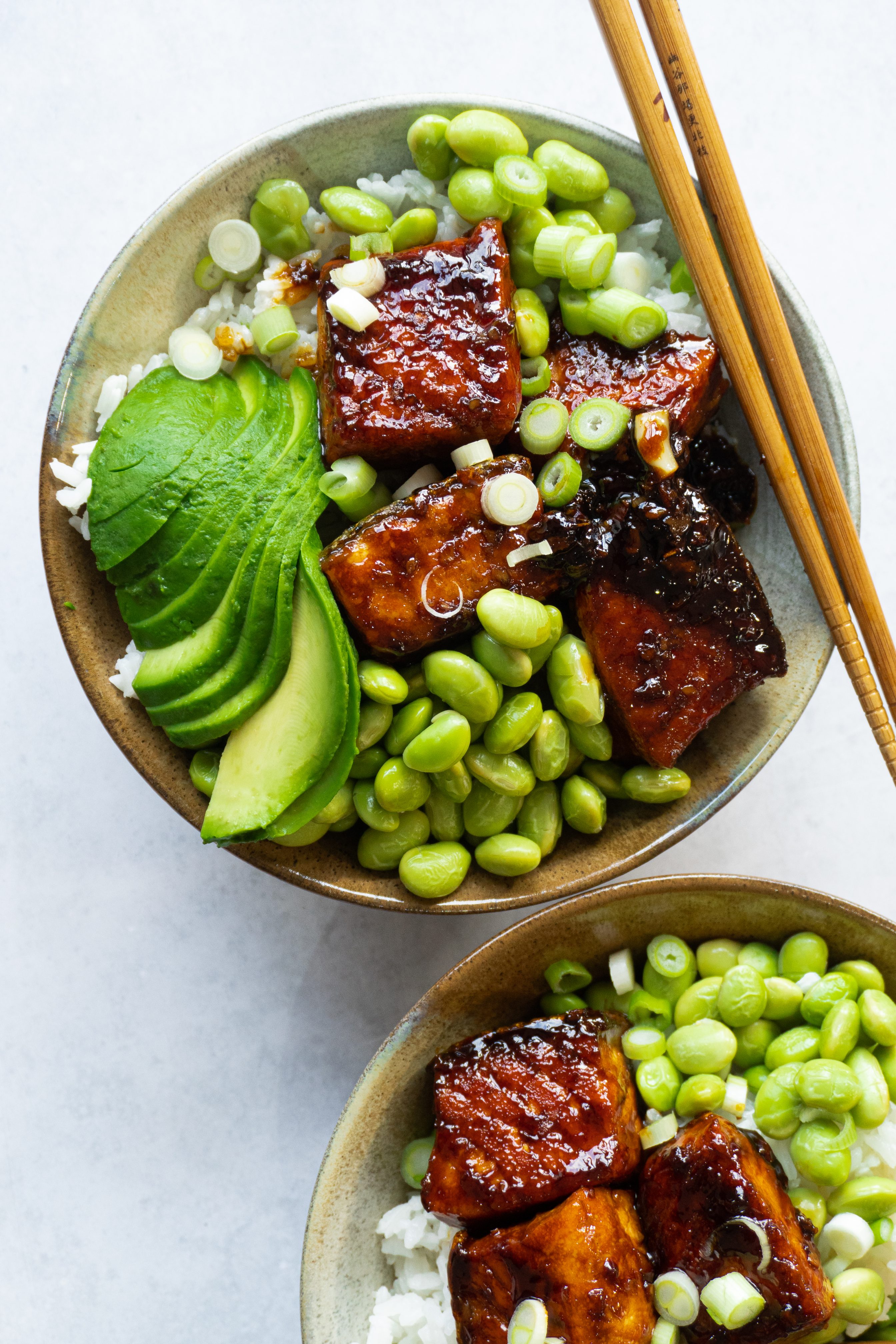 ---
If you do make this recipe, please take a moment to leave a review, comment or or any questions you may have.
Also tag me on Pinterest or Instagram so I can see your work of art! Not only is it my favourite thing to scroll through and see what you are all making. But it also brings me so much happiness to see my hard work is beneficial to you all 🙂

This is the best place to reach me, and I'd love to hear from you.
Love, Nelly 🙂
---
Recipes You Must Try
Crispy Honey Ginger Garlic Salmon Bowl
Instructions
In a bowl, combine the soy sauce, Honey, Chilli flakes and fish sauce. 

Heat a skillet on medium to high. Add both oils followed by the salmon pieces cut small. Salmon should go skin side down and cook for 3 minutes, until it is crisp. Flip, reduce the heat to medium and once all sides are crispy remove from the heat to a separate plate. 

Add ginger and garlic to the same pan and cook for 2 minutes until lightly golden. 

Pour in the sauce with 1/3 cup water and cook another 3 minute, until the sauce thickens. Add the salmon to the skillet and coat each piece in the sauce. 

Place salmon pieces on a bed of rice and drizzle the sauce on top. Garnish with spring onions, sesame seeds, boiled edamame. 

 
Note
To cook the rice...
1. Wash 2 cups of dry rice throughly until the water runs clear. For every 1 cup of rice add 1.5 cup of water to the pot with 1 teaspoon of salt, stir to combine, cover and lower the heat to the lowest to cook. Allow the rice to cook for 20 minutes on low, then turn the heat off completely. Do not remove the heat while cooking as you don't want to lose the steam as this helps to cooks the rice throughly. 
2. Remove the lid, fluff the rice with a fork and serve when ready.