Cardamom Rose Date Suhoor Oatmeal is a combination of ingredients that compliment one another perfectly. The holy month of Ramadan is a time of fasting, reflection, and spiritual growth for Muslims around the world. During this time, it is essential to maintain a healthy and balanced diet to ensure that the body receives the necessary nutrients to sustain energy throughout the day. Suhoor, the pre-dawn meal, is an essential part of the daily fasting routine and should be filled with nutritious and energizing foods. One delicious and nutritious option for suhoor is this Cardamom Rose Date Oatmeal, a flavourful and satisfying dish that combines the benefits of oats, cardamom, rose water, and dates.
---
---
The Ultimate Suhoor Oatmeal
---
Oatmeal and Health Benefits
Oatmeal is a nutritious breakfast food that has numerous health benefits due to its high fiber content. It helps to improve digestion and reduce cholesterol levels, while its complex carbohydrates provide sustained energy throughout the day. Oatmeal is also a great source of protein, vitamins, and minerals such as iron, magnesium, and zinc. Regular consumption of oatmeal has been linked to a lower risk of heart disease, diabetes, and certain types of cancer. To maximize its benefits, it is best to opt for steel-cut or rolled oats and avoid pre-packaged flavored varieties with added sugars. Oatmeal is particularly ideal for suhoor during Ramadan, as it provides the necessary nutrients and energy to sustain fasting throughout the day.
---
The components of this Suhoor Oatmeal
CARDAMOM is a spice that is commonly used in Middle Eastern and Indian cuisine. It has a unique flavor and aroma that is both sweet and spicy, making it a perfect addition to oatmeal. Cardamom has several health benefits, including aiding digestion, reducing inflammation, and improving blood pressure and cholesterol levels.
ROSE WATER is a popular ingredient in Middle Eastern and South Asian cuisine. It is made by steeping rose petals in water and has a delicate floral flavor and aroma. Rose water is known for its anti-inflammatory and antioxidant properties and has been used for centuries in traditional medicine to treat various ailments.
DATES are a sweet fruit that is commonly eaten during Ramadan. They are a rich source of energy and are high in fiber, vitamins, and minerals. Dates are also known for their anti-inflammatory properties and can help regulate blood sugar levels.
---
Deliciously warm and satisfying
Oatmeal Recipe – A Meal Prep Concept
One great feature of the Cardamom Rose Date Suhoor Oatmeal Recipe is its meal prep concept. By cooking a large batch of oatmeal, you can store it in the refrigerator for several days and enjoy a nutritious and flavorful suhoor throughout the week. This is a convenient and time-saving option, especially during the busy days of Ramadan.
Simply split the container using cinnamon powder, as per image, and add toppings of choice in each section to create clear portion sizes. Then for each meal time/Suhoor time, serve each section into a bowl and reheat the oatmeal in the microwave or on the stovetop for a delicious and satisfying meal. This meal prep concept can also encourage healthier eating habits by making it easier to stick to a regular eating schedule and avoid relying on unhealthy convenience foods.
When to add Honey to your Cardamom Rose Date Suhoor Oatmeal!
Adding honey to oatmeal recipe after it has cooked can make it runny because honey is a liquid sweetener that can loosen the texture of the oatmeal. When heated, oatmeal absorbs the liquid it's cooked in and becomes thicker and more viscous. However, adding honey after cooking can add more liquid to the oatmeal, which can cause it to become runny. If you prefer to add honey to your oatmeal, it's best to add it before cooking or during the cooking process to allow it to fully incorporate with the other ingredients and avoid changing the texture of the oatmeal.
---
Ingredients
Oats
Milk (optional)
Water
Honey (or any other sweetener)
To Garnish
What you garnish your oatmeal with is completely a personal preference. The list below are just some ideas to get you started.
Dates
Nuts
Chia seeds
Almond Butter
Peanut Butter
Pistachio Cream
Jam
Ground Flaxseed
Steps for Cardamom Rose Date Suhoor Oatmeal
Make this Suhoor Oatmeal for One!
To make this suhoor oatmeal as smooth and creamy as possible and as close to the persian Haleem in consistency as possible. I blend the every 1 cup of oats with 2 cardamom pods as the initial step.
Then start by cooking 1 cup of steel-cut oats in 2 cups of water and 1 cup of milk (or just 3 to 3.5 cups of one type of liquid) until tender. Then, add 1 tablespoon of rose water, 1 tablespoon Honey (more if you want it sweeter) and cook until the desired consistency is achieved (about 10 minutes).
This oatmeal is a delicious and satisfying way to start the day during Ramadan. It is rich in fiber, protein, and essential nutrients that provide sustained energy throughout the day. The combination of cardamom, rose water, and dates adds a unique and delicious flavor to the dish that is sure to be a crowd-pleaser.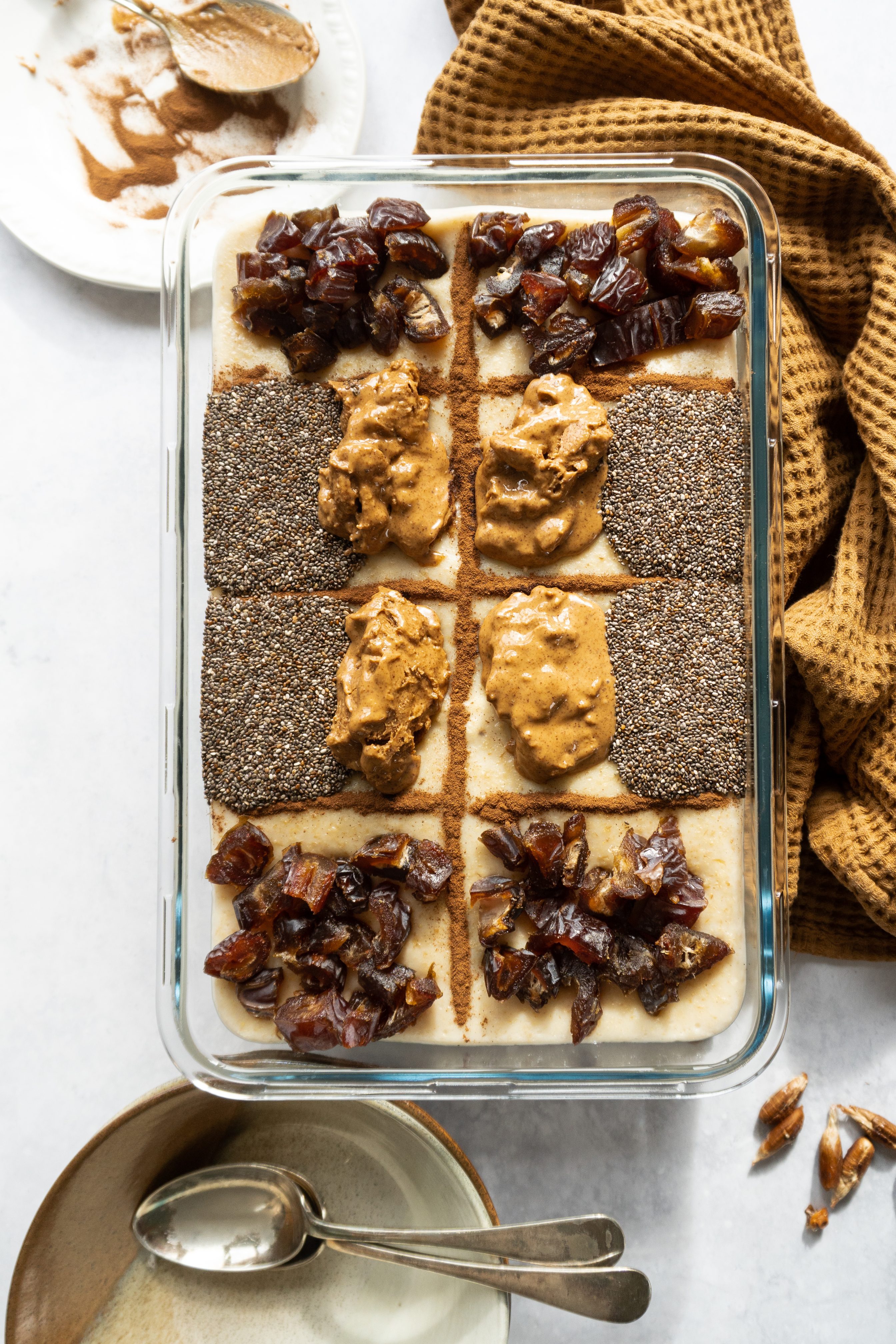 More Suhoor Ideas
I may be biased when I say that this Cardamom Rose Date Suhoor Oatmeal i the perfect Suhoor recipe. However, there are many delicious and healthy suhoor ideas that can help sustain you during the day of fasting.
For example, eggs are a great source of protein and can be prepared in various ways such as boiled, scrambled, or as an omelet. Whole grain bread or toast with peanut butter or avocado can provide complex carbohydrates and healthy fats. Smoothies made with fruits, vegetables, and protein powder can also be a nutritious and refreshing option. Greek yogurt with nuts and berries or overnight oats with almond milk and chia seeds can provide a filling and nutrient-dense meal. Finally, soups or stews made with beans, lentils, or vegetables can be a satisfying and warming option, especially during colder months.
Keep reading to see some of my recipes perfect for this month 🙂
---
---
Frequently Asked Questions
1. How can I make my oatmeal recipe less runny after adding honey?
It's best to add honey to your oatmeal before or during the cooking process to allow it to fully incorporate with the other ingredients and avoid changing the texture of the oatmeal. If you have already added honey after cooking and find that your oatmeal is too runny, try adding some additional dry oats to absorb the excess liquid and thicken the texture.
2. How long can I store my cooked Suhoor oatmeal in the refrigerator?
Cooked oatmeal can be stored in an airtight container in the refrigerator for up to 5 days. To reheat, simply add a splash of milk or water and microwave or heat on the stove until heated through.
3. Can I use other sweeteners instead of honey in my oatmeal recipe?
Yes, you can use other sweeteners such as maple syrup, agave nectar, or brown sugar instead of honey in your oatmeal. However, be mindful of the amount of added sugar you are consuming and choose natural, unrefined sweeteners whenever possible.
---
If you do make this recipe, please take a moment to leave a review, comment or or any questions you may have.
Also tag me on Pinterest or Instagram so I can see your work of art! Not only is it my favourite thing to scroll through and see what you are all making. But it also brings me so much happiness to see my hard work is beneficial to you all 🙂

This is the best place to reach me, and I'd love to hear from you.
Love, Nelly 🙂
---
Other Suhoor Recipes You Must Try
Cardamom Rose Date Suhoor Oatmeal
Instructions
Blend the Oats with cardamom pods until smooth. Smooth oats create a creamier texture. 

Add the blended oats to a large pot and add all the liquid and allow to cook on medium heat until it slowly starts to thicken. 

Add the honey or sweetener along with rose water or orange blossom and remove off heat. 

Pour into a container, garnish with cinnamon powder and toppings of choice. 

Store in the fridge and reheat when necessary.