Dipping Oil has been a huge hit recently with many different variations of the recipe going around, so i've decided to go ahead and add my own Middle Eastern twist and present to you this Zaatar Olive Walnut Bread Dipping Oil.
In the Middle East, it feels like dipping oil has been around forever and it's such a staple in every breakfast table!
---
---
Tasty Bread Dipping Oil with a Middle Eastern Twist
---
What is Zaatar?
Funny story, I don't think I have ever come across the direct English translation of the word Zaatar or Za'tar! I know it is sometimes referred to as oregano, but in my family, and probably, most of the Middle East, we've been brought up knowing Zaatar as.. Zaatar! And having lived in the UK, we still refer to it and will always call it Zaatar! 🙂
It is a Middle Eastern herb spice mixture that combines dried oregano, thyme, sumac and toasted sesame seeds with rich and quality extra virgin olive oil. You honestly have to try it to be able to understand just how herby and exotic the flavour is – it's the perfect mix between nutty and crunchy but also savory. It's absolutely delicious!
Not only does it fulfill taste buds but it also one of the healthiest mix of spices you didn't know you needed, containing vitamins A, C, E and K.
---
What can I do with Zaatar Olive Walnut Bread Dipping Oil?
The explosive mix of this Bread Dipping Oil is a fantastic appetiser and can be served for breakfast, lunch and dinner! There is nothing better than dipping a crunchy, grilled, chunky piece of bread into this full of flavour dipping oil first thing in the morning – it's indescribable.
Zaatar Olive Walnut Bread Dipping Oil is simply good quality extra virgin olive oil with a combination of delicious spices to make everything taste that little bit better. You can rub the dipping oil on your chicken pieces before roasting them in the oven, or as a topping for your fresh fish or sprinkled on top of any vegetables and potatoes, ready for the oven.
It can be eatan alone as a dip, or made into a sandwich, or the perfect topping on starter dishes like Hummus – very traditional in the Middle East!
Check out my video to get the perfect consistency for your Zaatar Olive Walnut Bread Dipping Oil 🙂
---
There's so much you can do with this Zaatar Olive Walnut Bread Dipping Oil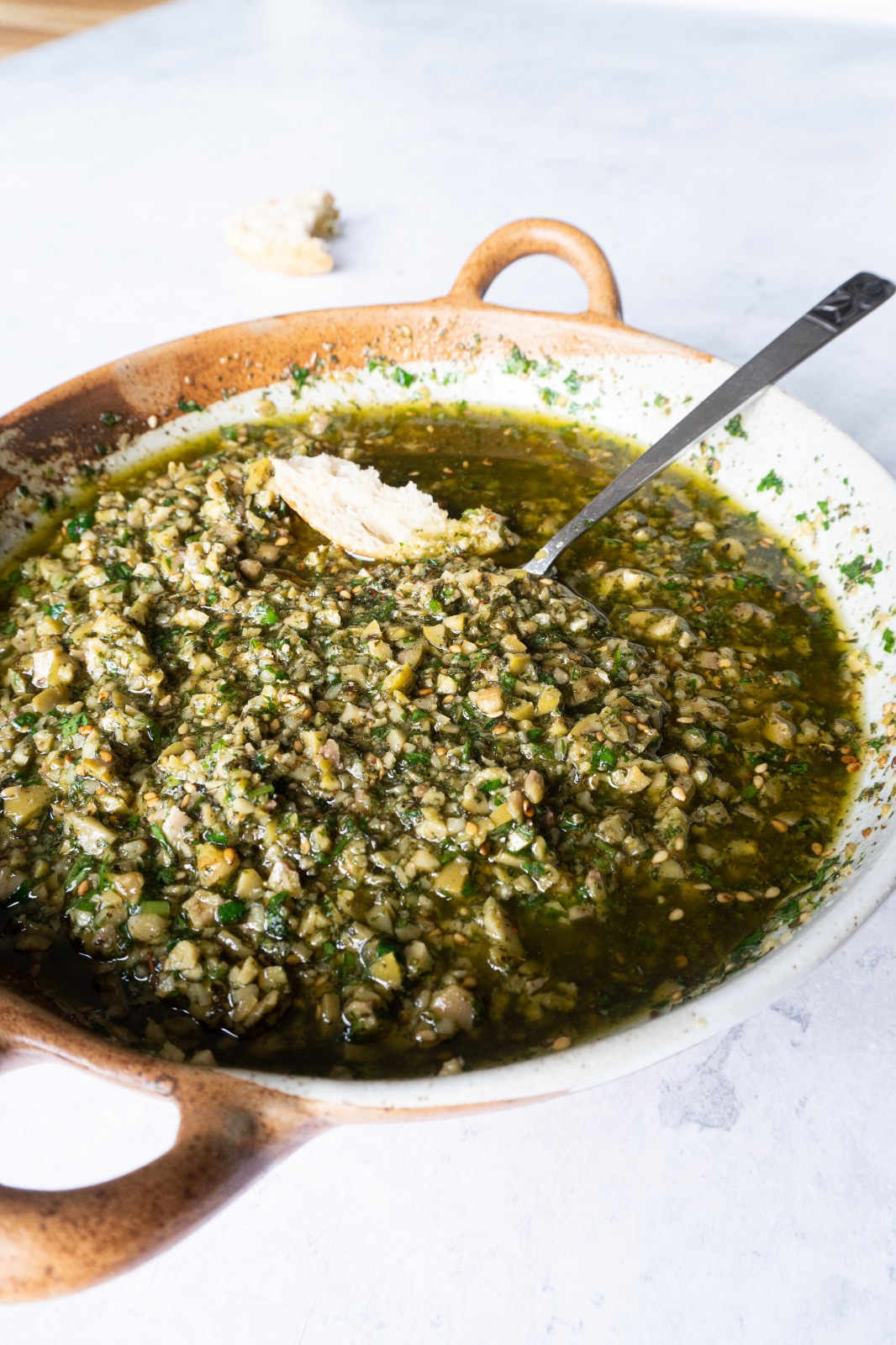 ---
Ingredients
Zaatar
Dried Mint
Parsley
Olive Oil
Walnuts
Olives
Lemon
---
Step by Step
Start by chopping up the parsley, walnuts and olives very finely and mix together in a dish.
---
Add the zaatar and dried mint spices.
---
Top with the lemon juice and olive oil and you're good to go. When adding oil, bare in mind the consistency of your mix – you want it to be thick enough so you get a good taste of the herb mix but with enough olive oil to soak the herbs.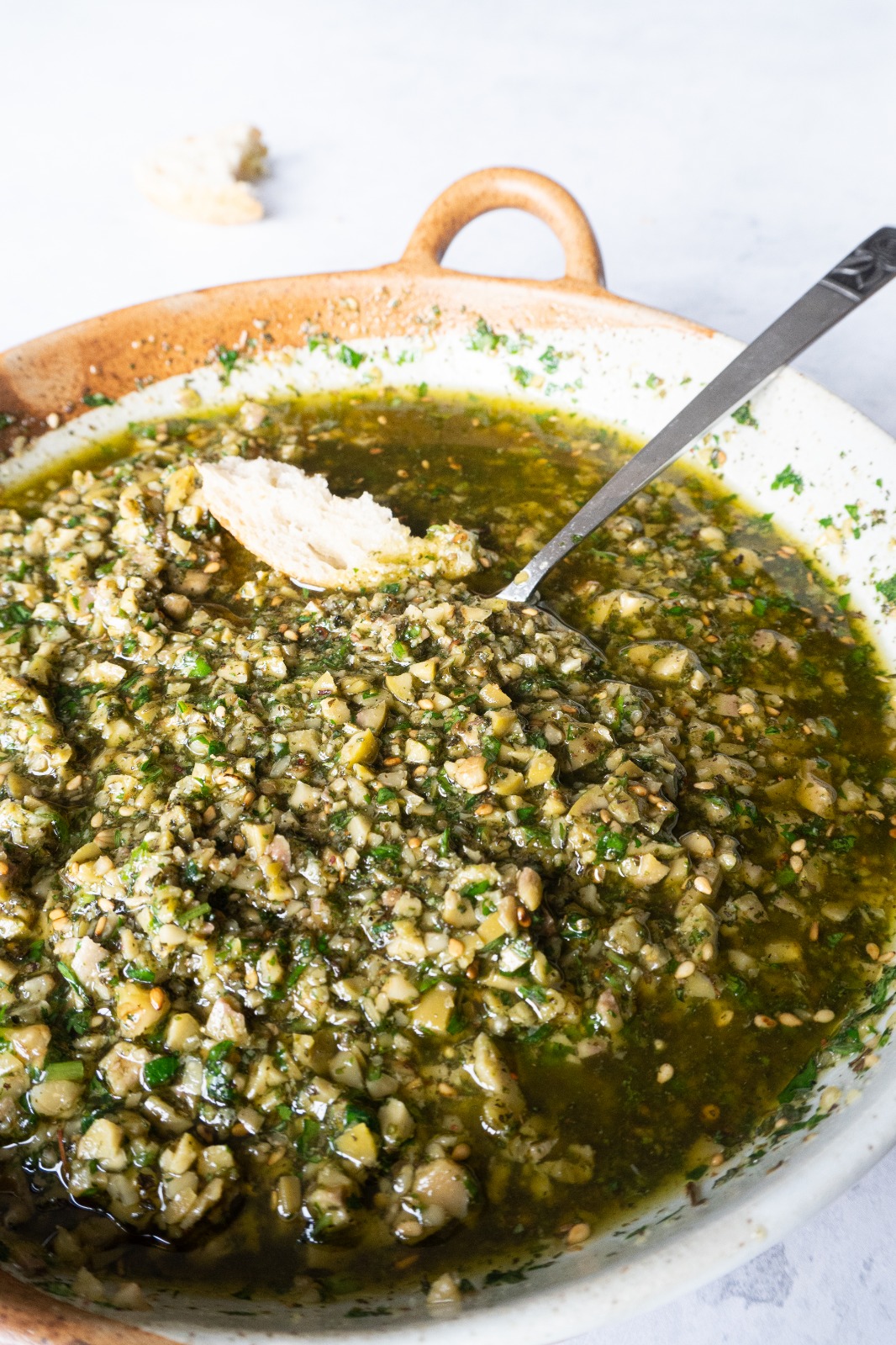 Serve and enjoy 🙂
---
Frequently Asked Questions
Do I need to cook the Zaatar?
Zaatar can be cooked depending on the dish – like if you're making manakeesh, but otherwise, no. In a cold dish, like this dipping oil, it does not need to be heated or cooked.
How long can Zaatar be stored for?
When stored properly, Zaatar can last up to eight months in the fridge.
What can Zaatar be eatan with?
It can be eatan both hot and cold, mix into a dip, as a seasoning, or made into manakeesh or a bread sandwich.
---
If you do make this recipe, please tag me on Pinterest or Instagram so I can see! It's my favorite thing to scroll through stories and see what you are all making.

And of course feel free to leave any questions, comments, or reviews! This is the best place to reach me, and I'd love to hear from you 🙂
---
Must Try Recipes
Zaatar Olive Walnut Bread Dipping Oil
Instructions
Start by chopping up the parsley, walnuts and olives very finely and mix together in a dish.

Add the zaatar and dried mint spices.

Top with the lemon juice and olive oil and you're good to go. When adding oil, bare in mind the consistency of your mix – you want it to be thick enough so you get a good taste of the herb mix but with enough olive oil to soak the herbs.

Serve and enjoy