If you are looking for something that tastes so deliciously creamy and you feel ready to start the year with a boom, then this Creamy Tomato Garlic Tortellini Bake is the one! This recipe is guaranteed to satisfy your friends and family, and most importantly… yourself! With a nice and creamy inside topped with a crispy golden layer, you'll be wanting seconds and thirds.
Its quite easy and straight forward to make, although it did take a little longer to make than it did to eat 🙂
---
---
A delicious mix of Tomato, Garlic and Tortellini
---
Why is this Tortellini Bake so special?
Firstly, who doesn't love a cheese filled, appetizing dish that will fill you up with warmth and satisfaction like you've never tasted before?
Its such a cozy meal, put together in little to no time at all and the result is so explosive, it's like it came straight from a 5* restaurant. The most basic recipes are sometimes the most satisfying and what I love the most about this Creamy Tomato Garlic Tortellini Bake is that its a guaranteed loved dish for everyone of all ages… my husband loved it! And it's a winner with the kids.
It's the perfect comfort dinner and a go to recipe for when you're looking for something quick and easy to make but with an end result grand enough to serve guests.
---
Top Tips for the best Creamy Tomato Garlic Tortellini Bake
For this recipe, you can use whichever tortellini you want but I used spinach and ricotta tortellini for that added flavour and taste to your dish.
Cherry tomatoes are delicious and the better quality they are, the more flavour it will add to your Creamy Tomato Garlic Tortellini Bake.
I used a whole head of garlic for this recipe and kept it just as it is when roasted with the tomatoes. I only chopped the head of so it can roast better and then squeezed the garlic out so all the garlic puree mixes in well with the sauce, of course for that added flavour and perfection 🙂
---
Freshness, Creaminess and just Taste Taste Taste all round!
---
Ingredients
Tortellini
Cherry Tomatoes
Olive Oil
Garlic
Gruyère Cheese
Mascarpone Cheese
Mozzarella Cheese
Parmesan Cheese
Salt
Black Pepper
Sage
Water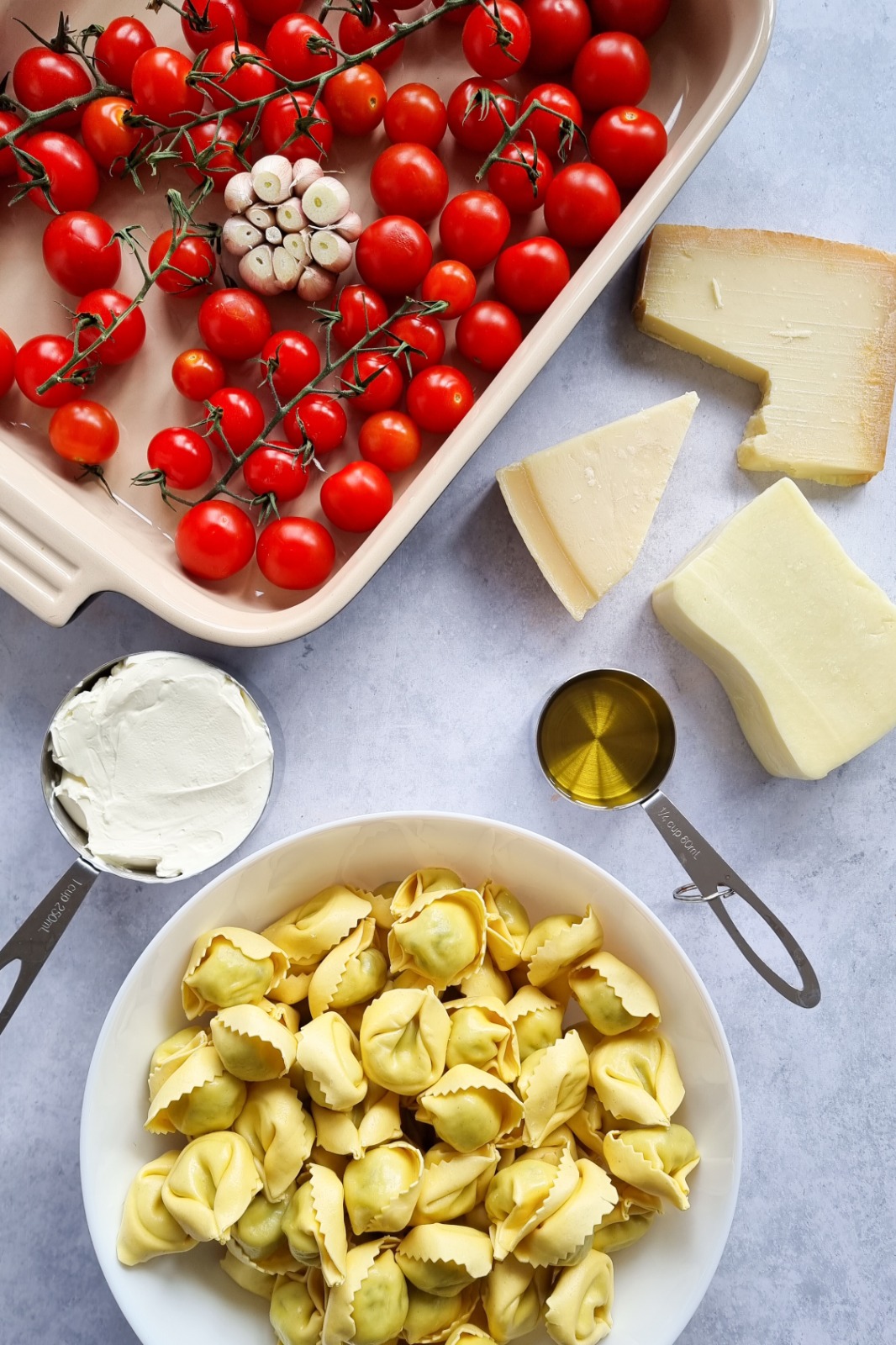 ---
Step by Step
Start by putting your cherry tomatoes into a pan with the whole head of garlic. Add olive oil and put the pan into the oven for about 30 minutes at 180 degrees.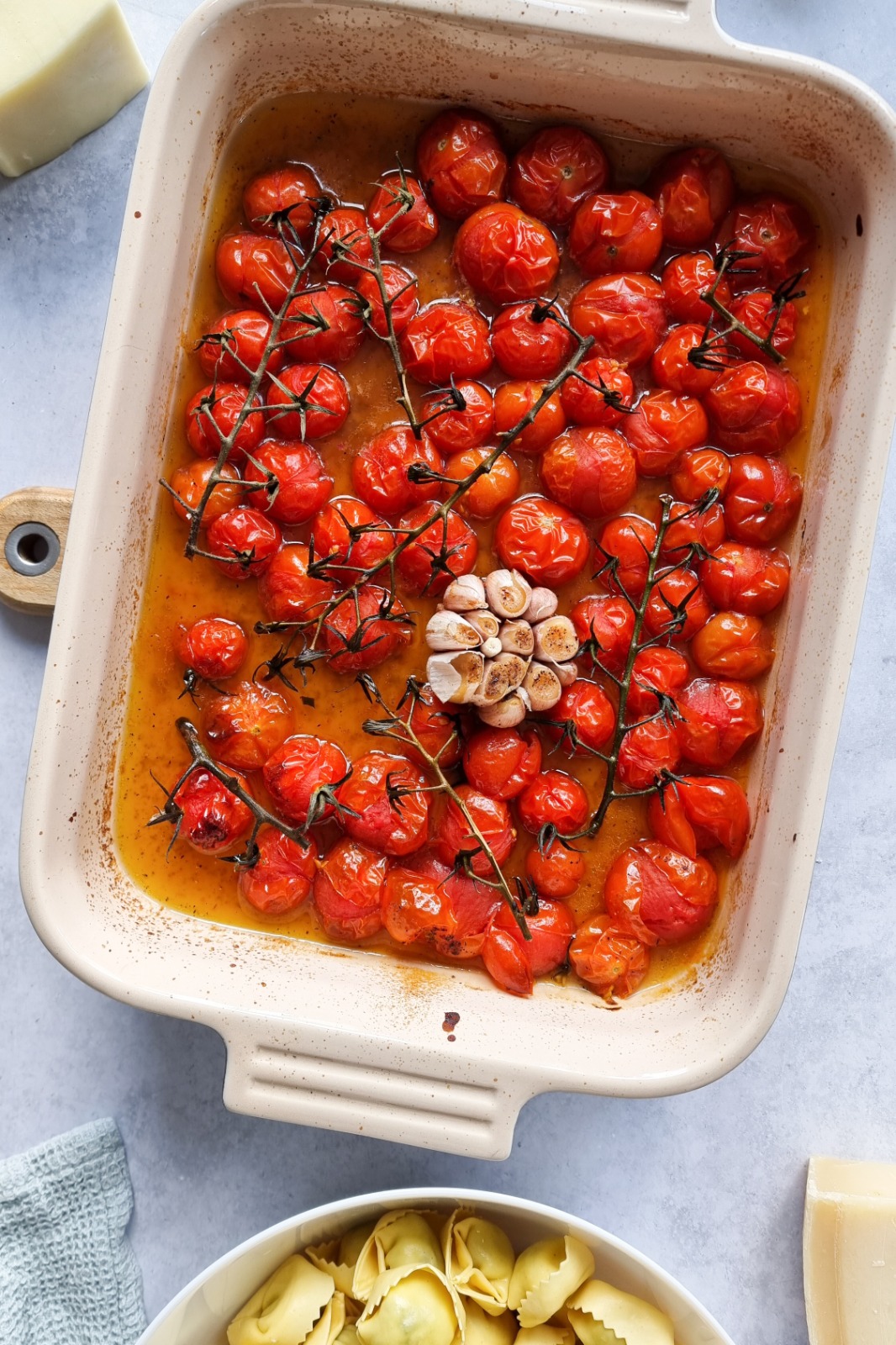 ---
Take the tray out the oven and remove the stems of the tomatoes. Fork mash them and squeeze the garlic out so all the puree mixes with the tomato sauce.
Mix the mascarpone, gruyère, and mozzarella cheese together only keeping a handful of mozzarella aside to add to the top of the dish with the parmesan at the end.
Add the salt, black pepper and 1 teaspoon of sage and mix altogether with 1 cup of water.
Lastly, add the spinach and ricotta tortellini and give it a good mix so that they are covered in the sauce.
---
Grate the rest of the mozzarella, add it to the top with the parmesan cheese and sprinkle the last teaspoon of sage.
---
Bake in the oven for 30 minutes until the tortellini pasta is baked.
Garnish with fresh parsley or basil and enjoy 🙂
---
Frequently Asked Questions
How to I store the leftovers?
I doubt you will have much left over but your Creamy Tomato Garlic Tortellini Bake can easily be stored in the fridge, in an airtight container for 3 to 4 days.
Can I use any tortellini?
Yes you can, I used spinach and ricotta tortellini for the added taste but you can use whatever you want.
How do I reheat my Creamy Tomato Garlic Tortellini Bake?
You can microwave your tortellini bake or heat in a small saucepan, stirring occasionally.
---
If you do make this recipe, please tag me on Pinterest or Instagram so I can see! It's my favorite thing to scroll through stories and see what you are all making.

And of course feel free to leave any questions, comments, or reviews! This is the best place to reach me, and I'd love to hear from you 🙂
---
Must Try Recipes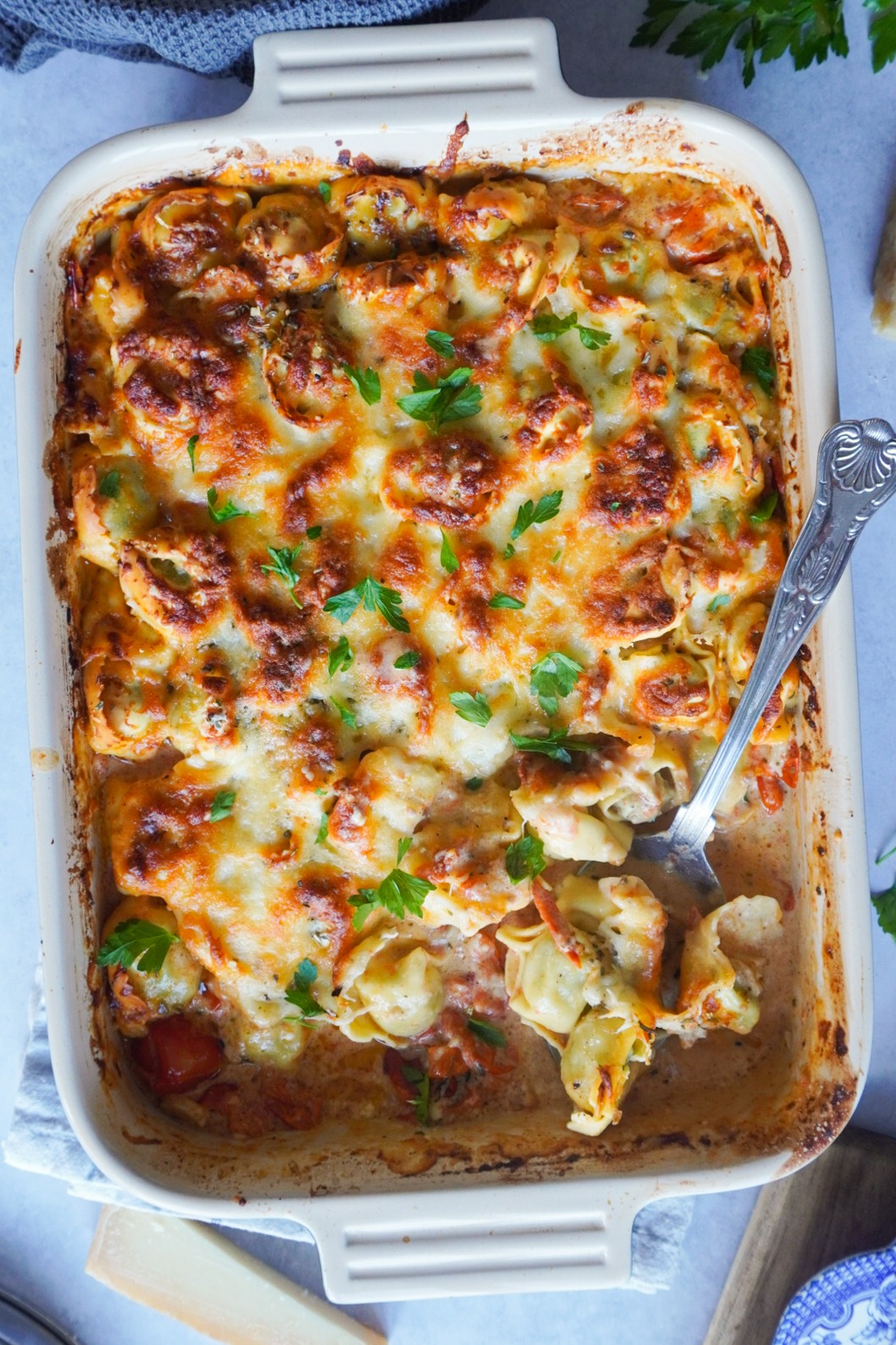 Creamy Tomato Garlic Tortellini Bake
Instructions
Start by putting your cherry tomatoes into a pan with the whole head of garlic – chop the head of the garlic so it can roast better. Add olive oil and put the pan into the oven for about 30 minutes at 180 degrees.

Take the tray out the oven and remove the stems of the tomatoes. Fork mash them and squeeze the garlic out so all the puree mixes with the tomato sauce.

Mix the mascarpone, gruyère, and mozzarella cheese together only keeping a handful of mozzarella aside to add to the top of the dish with the parmesan.

Add the salt, black pepper and 1 teaspoon of sage and mix altogether with 1 cup of water.

Lastly, add the spinach and ricotta tortellini and give it a good mix so that they are covered in the sauce.

Grate the rest of the mozzarella, add it to the top with the parmesan cheese and sprinkle the last teaspoon of sage.

Bake in the oven for 30 minutes until the tortellini pasta is baked.

Garnish with fresh parsley or basil and enjoy