One of the many things I love about my hometown are the tasty traditional dishes that fill you up with such warmth and satisfaction, you wouldn't want to look elsewhere. Like this Baked Aubergine and Chicken Kebab, or Tavuklu Patlican Kebab, as they say in Turkey – its so easy to put together and delicious to enjoy.
The herbs and spices make all the difference, and i've listed below the mix of spices i've used in my recipe to make this appetizing dish. Check it out – I guarantee you will love it!
---
---
A spoonful of colours and flavour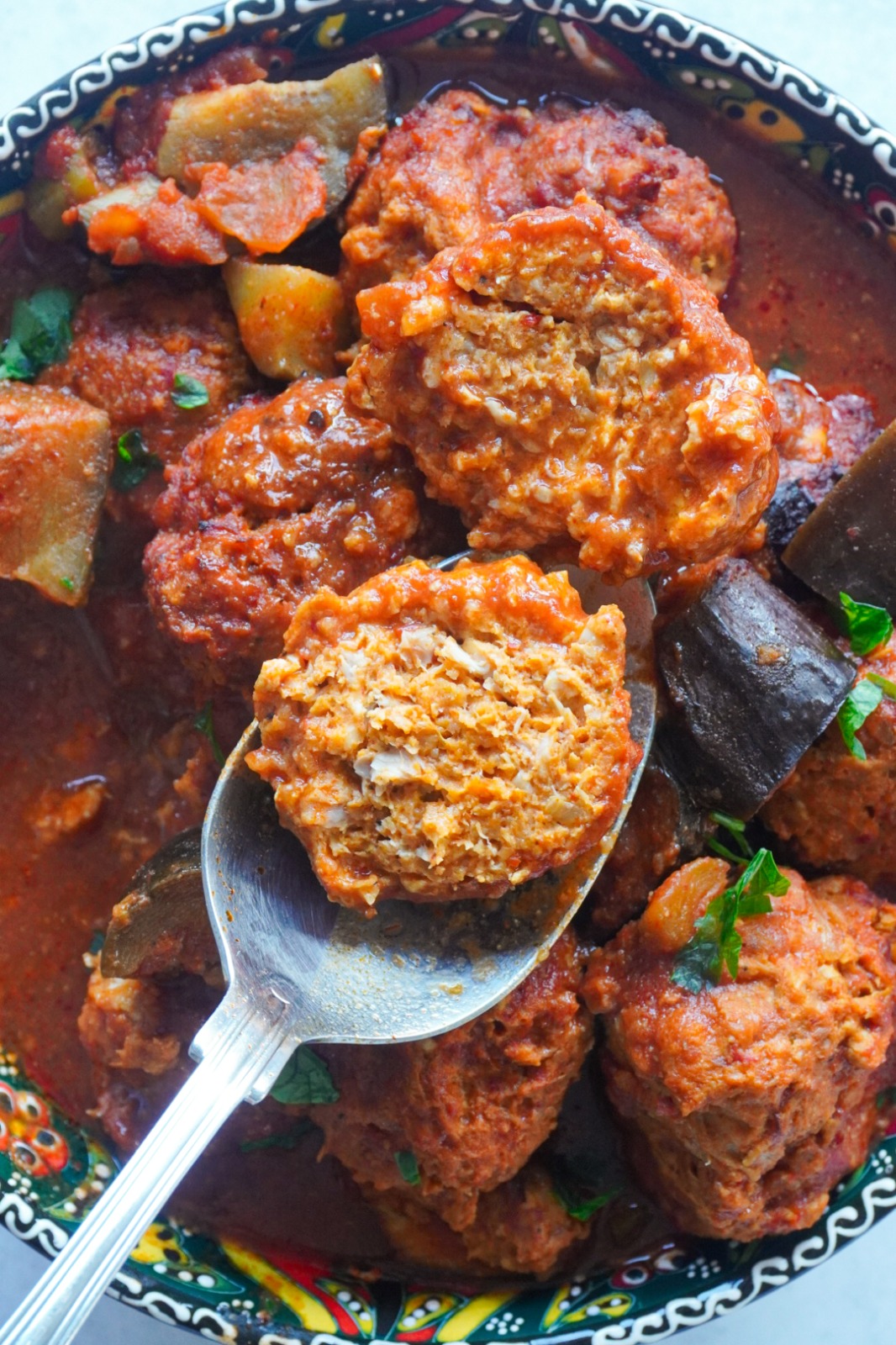 ---
The Traditions of Baked Aubergine And Chicken Kebab
Kofta Kebab or Kafta is quite common in many Middle Eastern countries and its known to be a traditional dish in many countries. In Turkey, it is greatly enjoyed and especially popular in the Gaziantep region.
Over the years, aubergines have become known as the national vegetable in Turkey and used in so many recipes and Turkish cuisines. In this recipe, combined with the spices and chicken meatballs, gives such an explosive taste of traditional flavours.
This dish is really easy to put together, so not only will you enjoy devouring this Baked Aubergine And Chicken Kebab, you'll also enjoy putting it together. It uses only one dish, so that's less washing up for us! 🙂
---
Keeping it Kebab Style
---
Top Tips on making Baked Aubergine And Chicken Kebab
When making this recipe, I used minced chicken thighs for that added texture and flavour but if you prefer, you can use minced chicken breast instead but remember to add 1/4 cup of any oil of your choice to avoid it being too dry. Preferred oil to use would be olive oil.
The use of chicken thighs in this recipe will mean that the kofta mixture will be very wet. I added one and a half cup of bread crumbs to mix in with the meat. Usually, this is a lot but with the amount of chicken used in this recipe, this is the perfect amount.
You can choose to decrease the bread crumbs to only one cup, as long as the mixture holds together like meatballs should.
Top tip with cooking, you can turn up the heat for your Baked Aubergine And Chicken Kebab dish to be cooked quicker and done within one hour, but make sure to put the tray further down in the oven to make sure the top doesn't burn. We don't want that!
---
Ingredients
Minced chicken
Aubergine
Onions
Canned Tomatoes
Bread Crumbs
Tomato Puree
---
Spices for your Kofta mixture
Pul Biber (Aleppo Pepper)
Ground Cumin
Ground Turmeric
Black Pepper
Salt
Turkish Sweet Pepper Paste
Garlic
---
Spices for your Sauce
Pul Biber (Aleppo Pepper)
Ground Turmeric
Ground Cumin
Black Pepper
Garlic Powder
Salt
Turkish Sweet Pepper Paste
---
Step by Step
Start by mince chopping your onions very finely, taking out as much of the juice as possible. Add these to the minced chicken with all the kofta mixture spices and 5 cloves of minced garlic.
Minced chicken thigh will be very wet so add the bread crumbs and mix together. Once marinated, the mixture will be a nice pinky orangey colour. Set the mixture aside.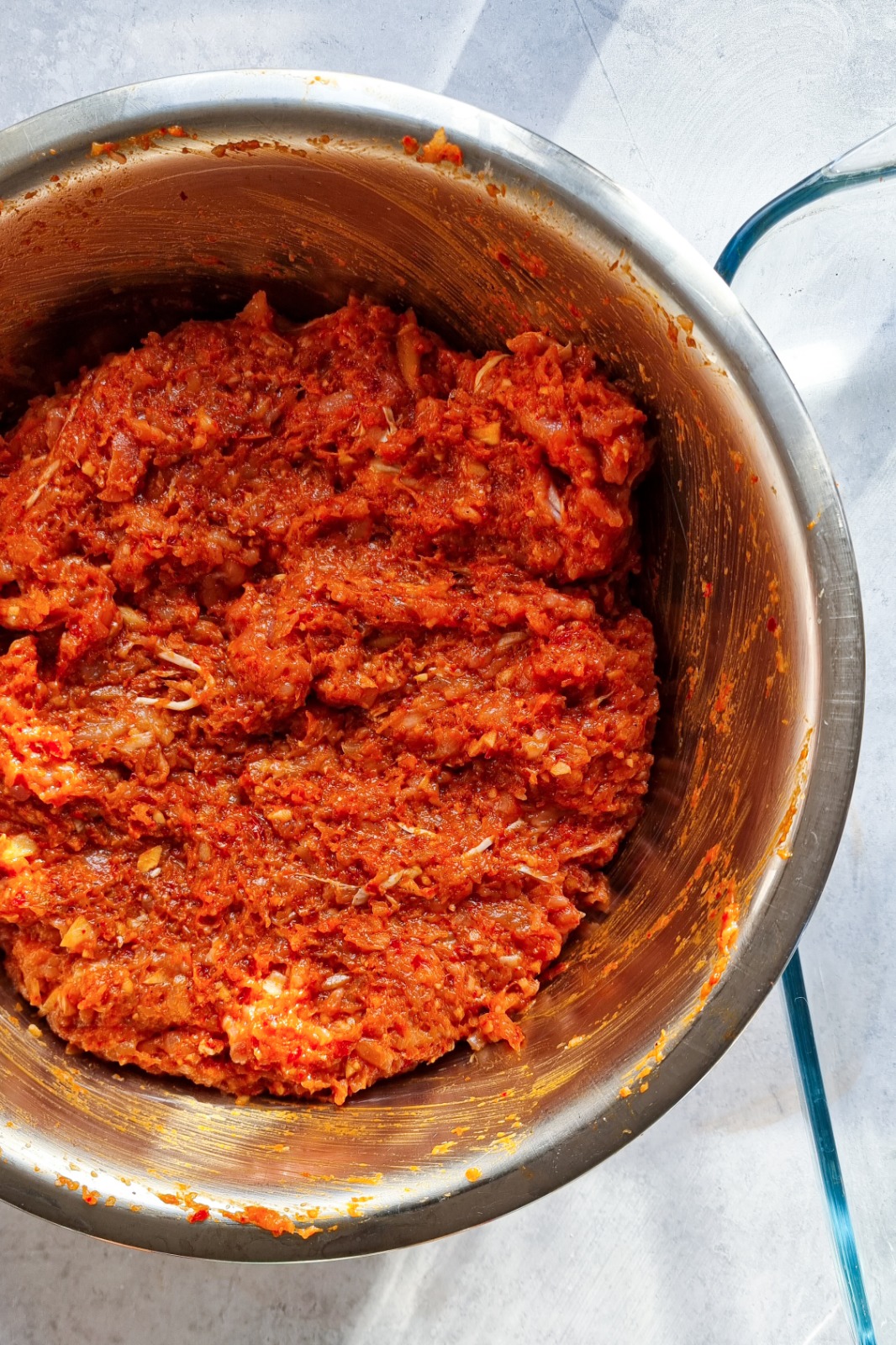 ---
In a large pyrex dish or oven tray, chop the aubergines into medium sized cubes, form meat ball shapes out of the kofta mixture and add them all to the tray.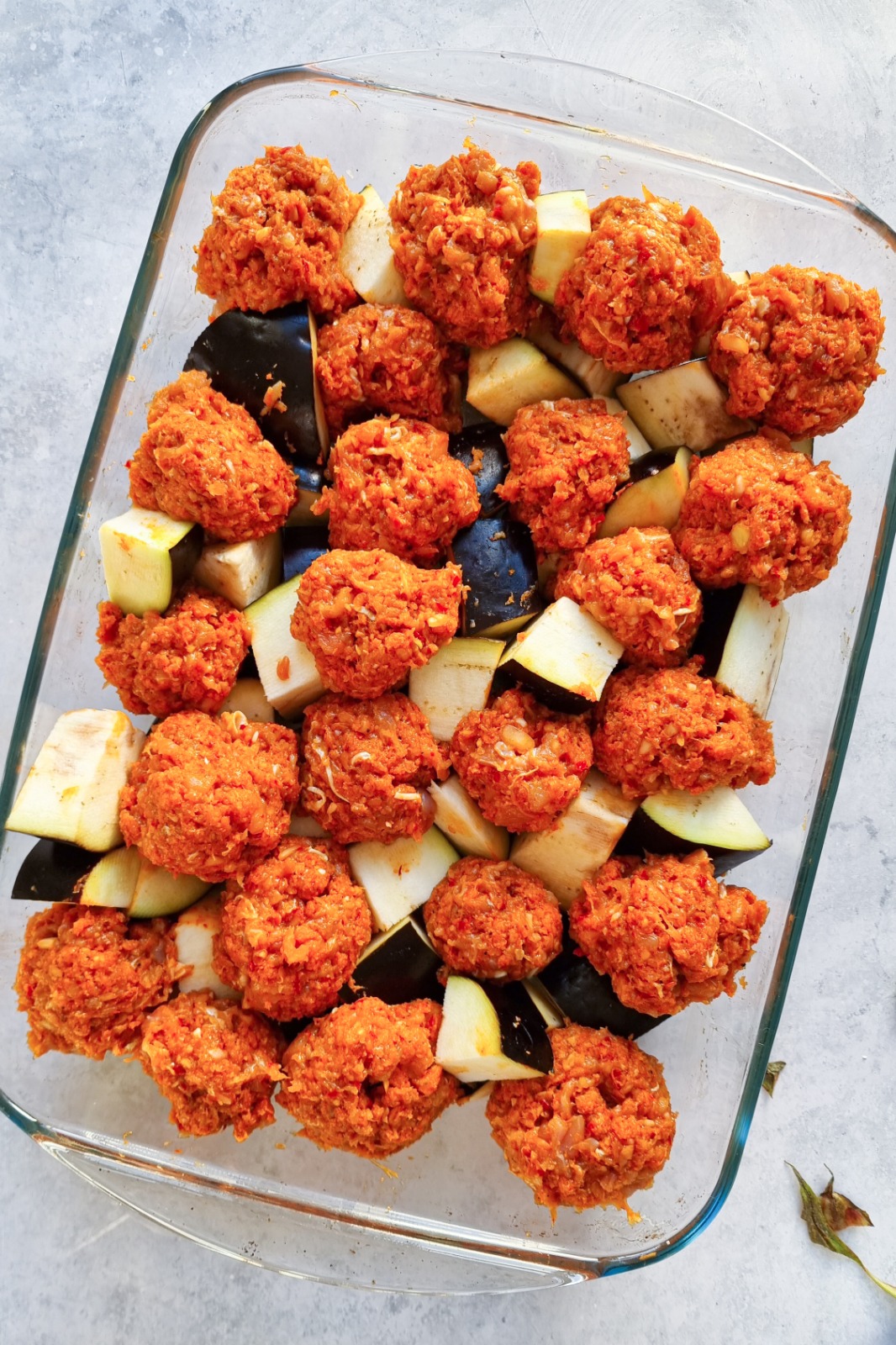 Mix together the can of chopped tomatoes, the spices for the sauce with double concentrate tomato puree and 2 cups of water. Mix well and pour on top of the dish.
---
Put in the oven for one and half hours at 200 degrees or until the aubergines and meatballs are cooked well.
Serve and enjoy 🙂
---
Frequently Asked Questions
What can I serve my Baked Aubergine And Chicken Kebab with?
You can serve this delicious dish with a side of rice, salad and some bread.
How can I store my dish?
You can refrigerate your dish in an airtight container for up to 3 days or freeze for up to 3 months.
Is Baked Aubergine And Chicken Kebab healthy?
Yes! Kofta is a good source of protein and fats, and aubergine is a nutritious vegetable.
---
If you do make this recipe, please tag me on Pinterest or Instagram so I can see! It's my favorite thing to scroll through stories and see what you are all making.

And of course feel free to leave any questions, comments, or reviews! This is the best place to reach me, and I'd love to hear from you 🙂
---
Must Try Recipes
Baked Aubergine And Chicken Kebab
Baked Aubergine and Chicken Kofta Ingredients
Spices for your Kofta mixture
Spices for your Sauce
Instructions
Start by mince chopping your onions very finely, taking out as much of the juice as possible. Add these to the minced chicken with all the kofta mixture spices and 5 cloves of minced garlic.

Minced chicken thigh will be very wet so add the bread crumbs and mix together. Once marinated, the mixture will be a nice pinky orangey colour. Set the mixture aside.

In a large pyrex dish or oven tray, chop the aubergines into medium sized cubes, form meat ball shapes out of the kofta mixture and add them all to the tray.

Mix together the can of chopped tomatoes, the spices for the sauce with double concentrate tomato puree and 2 cups of water. Mix well and pour on top of the dish.

Put in the oven for one and half hours at 200 degrees or until the aubergines and meatballs are cooked well.

Serve and enjoy