When it comes to Oxtail Soup, there are many ways in which it can be enjoyed. Oxtail itself is very tasty with such a unique and delicious flavour, and as a special request from my husband I made this Simple Homemade Oxtail Soup so we can all have a hearty meal while we were all sick and rundown for the entire week.
The soup is so easy, straightforward to make and requires very little work from our side, making it an ideal dish to serve for dinner… and once you take a taste of the oxtail, you'll want to make it monthly ritual, at the very least! 🙂
---
---
A Taste of delicious flavours
---
Oxtail Soup at its simplest
This type of meat requires a few hours to cook to acquire its delicious taste since it is quite bony and fatty, making it a perfect chunk of meat to enjoy in different types of food.
Oxtail is skinned and cut into smaller sections, where each section has a tailbone with some juicy marrow in the center surrounded by a bony part of meat. This is what makes this type of meat perfect for stocks and soups and very common in Korean and African cuisine. I kept this recipe as simple as possible for my husband and I to enjoy the flavour of the meat itself and when I researched, I found that Koreans make Oxtail Soup similar to mine.
Oxtail is actually quite fatty, which I personally love, but feel free to chop of the fat before boiling! If you are anything like me and my husband, with different preferences, you can cook the oxtail with the fat and once served, the fat can come off easily. Two in one, perfect right!?
---
What to serve with Simple Homemade Oxtail Soup
Oxtail soup fills you with such warmth, exactly what you need this time of year! And what goes perfect with Simple Homemade Oxtail Soup is some boiled rice, making it a filling dish, with a combination of explosive flavours for you and your family to enjoy. The different colours that make up the Oxtail Soup serve even better on your dining table.
In addition to rice, you can also make some fresh homemade salad to go with your Oxtail Soup with a side of fresh bread to dip in the broth.
Oxtail Soup is already rich in flavour but side dishes also contribute unique flavours making your meal that little bit better 🙂
How Koreans Make Oxtail Soup!
Korean often Homemade Oxtail Soup, also known as "kkori gomtang," is a hearty and flavourful dish made by simmering oxtails in a rich broth for hours until the meat is tender and the flavours have fully developed. To make the broth, bones are first boiled in water with onions, garlic, ginger, and green onions to extract all the flavor and nutrients. Then, soy sauce, rice wine, and sometimes dried kelp are added for extra depth of flavor.
Finally, the cooked oxtails are added to the broth and simmered until they are tender and the broth is rich and savory. This dish is typically served with a bowl of steamed rice and a side of kimchi to balance the richness of the broth. Just like that Koreans enjoy a comforting bowl of Simple Homemade Oxtail Soup on a cold day for a warming, satisfying and delicious meal.
---
Deliciously warm and satisfying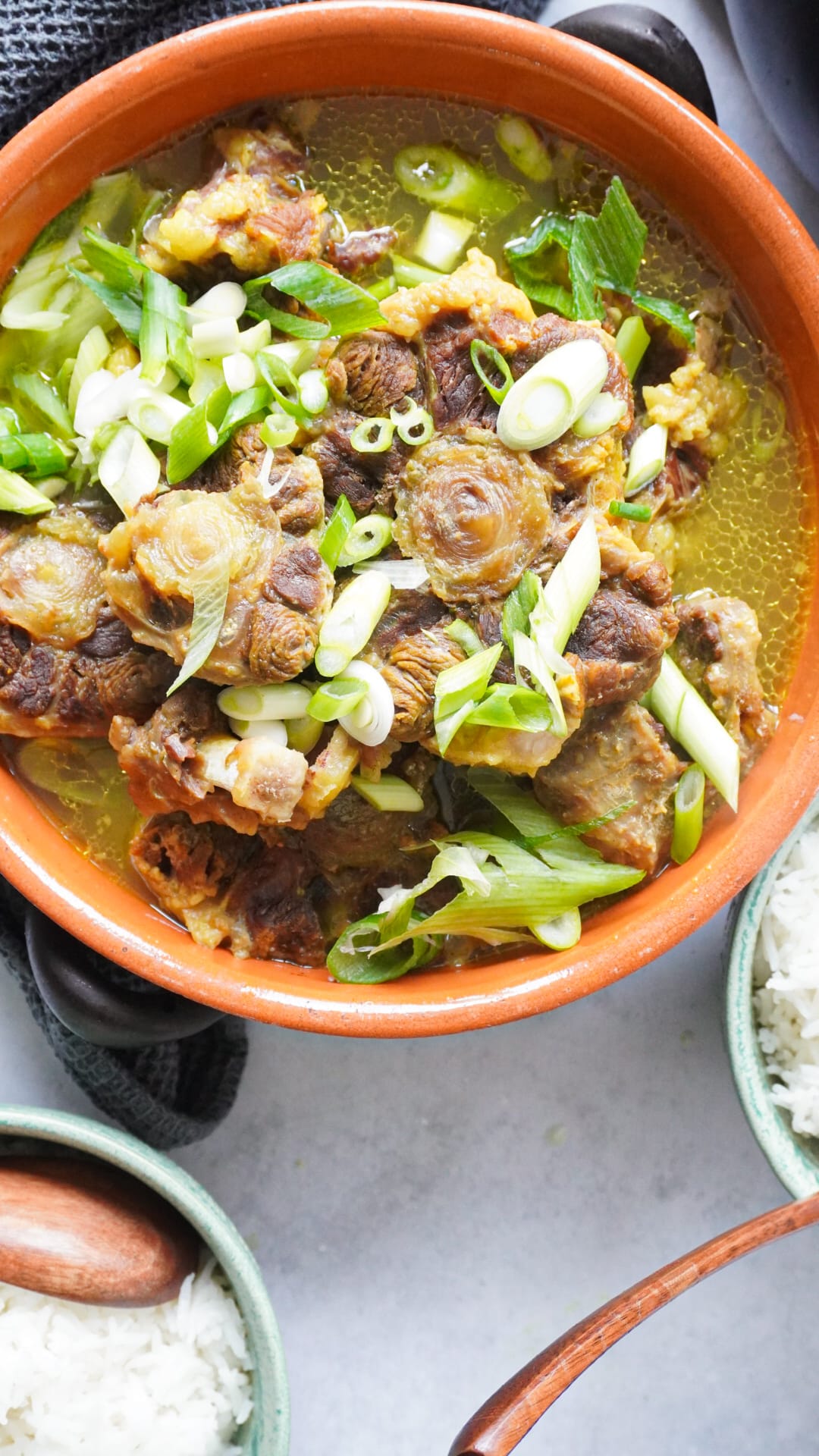 ---
Ingredients
Oxtail
Lemon
Salt
Pepper
Bay Leaves
Garlic
Onion
Spring Onion
---
Step by Step
Starting with your onions, peel and chop them into large chunks. Peel the garlic, leaving them as whole cloves and put aside.
Salt the oxtail meat generously and add it to a pot, squeeze the large lemon and pour water on top of the meat. Keeping the lemon inside the pot, boil for about 30 minutes.
---
The water that has boiled with the lemon and salt cleanses your meat. Pour this water out along with the lemon slices and give the meat a good rinse.
After washing all the water out of the pot, add fresh water back in with the meat, garlic cloves and onion chunks. Add a generous amount of salt, pepper and bay leaves.
Put to boil for 3 hours on medium heat.
---
After the oxtail has boiled, take the meat out and put in a large serving bowl.
---
Strain the juice from the pot, taking out the garlic cloves and onion chunks from the broth. Add the drained broth on top of the oxtail in the serving bowl.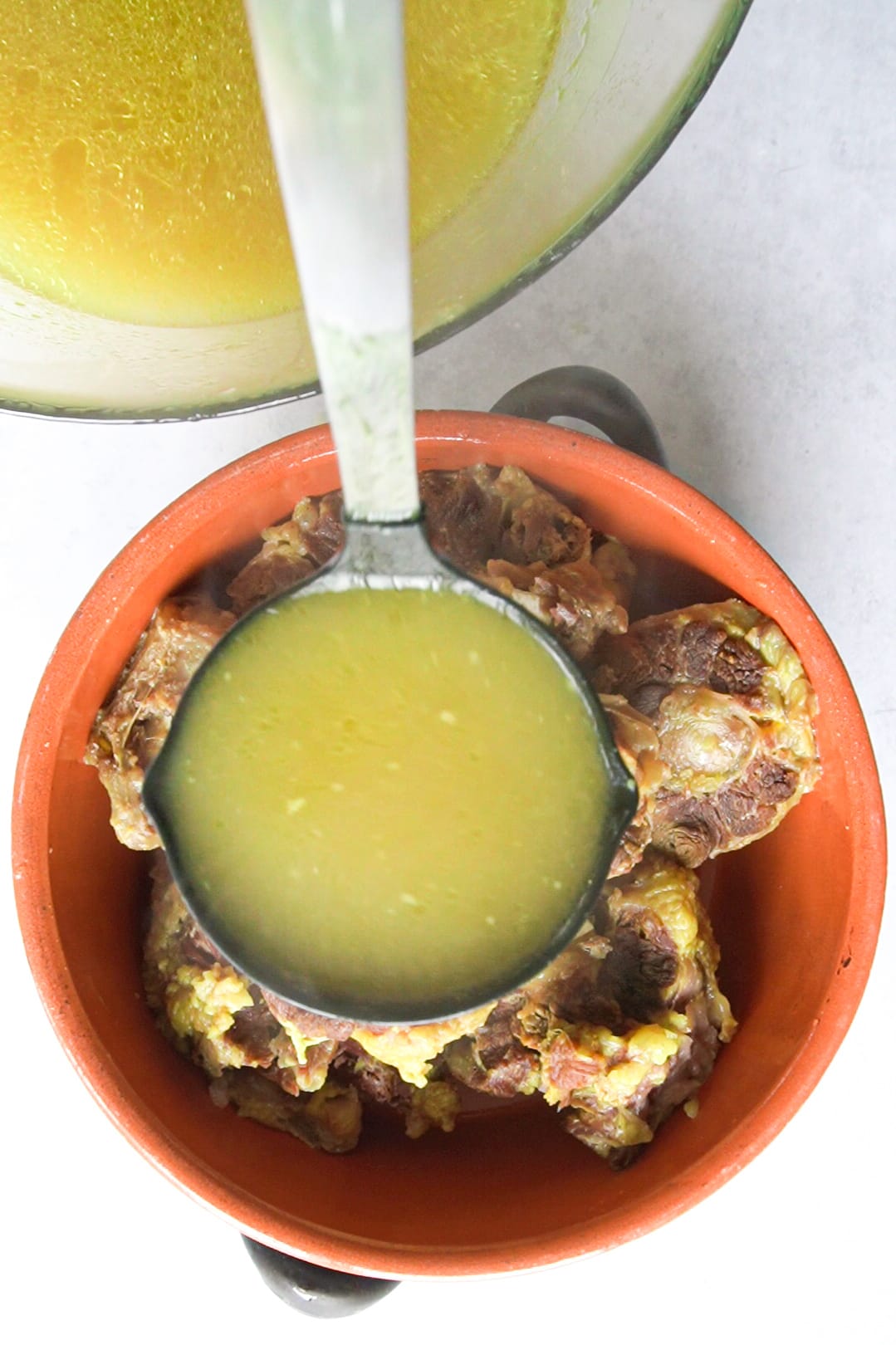 ---
Remember to squeeze the garlic and onions to keep the extra puree that comes out and add it to your serving bowl.
Chop the spring onions and add to the serving bowl.
Boil some rice on the side, serve and enjoy 🙂
---
Frequently Asked Questions
How long can I keep my Simple Homemade Oxtail Soup in the fridge?
Your oxtail soup can be stored in the fridge for 3 to 5 days or frozen in an air tight container for up to 3 months.
Why does Oxtail need to be cooked for so long?
Oxtail is made up of bone and fat and so needs enough time to cook and soften.
Can I reheat oxtail soup?
Yes, it can easily be reheated in the microwave or on a stove top until warm enough to eat.
---
If you do make this recipe, please tag me on Pinterest or Instagram so I can see! It's my favorite thing to scroll through stories and see what you are all making.

And of course feel free to leave any questions, comments, or reviews! This is the best place to reach me, and I'd love to hear from you 🙂
---
Recipes You Must Try
Simple Homemade Oxtail Soup
Instructions
Starting with your onions, peel and chop them into large chunks. Peel the garlic, leaving them as whole cloves and put aside.

Salt the oxtail meat generously and add it to a pot, squeeze the large lemon and pour water on top of the meat. Keeping the lemon inside the pot, boil for about 30 minutes.

The water that has boiled with the lemon and salt cleanses your meat. Pour this water out along with the lemon slices and give the meat a good rinse.

After washing all the water out of the pot, add fresh water back in with the meat, garlic cloves and onion chunks. Add a generous amount of salt, pepper and bay leaves.

Put to boil for 3 hours on medium heat.

After the oxtail has boiled, take the meat out and put in a large serving bowl.

Strain the juice from the pot, taking out the garlic cloves and onion chunks from the broth. Add the drained broth on top of the oxtail in the serving bowl.

Remember to squeeze the garlic and onions to keep the extra puree that comes out and add it to your serving bowl.

Chop the spring onions and add to the serving bowl.

Boil some rice on the side, serve and enjoy