Dips are an all time favorite for me as I feel like they fit in everywhere and anywhere, but when it comes to this Tahini Walnut Aubergine Dip with Crispy Butter Beans, this Eggplant Dip is not only extremely tasty but also such a delicious dish that fits perfectly well with this season.
Since it's the season of cooking and hosting I'm going to let you in on my mum's best kept secret. For as long as I can remember she buys eggplant or aubergine in big bulks, preps them and freezes them. The main ingredient in many middle eastern dishes is aubergine and so to make them from scratch by grilling, baking, peeling, and chopping takes a considerable amount of time, not to mention it's costly too. So when they're on offer buy them in bulk prep and freeze them for future use.
Here I use my frozen aubergine to make a Aubergine Dip. I also used fresh mint leaves with pomegranate seeds. It was delicious! It is so quick and easy to make, chop up your ingredients and give it a good mix and you're good to go. Try it and let me know how it goes 🙂
---
---
The Delicious Centerpiece for your Dining Table
---
How To Eat Your Tahini Walnut Aubergine Dip
What I really love about this Tahini Walnut Aubergine Dip with Crispy Butter Beans is that it uses a lot of seasonal vegetables and produce, making it so perfect and in season!
The Dip itself is pretty straight forward and easy to make, in not much time at all and best of all can be enjoyed with so many different types of fresh bread. My personal favorite is sourdough bread, but there are also many different types of toasted bread, or naan if you're feeling for a bit more explosive taste or basically anything freshly baked works perfect!
This Eggplant Dip is a delicious addition to any mezze platter, with a side of bread or even crunchy raw vegetables to enjoy with 🙂
---
What The Dip Brings To The Table
All the ingredients in this recipe bring something new and something different to the mix. The combination of flavours gives such a delicious and explosive taste that will leave your friends and family mesmerized.
The butter beans become toasted and gain a bit of colour because of the Aleppo Pepper to give you that added crunch you didn't know you needed. 🙂
The chopped mint is used both in the dip itself, mixed in with the aubergine, and also sprinkled on top of your plated dish, keeping it super fresh and making it asthetically pleasing, ready to be placed on the dining table.
As for the tahini, the sesame seed paste adds a rick creamy texture and flavour and the yogurt keeps your dish cool and even more creamy; the fresh lemon juice adds to the zingy freshness and there you have it, Tahini Walnut Aubergine Dip with Crispy Butter Beans.
---
A sight for sore eyes
---
Prepping your Eggplant Ahead of Time
Us Middle Easterners love our aubergines and have such a huge variety of foods and dips that contain them! Most dishes involve roasting the aubergine, peeling the skin and mashing it. So, I have the perfect tip for you my mother taught me, that i've been using for years.
Whenever you have aubergines ready or looking to host a dinner party and want to prep ahead of time, you can grill your aubergines until nice and soft, peel and chop them and divide them into bags for your freezer. This way, whenever you need your aubergines ready, just take the bag out of the freezer, leave it to thaw, drain out the juice and its ready to go 🙂
Why this is a top tip for me is that not only does it save time but also money! When aubergines are not in season, or whenever aubergine prices have been reduced, you can buy them in batches and prepare your grilled aubergines ready for so many different meals all in one go!
For dips, you can of course make it fresh there and then, but in many occasions having your aubergine ready is always a time saver!
---
Ingredients
Walnuts
Extra Virgin Olive Oil
Tahini
Pul Biber (Aleppo Pepper)
Salt
Black Pepper
Butter Beans
Garlic
Lemon
Aubergine
Pomegranate Seeds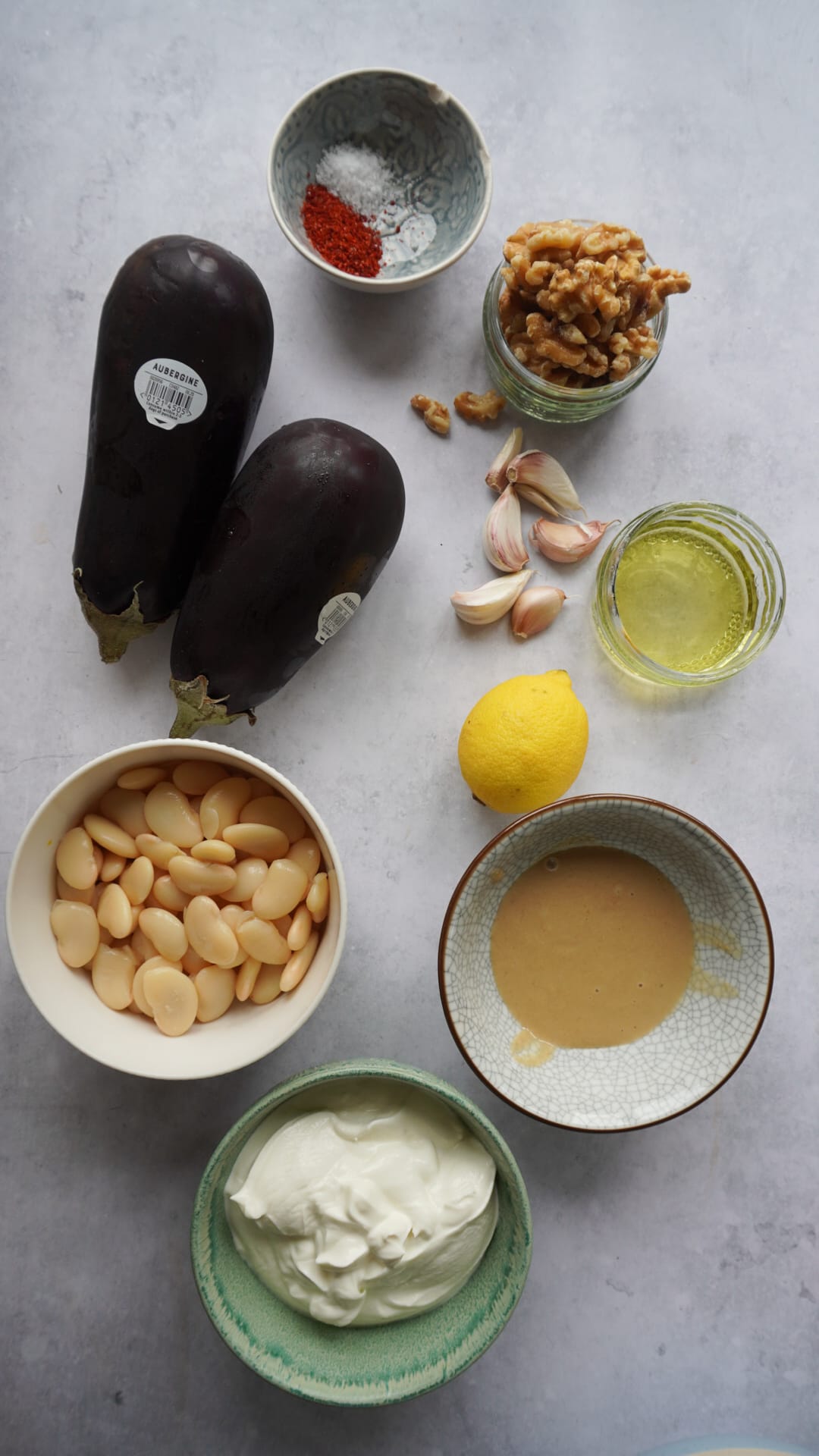 ---
Step by Step
First, start by creating some holes in your aubergines and put them in the oven to roast until they become soft. Once soft, bring them out of the oven, peel them and pound them down.
Put the butter beans in a frying pan with the Aleppo Pepper, salt and olive oil to toast for about 5 to 10 minutes and set aside.
Here's a video showing how I make this exactly!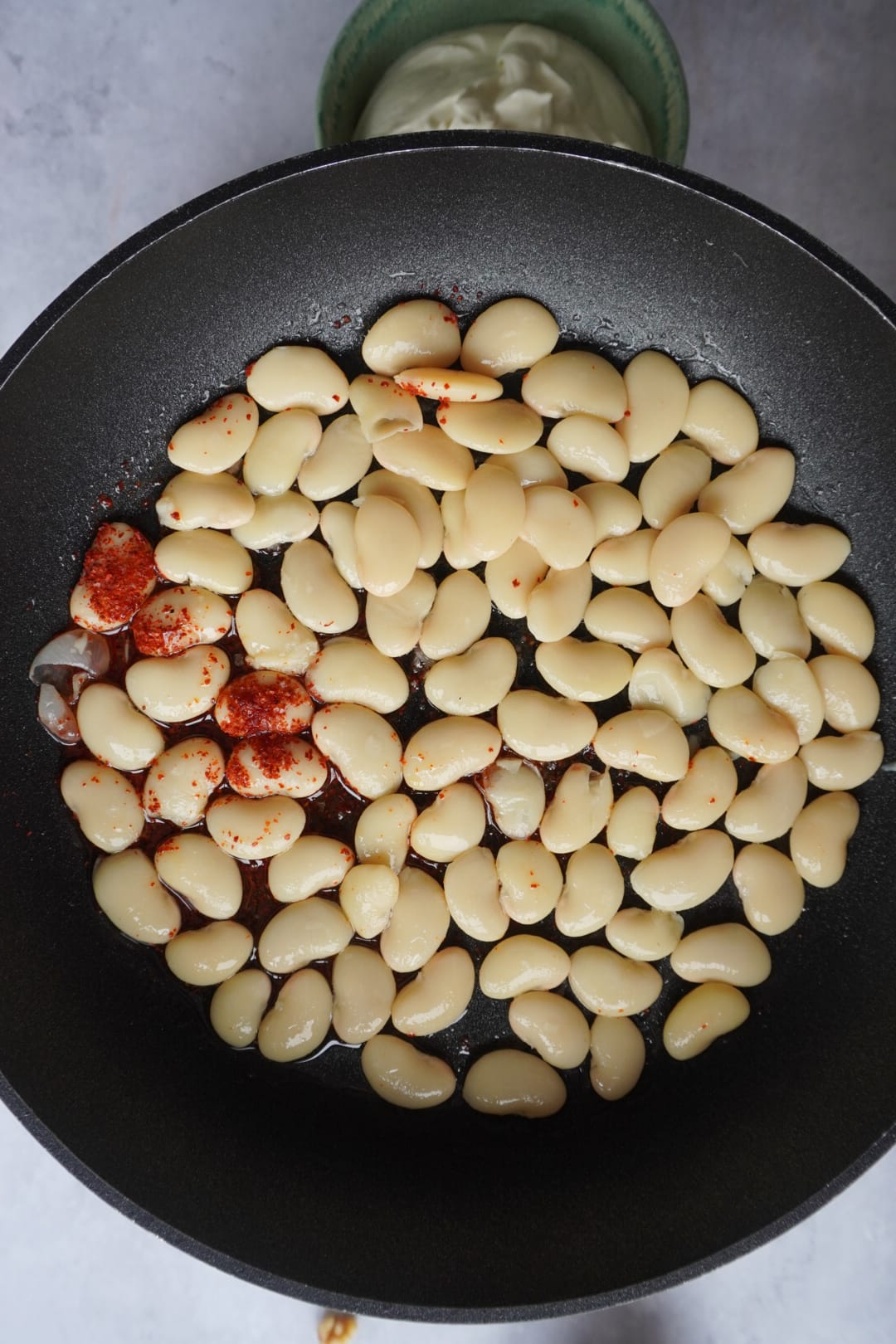 ---
Peel and crush the garlic, chop the walnuts and chop the fresh mint leaves and leave each one aside.
In a bowl, mix together the mashed aubergine, minced garlic, chopped walnuts and seasonings, black pepper, salt to taste and a bit more pul biber pepper.
Add the tahini, chopped mint leaves and lemon juice. Mix together really well.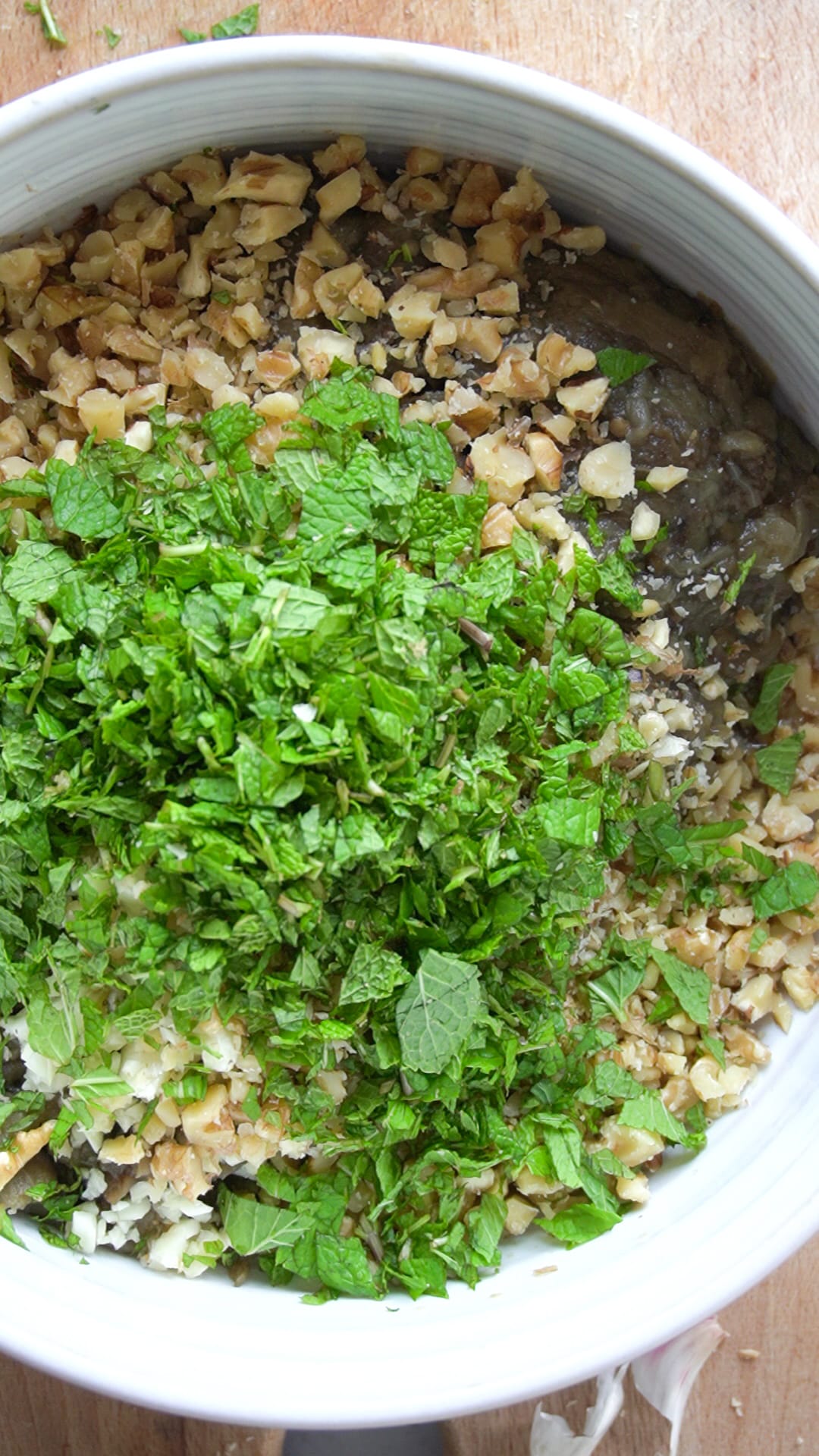 ---
Add the tahini and yogurt and mix altogether really well.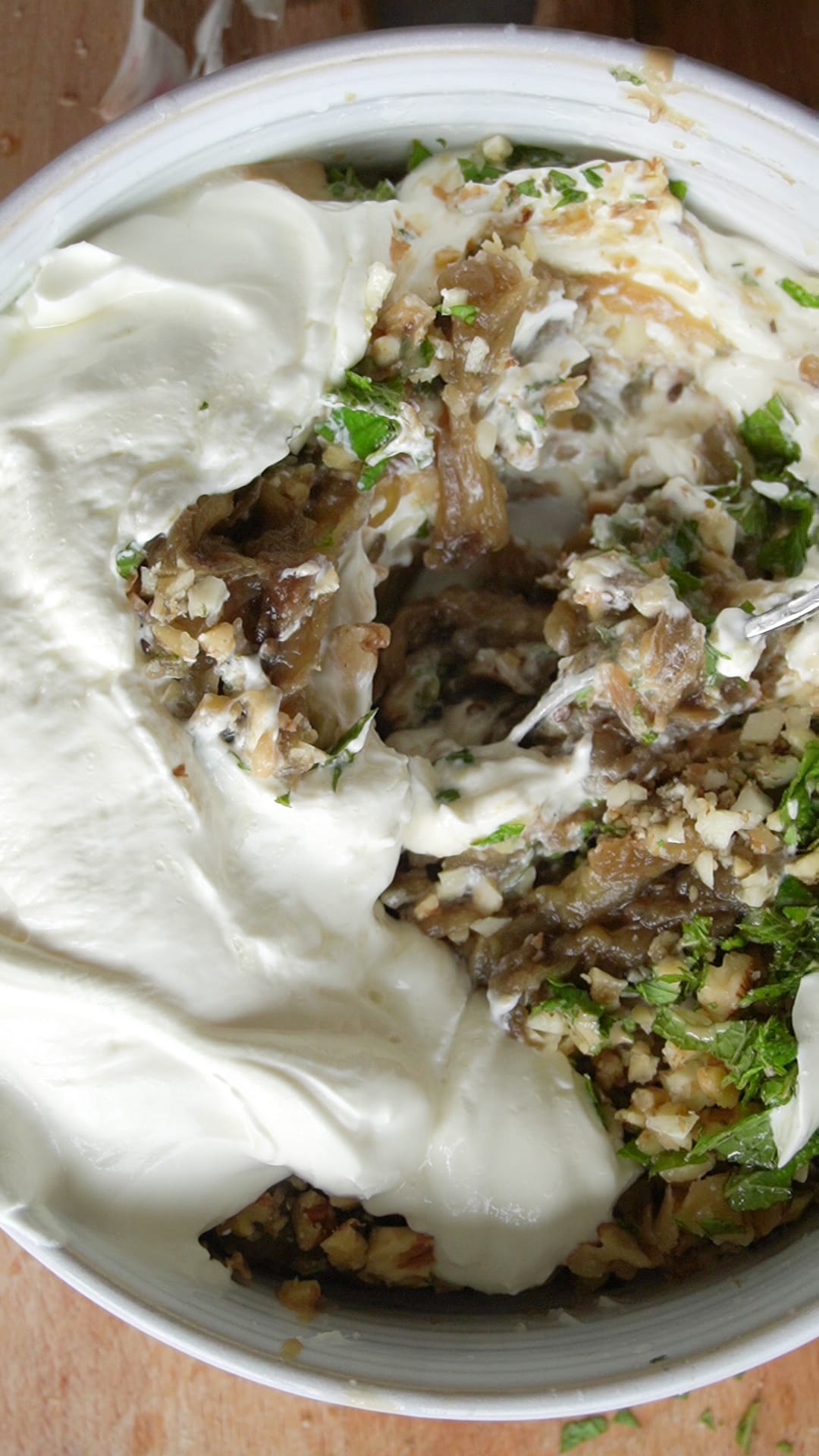 ---
Plate your dip and top with toasted butter beans. Add a drizzle of extra virgin olive oil with a sprinkle of chopped mint leaves and pomegranate seeds.
Serve and enjoy 🙂
---
Frequently Asked Questions
How do I serve my Eggplant Dip with Butter Beans?
Your dip is best served with anything freshly baked and any type of toasted bread.
Can my Aubergine dip be frozen?
Yes, the dip can be frozen but its consistency will change so it is best to serve it as fresh as possible.
How long can I keep my Eggplant Dip in the fridge?
Your dip can be stored up to 1 week in the fridge in an airtight container.
---
If you do make this recipe, please tag me on Pinterest or Instagram so I can see! It's my favorite thing to scroll through stories and see what you are all making.

And of course feel free to leave any questions, comments, or reviews! This is the best place to reach me, and I'd love to hear from you 🙂
---
Recipes You Must Try
Tahini Walnut Aubergine Dip with Crispy Butter Beans
Instructions
First, start by creating some holes in your aubergines and put them in the oven to roast until they become soft. Once soft, bring them out of the oven, peel them and pound them down.

Put the butter beans in a frying pan with the Aleppo Pepper, salt and olive oil to toast for about 5 to 10 minutes and set aside.

Peel and crush the garlic, chop the walnuts and chop the fresh mint leaves and leave each one aside.

In a bowl, mix together the mashed aubergines, minced garlic, chopped walnuts and seasonings, black pepper, salt to taste and a bit more pul biber pepper.

Add the tahini, chopped mint leaves and lemon juice. Mix together really well.

Add the tahini and yogurt and mix altogether really well.

Plate your dip and top with toasted butter beans.  Add a drizzle of extra virgin olive oil with a sprinkle of chopped mint leaves and pomegranate seeds.

Serve and enjoy