What a delicious light meal! Kuku Sibzamini or Cheesy Mashed Potato Patties is a super yummy Persian dish that you should try. Each patty has a tender texture that melts in your mouth. Once you try it, it will become a staple in your weekly menu.
Cheesy Boiled Potato patties require minimum efforts and ingredients that are already there in your pantry. Boil the potatoes, then mash them with a flavorful seasoning and some shredded mozzarella. You can bake or fry these beautiful tasty patties. Enjoy!
---
---
Kuku Sibzamini with a Special Twist!
---
What is Kuku Sibzamini?
Kuku Sibzamini is close to my heart. It is a light vegetarian dish, beloved to my family, for as long as I can remember. It was especially popular amongst families who could not afford to consume meat every day of the week. Meat was expensive and not readily available, so they had to be creative and make the most delicious vegetarian meals which were both filling and cost effective for their families.
Today however, it is not because of saving money that this recipe is made over and over again in households, but due to its flavourful combination and the pure love that the nation has for this delicious meal.
Iranian families have different versions of Kuku. One of them iss Kuku Sabzi. It is similar to an omelet of eggs and many herbs that they grew on their own land.
Kuku Sibzamini is a super yummy meal. Click here Kuku Sibzamini to check out my video on Instagram.
---
A Comfort Meal for A Summer Picnic!
---
A bit of History
Kuku Sibzamini has lived for more than a hundred years now. The classic recipe only had boiled and mashed potatoes, eggs, turmeric, salt, and pepper. It was a cheap meal that could feed families, especially large ones with many members on a very small budget.
I remembered the Kookoo Sibzamini that my mum used to make on picnics, though it was my least favourite option for picnic food then. However, 20+ years later, I added my own twist, and here it is, a classic recipe of Kuku Sibzamini with a modern twist!
---
Why is Kuku Sibzamini so special?
Kuku Sibzamini is a Persian recipe famous in the Northern region. Interestingly, Kuku refers to a Persian word that means "patty" and Sibzamini means "the apples of the earth", a.k.a potatoes. There are different versions of Kuku Sibzamini. Some may grate raw potatoes and season them.
I decided to keep the first version that was made with boiled and mashed potatoes. But it is a little plain and bland, so I made my own twist by adding more flavorful spices and enriching the taste with melty cheese. It is Kuku Sibzamini with a modern twist!
---
Super Delicious Potato Patties!
---
How to Serve Persian Potato Patties
Kookoo Sibzamini is so delicious in a warm baguette with fresh salad, some feta, and gherkins; pickled baby cucumber.
Ketchup and mayo are a must too. If you choose to keep the carbs low on this dish, you can opt out for a Greek or Mediterranean salad. It's a match made in heaven, especially in the warmer weather, absolutely delicious and refreshing.
Iranians love their sandwiches for their picnics and there are many dishes that growing up my mum, grandmothers, and aunts always make to take on picnics. Potato patties in all variations are definitely a staple.
---
Looks Tasty!
---
Pro Tips
Add saffron for extra flavour. You can also add baking powder and baking soda to get crispier patties. How about cheddar instead of mozzarella? Give it a try!
If you feel that the patties are falling apart, you can add some flour to the mixture.
For a healthier option, you can set the cheesy mashed potato patties in a pan or tray and bake them in the oven.
If you have extra potato patties, though I doubt it, or you want to prepare them ahead, you can store them. Let them flash-freeze in a single layer until solid. Then, transfer them to an air tight container and keep them in the fridge for few days and up to 3 months in the freezer. Reheat upon serving.
---
Ingredients
Potatoes
Eggs
Shredded mozzarella
Parsley
Coriander powder
Ginger powder
Turmeric
Paprika
Garlic powder or fresh minced garlic
Black pepper
Salt
Oil of choice for frying
---
Step by Step
Start by boiling, peeling, and mashing potatoes.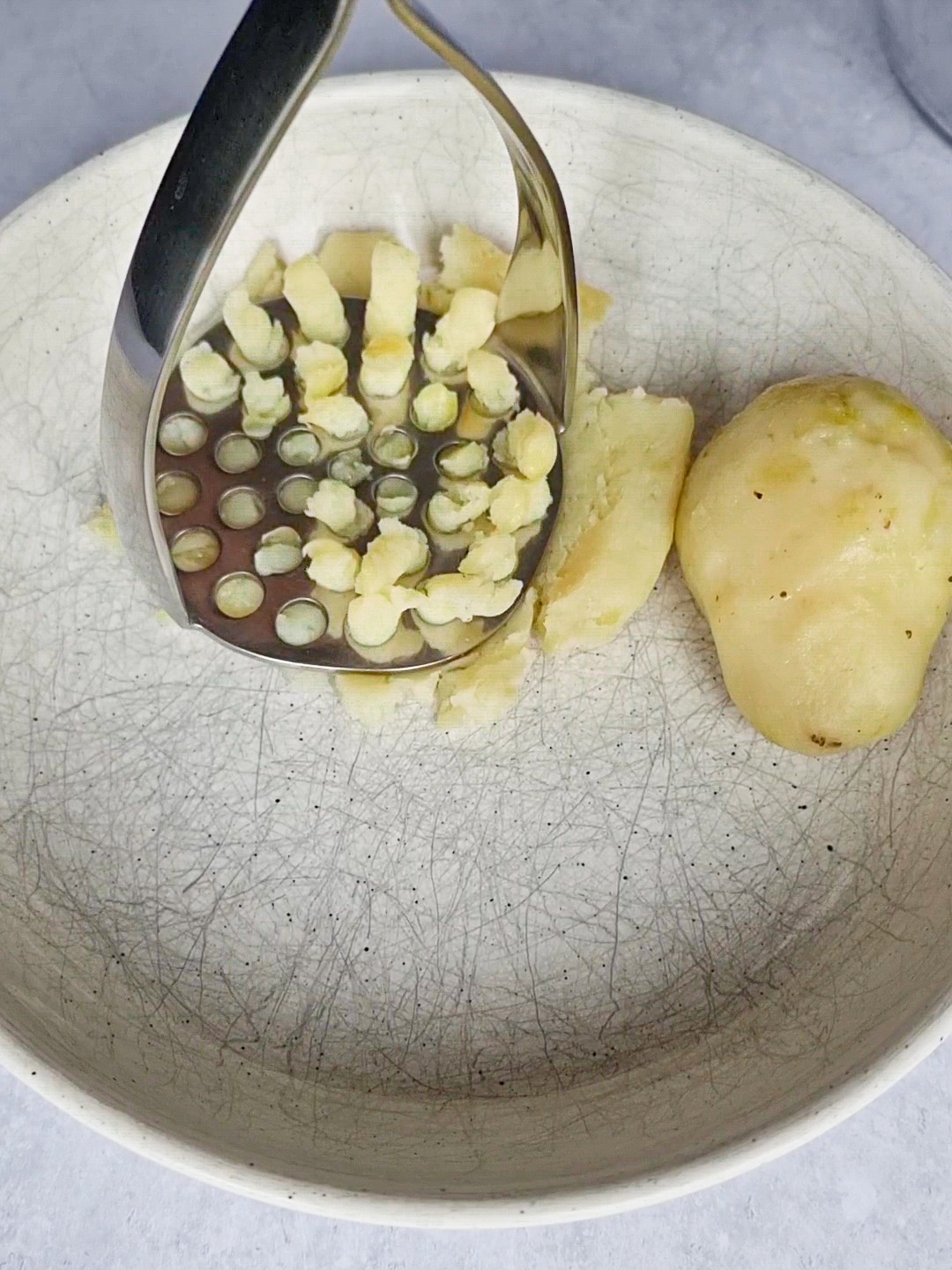 ---
Prepare the seasoning: salt, turmeric, paprika, garlic powder, black pepper, coriander powder, and ginger powder.
---
Mix these beautiful ingredients in a bowl until they are totally incorporated in the potatoes.
---
Add some extra cheese to each patty, roll it over, and flatten it again.
---
Shallow fry the potato patties until golden. Serve and enjoy!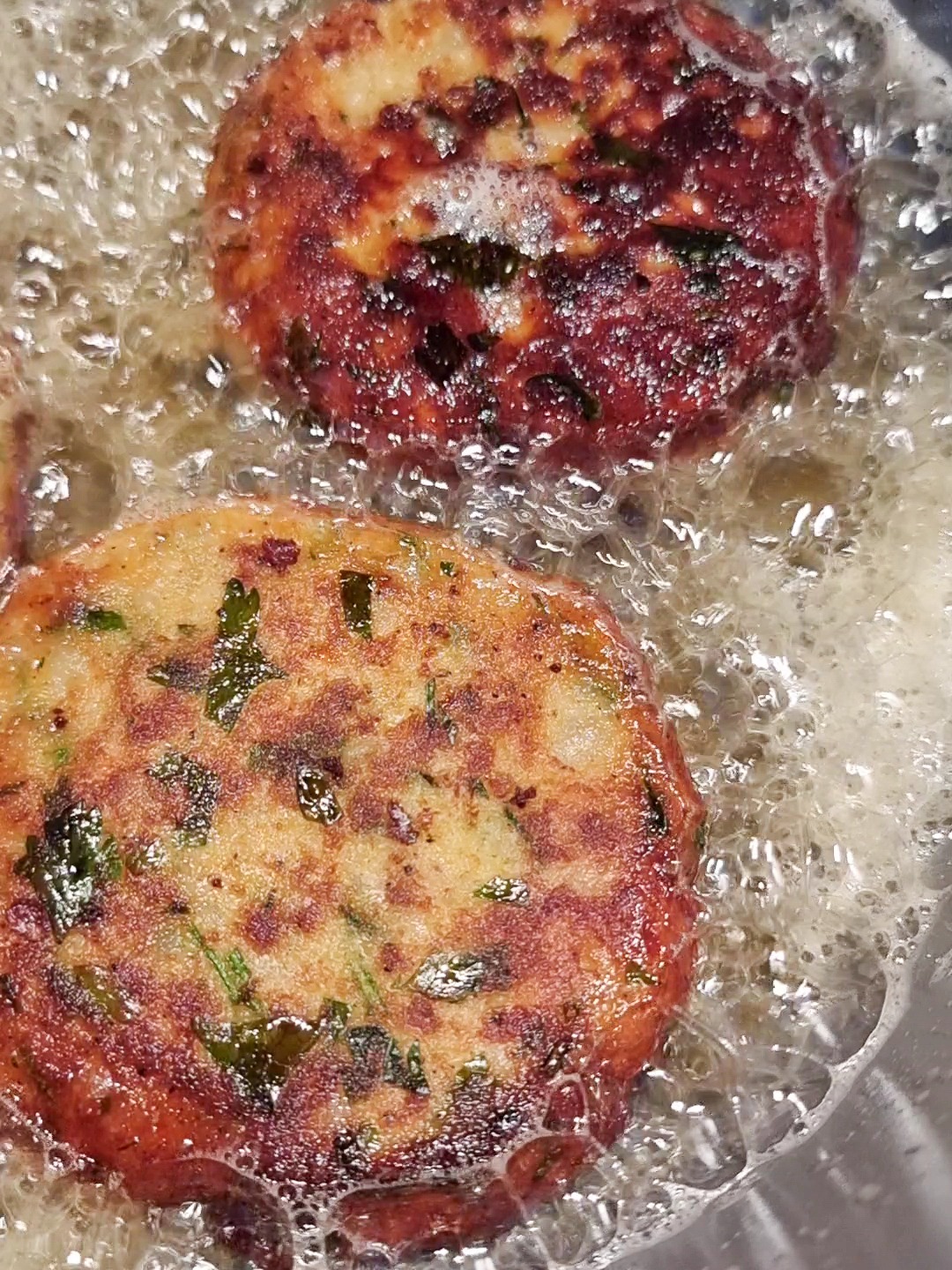 ---
Frequently Asked Question
What kind of potatoes is the best to make kuku Sibzamini?
You have to look for starchy potatoes like Maris Piper, Yukon Gold, or russets. They have golden skin with rich texture and subtle creaminess.
Can I coat these patties with breadcrumbs before frying?
Of course, why not! Go ahead, make your own twists and share your own experience.
Can I use leftover mashed potatoes to make Kuku Sibzamini?
Yes, but be careful! But some mashed potatoes recipes have milk, butter, or sour cream that may affect the taste. So, it is better to try it with plain mashed potatoes.
---
If you do make this recipe, please tag me on Pinterest or Instagram so I can see! It's my favorite thing to scroll through stories and see what you are all making.

And of course feel free to leave any questions, comments, or reviews! This is the best place to reach me, and I'd love to hear from you 🙂
Persian Recipes You Must Try
Kuku Sibzamini – Persian Boiled Potato Patties
Instructions
Boil the potatoes for around 30 minutes or until tender.

Mash them well. Then, add the eggs, half of the shredded mozzarella, parsley, coriander, ginger, turmeric, paprika, garlic, salt, and pepper.

Mix them well using your hands or a spatula to incorporate all the ingredients in the mashed potatoes.

Turn them into even balls. Hold each ball in your palm and flatten it. Set some shredded mozzarella on top, roll it over the cheese, and flatten it again by pressing it between your palms to form a patty.

Shallow fry until golden. Serve and enjoy the taste with your favorite dipping, a warm baguette, or a bowl of salad.