Imagine the delight on your taste buds when you bite into a piece of Pistachio and Pomegranate Turkish Delight! In this traditional Turkish treat, sweet, juicy pomegranate blends with rich, nutty pistachios for a unique combination of flavors.
---
Turkish Delight History
Also known as "Lokum," Turkish Delight is a sweet treat that has a long and rich history in Turkey. It originates back to the Ottoman Empire. Royalty and commoners alike enjoyed this dessert regularly during the Ottoman era. Traditionally made with ground pistachios, Pistachio Turkish Delight was a popular variety and boasts a vibrant green color. Pomegranate Turkish Delight, another well-loved variety, uses pomegranate juice for a sweet-tart flavor and deep red color. Today, both Pistachio and Pomegranate Turkish Delight remain staple sweets in Middle Eastern cuisine, cherished and enjoyed in Turkey and worldwide.
What makes Turkish Delight so delicious?
For centuries, people in the Middle East have relished Turkish Delight as a classic treat. Its popularity comes from its combination of sweet, juicy pomegranate and crunchy, nutty pistachios. The mix of these two distinct flavours creates a unique taste experience that's both subtly sweet and delightfully crunchy. The texture of the treat also contributes to its deliciousness – it's soft yet chewy, allowing you to enjoy every bite as if it were your first.
Deliciously vibrant and satisfying
---
Tips for making the best Turkish Delight Pistachio Lokum Recipe
To make the best Pistachio and Pomegranate Turkish Delight, be sure to use a minimal amount of oil or butter when greasing the pan. Too much can cause the treat to become too soft. In addition, timing is key – be sure not to overcook it, as it will also become too soft! Lastly, be sure to let the mixture cool at room temperature before cutting into squares -this will help ensure they keep their form and shape after serving.
The perfect accompaniments for Pistachio and Pomegranate Turkish Delight.
Pistachio and Pomegranate Turkish Delight is the perfect treat to enjoy on its own or as an accompaniment to other desserts. It can be served with a scoop of your favourite vanilla ice cream, dolloped with yoghurt and fresh fruit, or enjoyed with a cold glass of lemonade. If you're looking for some extra sweet indulgence, try pairing it with baklava for a delicious treat!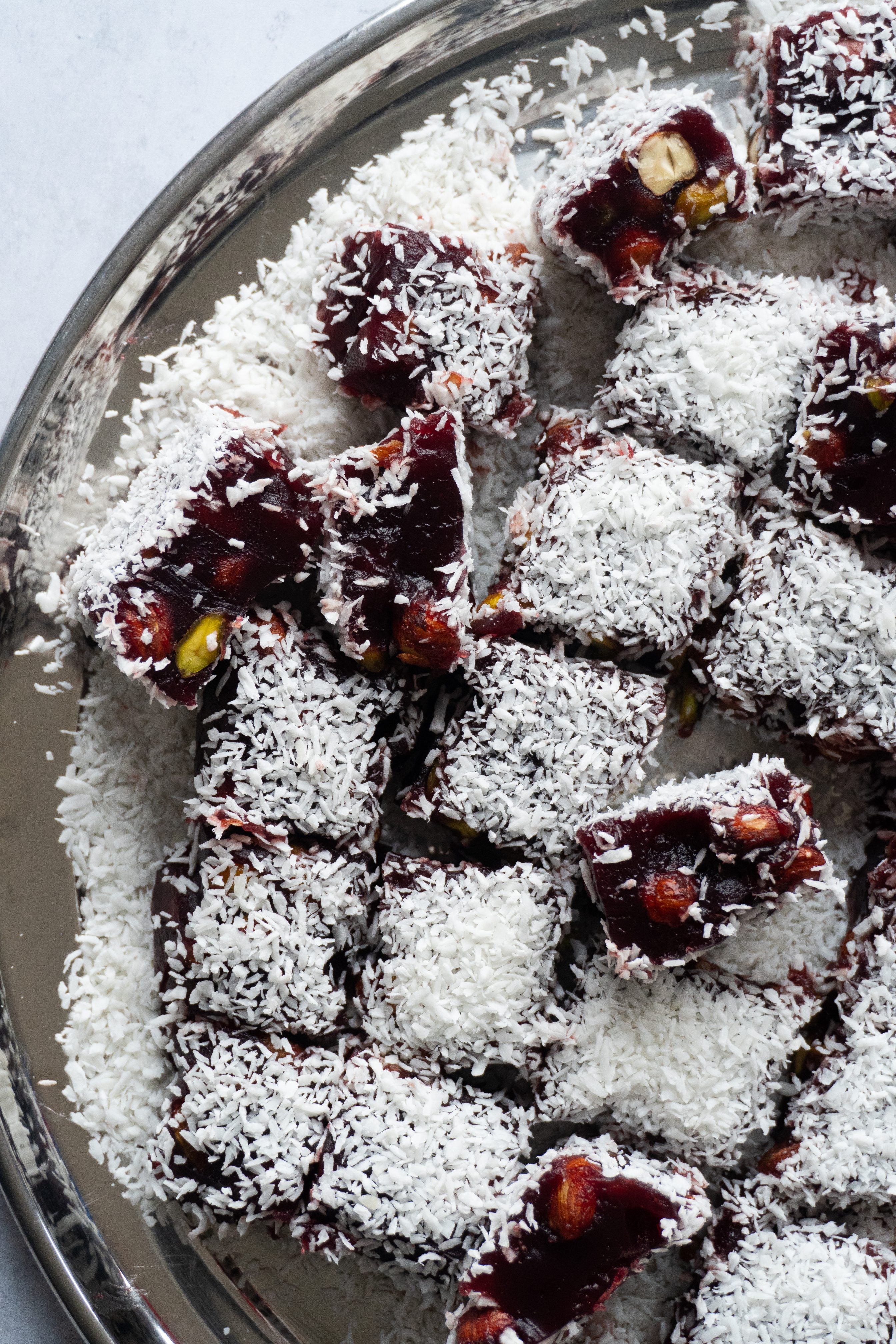 ---
Uses of Pistachio and Pomegranate Turkish Delight in recipes.
Pistachio and Pomegranate Turkish Delight can be used in a variety of sweet recipes for a delicious treat. Try crumbling some of the chocolate-covered pieces into your breakfast porridge, or use it as a topping for pancakes or waffles. You could even use it to dress up plain cupcakes, layer it onto richer desserts like ice cream cakes or tarts, or simply sprinkle some on top of other fruity treats like fresh berries in season!
Turkish Delight Benefits
In addition to its delicious taste, Turkish delight has a number of health benefits. The sugar in Turkish delight provides a quick energy boost, making it a great snack to have during a long day. The starch in the mixture helps to slow down the release of sugar into the bloodstream, preventing a rapid rise in blood sugar levels.
Pomegranate, a key ingredient in Pomegranate Turkish Delight, boasts high levels of antioxidants known for their health benefits. Antioxidants help to neutralize harmful free radicals in the body, reducing the risk of chronic diseases such as cancer and heart disease.
The pistachios used in Pistachio Turkish Delight are also high in healthy fats, protein, and fiber, making them a great snack for maintaining a healthy diet. In addition, the nuts are a good source of vitamins and minerals, such as vitamin B6, potassium, and magnesium.
---
Ingredients
Granulated sugar
Cornstarch
Pomegranate juice
Rosewater (optional)
Pistachios and Hazelnuts (optional)
Desiccated Coconut or Powdered sugar for dusting
Step by Step
In a saucepan, combine the sugar, corn starch and pomegranate juice. Cook over medium heat, stirring occasionally, until the sugar has dissolved.
Once the mixture starts to heat up, whisking continuously, until the mixture thickens. Pour nuts in the saucepan and stir to fully combine.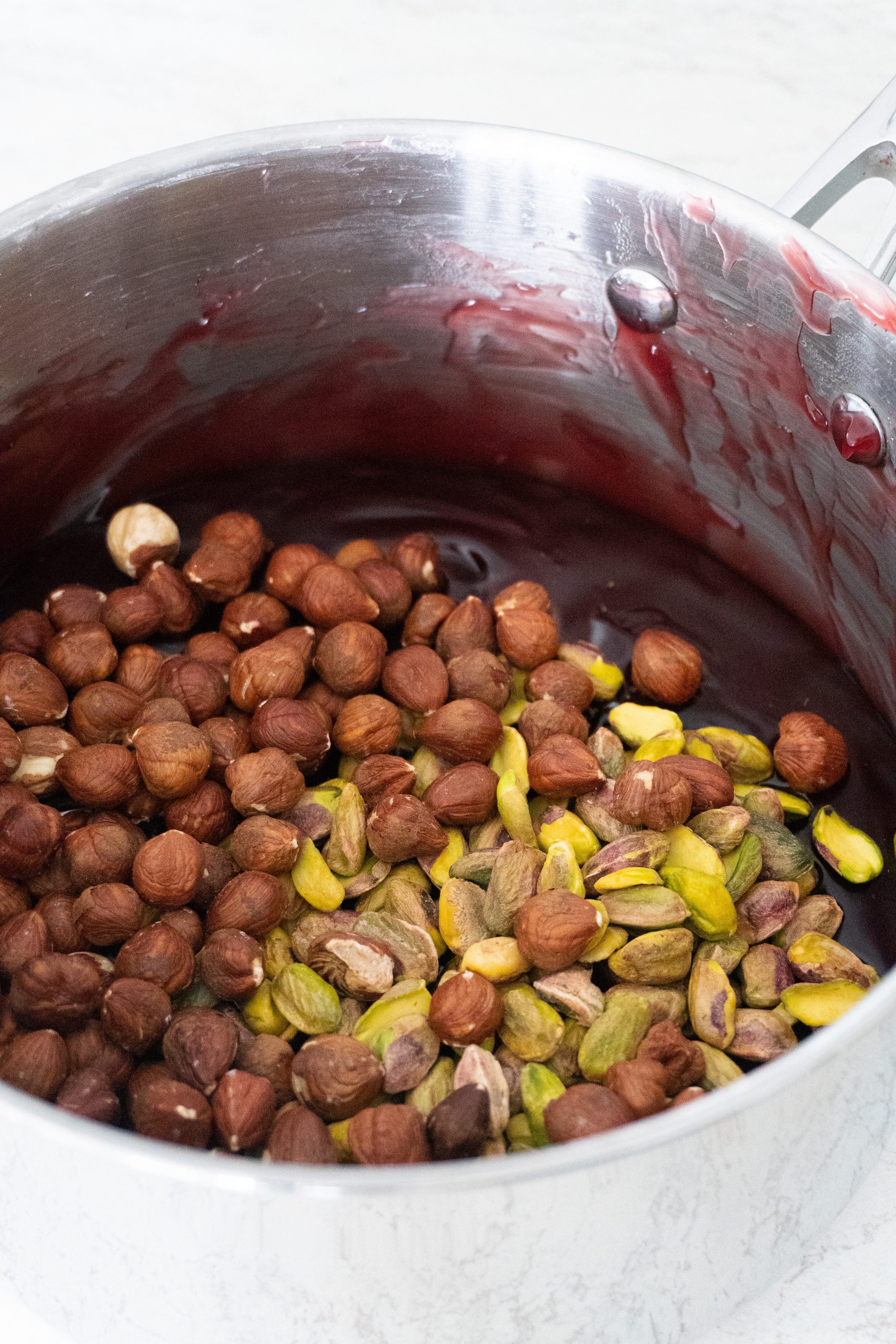 Pour the mixture into a greased 8×8 inch pan and allow it to cool completely.
Once the mixture has cooled, dust a cutting board with desiccated coconut and turn the mixture out onto the board. Cut the mixture into squares and dust with more desiccated coconut.
Serve and enjoy your delicious Pistachio and Pomegranate Turkish Delight!
---
Frequently Asked Questions
1. How should I store my Turkish Delight?
Turkish Delight should be stored in an airtight container at room temperature. It will keep for several weeks.
2. Can I use other types of nuts in my Turkish Delight recipe?
Yes, you can use other types of nuts in place of pistachios, such as almonds, walnuts or hazelnuts. I also used a mix of pistachio and hazelnuts.
3. How can I make my Turkish Delight gluten-free?
You can use a gluten-free cornstarch to make the recipe gluten-free.
4. How should I serve my Turkish Delight?
Turkish Delight can be served as a sweet snack or dessert on its own, or as a part of a larger spread of desserts and sweets.
---
If you do make this recipe, please tag me on Pinterest or Instagram so I can see! It's my favorite thing to scroll through stories and see what you are all making.

And of course feel free to leave any questions, comments, or reviews! This is the best place to reach me, and I'd love to hear from you 🙂
---
Other Recipes You Must Try
Pistachio and Pomegranate Turkish Delight
Instructions
In a saucepan, combine the sugar, corn starch (use a sieve to avoid clumps) and pomegranate juice and hand whisk until fully combined. 

Cook over medium heat, stirring occasionally, until the sugar has dissolved.

Once the mixture starts to heat up, whisk continuously, until the mixture thickens. The consistency of it should be like cream or thick emollient.  

Take off the heat and add the nuts in the saucepan and stir to fully combine.

Pour the mixture into a greased 8x8 inch pan and allow it to cool completely. For shorter wait time, place in fridge for 30 minutes. 

Dust a cutting board with desiccated coconut and turn the mixture out onto the board. Cut the mixture into squares and dust with more desiccated coconut.

It is ready to serve so enjoy with tea of choice :)