Also known as Muhallebi in Turkey, this milk pudding is not one that can be pinned down to only one country in the middle east. Most middle eastern countries make this, and it is one of the quickest and most delicious dessert recipes. I have tried a few recipes over time but in the end, I finally worked out a recipe that to me is just perfect.

This milk pudding is so creamy and decadent, it's so versatile, which means you can add any flavouring you fancy. My favourite is cardamom and rose water but orange blossom or vanilla extract will also go just fine if you don't like rose water and cardamom. This dessert can also be made completely plain with just milk and cream or just milk. Though I do think that the cream just completes the recipe and it becomes so creamy and divine.

Its a top pick for me in warmer weather as Mahalabia has to be cooled in the fridge for a few hours and then garnished with any nuts, seeds, fruit puree and my absolute favourite is date syrup. It so refreshing, it's delicious and creamy so it fulfils that dessert craving but it's also light, cooling and refreshing.
You really must give it a try!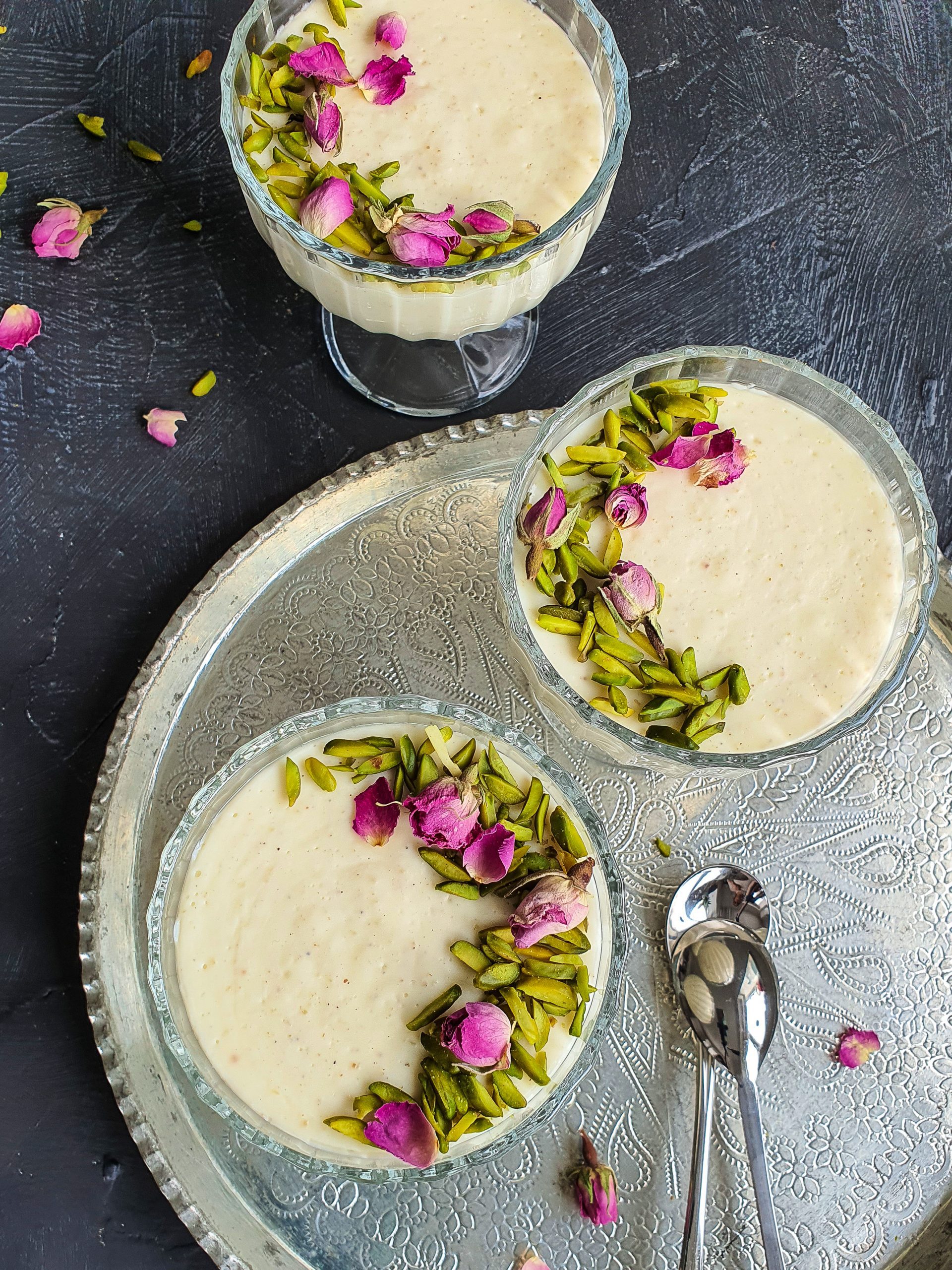 Mahalabia (4 Ingredient Middle Eastern Milk and Cream pudding)
Instructions
In a medium pot hand whisk corn flour, milk, cream and sugar until fully combined. Place the pot on high heat and whisk repeatedly to ensure the milk doesn't burn at the bottom of the pot.

Continue whisking until the consistency starts to change and it turns into pudding consistncy, this should take around 10 minutes. Turn the heat down and add the cardamom and rose water.

Once fully combined and there's a pudding like consistency, turn off the heat. Transfer into bowls and once cooled down, place in fridge for 2-3 hours to chill.

Garnish with anything you like to serve.